And here is (perhaps) another interesting capability of the "Graflex" Cameras:
They could be used as a straight out-and-out studio view camera (like the Rembrandt) for doing portrait and assorted other industrial/commercial/military photography.
Just push one button and out pops the spring loaded rear viewing hood. (Present on both the "Graflex" and the "Speed Graphic" Cameras.)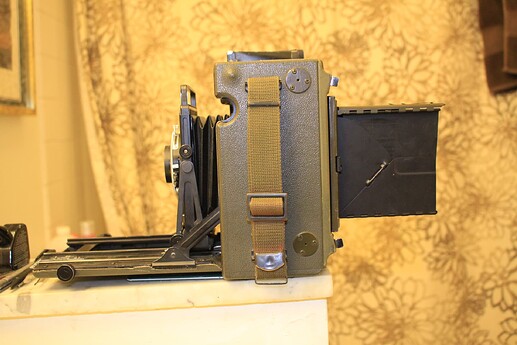 You could then focus directly on the ground glass just like any other studio view camera.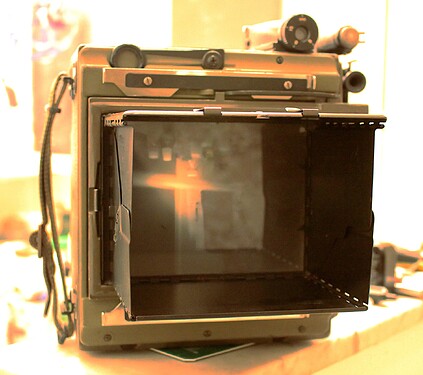 Note to Mike G.:
Do not worry about those chrome spring loaded clips above and below the viewing hood. They WERE NOT on the regular GI Graflex and constitute what is known as the "Graf-Loc" back.
I believe they were either late war or post-war. These would allow me to put a 120/220 roll film back on the camera or even a 100 foot motorized long roll magazine for taking hundreds of ID shots (or senior high portraits) in a day's time. Which I did for four years!
This Army/Air Force camera of mine did not come with the Graf-Loc back but I changed it out on this camera body to give myself more functionality.
But not to worry I have all the original parts that I will one day sell with the camera when the day finally comes. Remember my comment about parts interchangeability? It was only a six screw change-out.
---
Da Button to Pop Out the Viewing Hood:
Again present on both the GI Graflex and the Speed Graphic.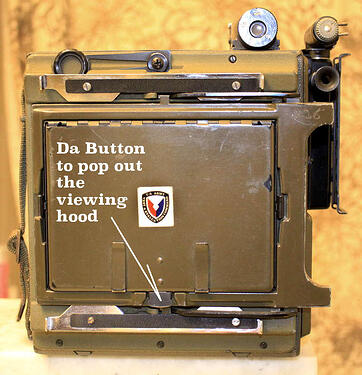 The cover was tightly spring loaded and one touch of this button and it was fairly much an instant "presto - change-O" operation. You could use it to make people jump as a bad joke if you wanted to.
And mine is still working fine 60-70 years later.