It's got me curious though , I love architecture and old buildings .
Moot point cuz I'm bastardizing the ref photo to a stone structure in France .
I realised that when I did a Google image search and found the mill in England.
Masonry practices should be fairly similar anyway, By 'bastardizing' you also pull out the carpet from under the feet of rivet counters
(Acktschually, that building didn't have a gate with vertical planks)
The middle ages… Were that those ages when the English owned/occupied large pieces of France, thereby having ample time to influence the architectural style of the territories?
You mean the English that had crossed the Channel with William the Conqueror and thrashed the natives at Hastings in 1066?
I presume that this influx of Normans and French had a huge influence on the language …
Bricks: spread around Europe by the Roman legions, the bricks became legio with the industrial revolution
Yes, but they largely revenged…
Yup … Like I said many posts above …
That water wheel and the gate look epic
Slow , tedious time consuming bending of coffee stirs for the second water wheel . Soaked said coffee stirs in water to facilitate bending process .
Maybe too late to say this in the timeframe of the current build.
Strips of lime/bass wood can be bent almost without restrictions, the owner of a ship model building shop told me it can almost be tied into knots …
Thanks fer that Robin , I'm working with what I have .
The door and gate was made with ship wood planking materials , however the ship wood I already have is too thin and the coffee stirs are just the right thickness . Three bears scenario , ones too thick , ones too thin but the coffee stirs are just right with a little coaxing with soaking .
I have a lot of very thin veneers , birch etc. that I use a lot because of its benability without splintering and soaking .
Another option is to build the wheel like they did back in the days.

The big circle was made up of two layers of segments sawn from straight planks.
The wheel in Cheddleton seems to be assembled from segments of cast iron (possibly forged steel)
Robin , don't take this the wrong way , think of it as two friends sitting at a bar having a beer and some conversation , I appreciate the interest and the advise , I really do , … but enough is enough , please shut the hell up and try building your own , after all you seem to have all the answers and solutions .
Like I said , I'm not trying to argue , fight or whatever , I'm just trying to do a public service here and let you know you're annoying .
Please don't take this the wrong way you've given sage advise in the past and believe it or not I do value your opinion , … but Robin I can Google things too …
Robin , you're a good man and a big one to have liked the post I just made , I'll buy you beers any day , all day !!!
A watermill campaign…


Some progress .
The signage is printed on tracing paper grade parchment type paper , I've used this method before with good results . Mortar lines will be addressed etc. , still in infancy stages .
Also finished one half of the second water wheel . Loooooooots to do .
Previous work with signage method .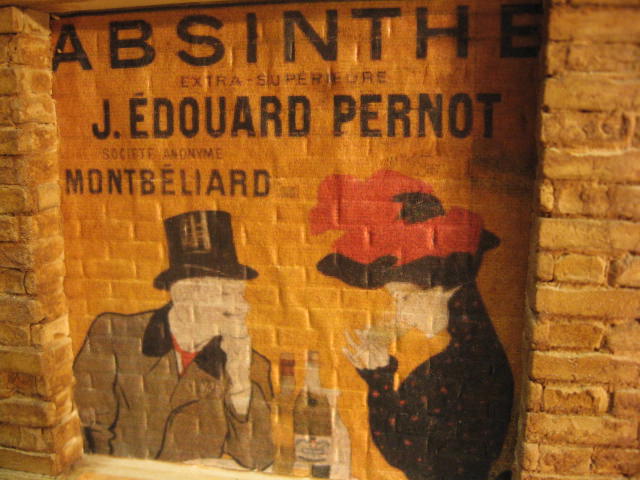 Nice progress… I love the sign…
Whoa - did you carve all those walls?!
Thanks Erwin , thanks Matt , the stone work's from HirstArts fieldstone molds . A little plaster and a little jigsaw puzzle type arranging . Just have to address the mortar lines with a little filler . I've used the molds before with other stuff .
Outstanding masonry in progress! Just an observation about the posters which you're welcome to blow off
– they're 1890's Toulouse Lautrec-ish, so by the 1940's they'd not be a la mode, likely pasted over with some of those awesome 1930's art deco ones e.g. Michelin man. OK I'll get lost now