With that set of figures, and the "Real Characters" logo, am I right in thinking that this is meant to be tied in to the 1943 Humphrey Bogart movie Sahara? I know the plot involves various nationalities of Allied soldiers fighting with Bogey and his M3 Lee to survive against the Germans and the desert. I've not seen it, but I want to watch it now.
Not sure that the American commander on the box art looks a lot like Bogart, but then he doesn't in this movie poster either.
Edit: definitely correct, Lulubelle is the tank in the film.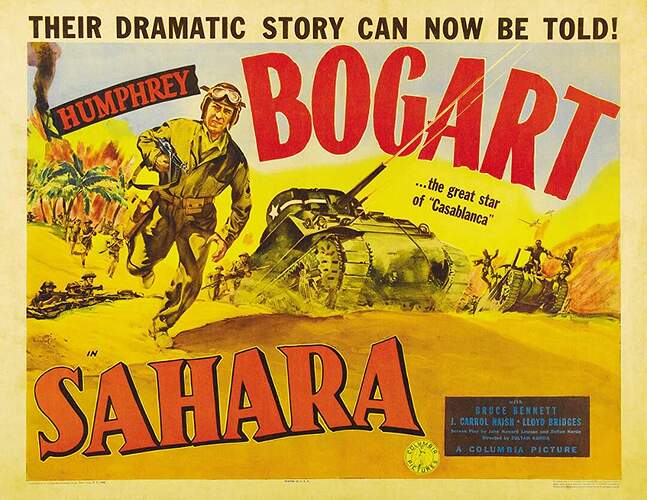 The guy in the centre reminds me more to John Belushi…
"Sahara" was indeed remade with John Belushi in the Bogart role. I'm not sure why. It's not a bad film but adds nothing to the original.
Actually the 1995 remake starred John's brother Jim Belushi. That is definitely Jim Belushi in the middle on the box art. Miniart probably didn't want to pay the Bogart estate royalties to use his likeness. I really like both versions of the film. I would have preferred Bogey in the kit though. That would have been the ultimate of cool. I am definitely buying one of these! It will be my first attempt at figures in 20 years!
Oh, that is quite disappointing, I agree that would have been very nice and might even have tempted me into actually purchasing a 1/35 scale kit for the first time in years. I think the 90s remake passed me by. Clearly I am living in the past.
Still, it is interesting the mix of figures that this has thrown up.
is there some sort of tie in with thay James belushi film?
Besides the fact that the tank and the characters were in the film?
@SSGToms the box art just reminded me of that film
I was going to say that you've got the wrong Belushi as Jim was a stout guy and probably had 40 lbs on that guy, but hey, Jim it is. The movie tie-in is unique and intriguing. Anyways, I'm thrilled with the release of a new modern M3 as I've only got the "interesting" Academy kit to work with currently. And that one is a Grant. The figures are a nice touch, as is the choice of tracks.
Hopefully a figure manufacture will produce the whole crew of the original film. Resin cast figures of them would be great.
Does this kit include the interior parts?
Could none of them be arsed to iron their shorts for the box pic?
These figures are from a set released by Masterbox.
Oh well…
is tea ready yet?
Lets see now. LuLubell, Fury, the Nazi M47's from the Battle of the Bulge.and the tank from Kelly's Heros. What is next the tank From Indiana Jones? I'm game!
The Tiran from the 'The Beast'.
Wasn't Lulubelle OD in the Belushi movie,and in builds I have seen