This past summer I finally acquired a kit that I've been after for 20 or so years–the 1/16 scale V-100 from Warriors. The hull is made of an upper and lower half, each separately and solidly cast. They measure approximately 13" x 5 1/2" (33cm x 14cm). I assume they were made from a single part mold and as such the middle section is a little higher than the edges. Being able to mate these two halves has been preventing me from getting started thus far.
I've never had much luck sanding resin flat (figure 8 method over sandpaper) even when it's just a resin torso and legs. To say nothing of having to source some massive sheets of sandpaper.
Option 2, I have a palm sander I could use, probably lots of test fitting and putty. I'm also worried about keeping the edges straight.
Option 3, use a Dremel to grind out the center hump and leave a lip around the edge to fine tune. This also has me wondering if there will be enough material to secure the two halves.
To a lesser degree, I've also got the wheels to contend with as well.
Some photos.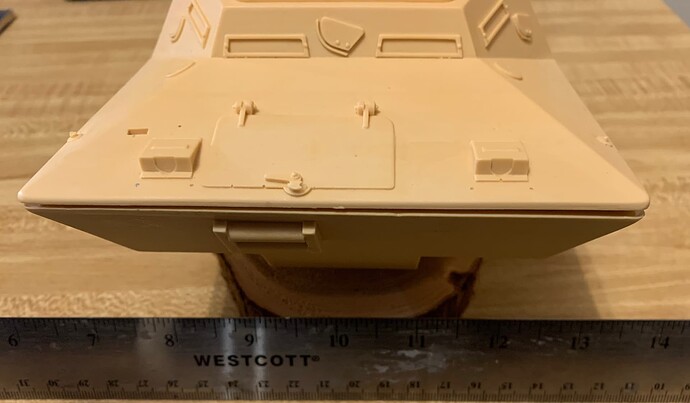 If anyone is up for a little brainstorming session, I'd appreciate any and all thoughts.
Thanks and happy holidays.