New (well relatively new) "Boxcar Red" from Tamiya: ~ from swords into plow shares.
I say "swords into plow shares" ** because apparently the Military & Armor guys have been keeping this a secret for sometime now, from those of us over here on the Railroad side of things!
Just about the perfect shade of Boxcar Red, Caboose Red and Brick Red.
. . . . and in a flat primer surface finish to boot!
Oh, and it also works on tanks!
** So military hardware (this time paint) has again been hammered into a useful purpose for our peacetime railroad models.
Tamiya Oxide Red Primer: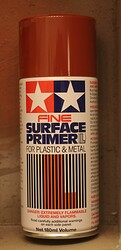 .