Cheers,
M
This USAF C-130 pilot got up close and personal with a bald eagle that crashed into his aircraft.
This is the entry point where the bald eagle impacted.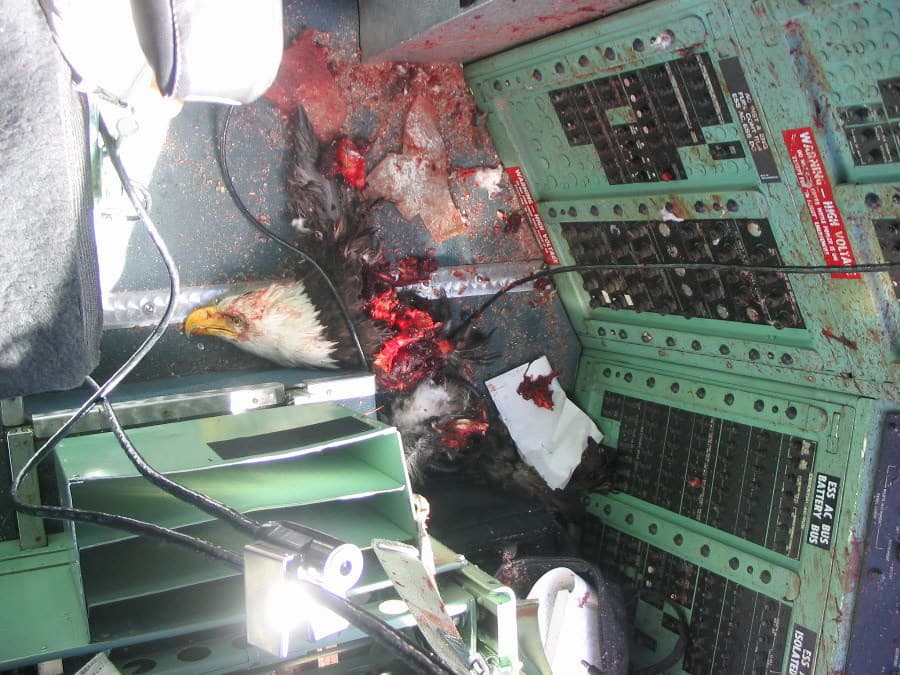 And here's how the bald eagle ended in the rear fuse panel of the Hercules, just behind the pilot.
I call that a problem. Now his view is completely obstructed too!
That somehow seems symbolic of our current situation.
I once had a jet ingest multiple seagulls into the starboard engine. Even after changing it out due to FOD the intake smelled like low tide for weeks. The environmental systems were even worse…I always felt bad for the poor guys that would have to fly it after that.
We had a tank roll through a goat carcass…That aroma never fully went away.
About the time of Bloody Sunday I knew a chap who worked in an office in Londonderry. PIRA sent a proxy bomb in butcher's van to the vicinity with the usual results; the glass went in and the frames went out. What was unusual was the office walls received a coat of very finely ground meat, and this in hot weather…



Cheers,
M
I had a fellow at work who hitted a dove riding a Yamaha R1 at full speed, and ended full of blood. When he arrived home, his wife thought that blood was from him.
I was part of GE F414 bird ingestion investigation. Looking in the exhaust nozzle and afterburner there was barely a feather remaining. Even so the stink was still overwhelming!
Not a bird store but a stinky mess story; one night we are flying along in DC-3s with a janitrol heater right behind the pilot seat. Lots of louvers for air flow. Co-pilot's friend Hermann was backpacking through the area and allowed to ride along. We penetrated a thin line of thunderstorms and got bounced around a bit. A couple minutes later we hear the left seat hot mic saying 'what's going on? Are you sick? If you're sick tell us we can do something about it.'. We quickly called up and told him he was hot, as ATC started asking who was calling and what it was about.
After landing I had to climb up and check the oil in the engines and then headed to the bathroom just as Hermann was coming out. In the ramp lights of O'Hare, he looked alternately pale and green. Front of his clothes had been covered with lunch and dinner which he had washed off, which I'm sure was a lot of fun for the rest of the flying that winter night. Everybody avoided that airplane for months afterwards because he barfed down into the janitrol heater.