Don't want it to get dirty!

Thankee kindly and yes,yes, the fuse thingy is progressing. More to follow.
J
Of course not! Only get issued the one. Heheheheh
OK,here are some more arty 25 pounder bits for Tim
Small packs, rags, blanket rolls, max charge bags, canvas bucket are from putty. The fuse wrench is plastic card and the projectile and carrying case are from the Bronco limber kit for the 25 pounder.
Hi Jerry,
Brilliant homemade elements, I'm going to have to have a go, they really are the bits that help flesh out your amazing finished vignette,

.
Cheers,

,
G
Bits and bobs greatly make the scene. If are those things that make it come alive. And you certainly nail it…
Awesome work Jerry, I am so glad you made it thru no mans land to arrive here. Best regards…Dale
Thanks buddy! Nice to see you here as well,
J
Working up a Royal Scots radioman with a scratchbuilt platoon radio. Just the basic stuff done so far. MB fig from their new(very nice) set. I still need to make the headphones, handset and antennae and some other details, scrim, etc.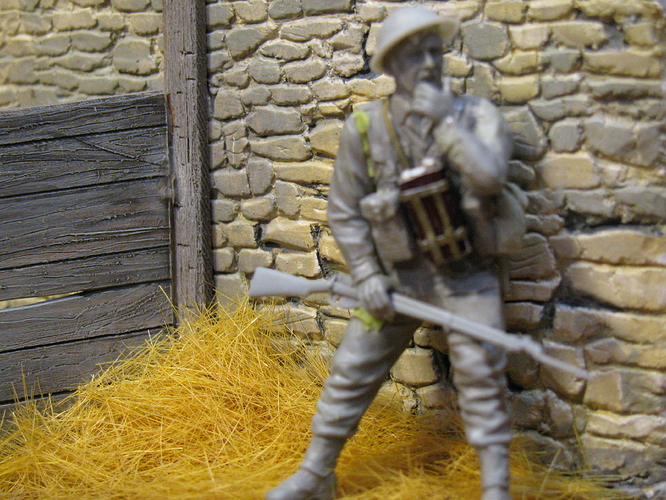 OK, so I've just come through hyperspace and what do I find?
Another great post from Mr Rutman… AND a great new set from Masterbox!
So this is all looking shiny and new, but trust me: it's the future and it WILL WORK. And I'm 52…
Now I must get back to posting myself…
Yes,welcome aboard the freedom train. Plenty easy to post pics here now! Although I haven't tried to post multiple ones yet like I will for an episode.
A pity that the pic is out of focus. Now the fence is sharp, but the fig isn't

Nice lookin fig JR , good to see you here !!
As always, Jer, your focus and attention on the MAN in the scene is what gives your work a realism all its own. You're not depicting some idealized fantasy of what a soldier's life is, but rather you show that life like it really is in all its hot, dirty, wet, muddy, nasty, tired, scared, exhausted, over-loaded, and back-breaking truth. When you "been there, done that" yourself, you clearly paid attention to the details of what was going on around you with your fellow troopers.
Love watching your work, ol' friend!
Thanks ol buddy. High praise coming from yourself, the old Regt CSM.
I try. It is kinda hard to translate all that into 1/35 scale but I do try.
Yeah, few know the joys of humping the PRC77 with encryption device and extra battery's or the M60! LoL
J
Hi Jerry,
Great figure, as per usual, is the head from the MB kit, or is it a resin one?
Cheers,

,
G
That is what is so cool about this new MB set. All the heads are this good! No resin needed! All I did was sharpen up the lines on the top and bottom lips. Vast upgrade from the older MB kits.
J
Wait a minute! your work looks just as good on the new site!! lol - good seeing your work as always Jerry - -
Cheers
Nick
Hmm clearly I need to revisit MB's more recent stuff, nicely done. Well well look who just landed above!

Well well well, a voice echoing down the halls of armorama history!
Nice to read lines from yourself there buddy!
J