The subject of how to save old decals came up in another blog and it seems most methods involve over coating decals with some sort of clear finish .
This in turn raised the question as to whether Decal solvent would still work as it was now asked to work through the the new surface finish on the decals .
The modeler in the above mentioned blog used clear spray lacquer I believe and I don't know if decal solvent worked or was even tried so I googled the subject of saving old decals and it seemed the easiest method was Liquid Decal Film from Microscale.
I ran a test - here is what I found.
I recently found a kit I had started 35 or more years ago. I took two decals from the kit that were the same and located next to each other on the sheet .
I marked one with an x and coated it with 1 coat of Liquid Decal Film. Simply brush on - all brush marks will disappear. The instructions state wait 15 minutes but I let it sit for an hour or more.
While waiting I took two drop tank halves from the spares box that had raised detail in the form of a band around the center. I then took my rivet tool and struck a couple rows of rivets on each .
I applied the decals as I normally do by brushing on some Microset ( blue label) and setting decal in it.
After both decals had sat undisturbed for a bit I brushed on Microsol ( red label) .
Both decals settled down nicely, both around the raised detail and the embossed rivets.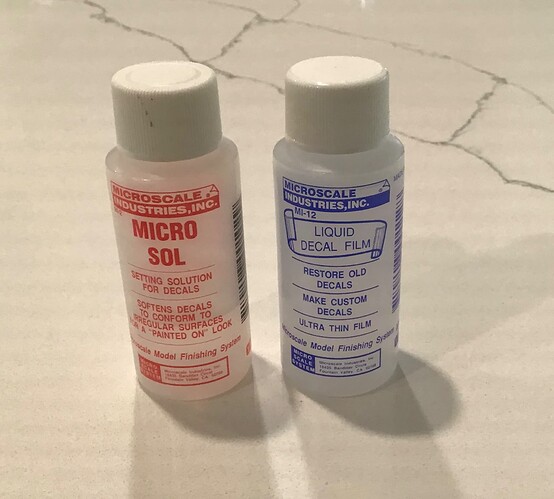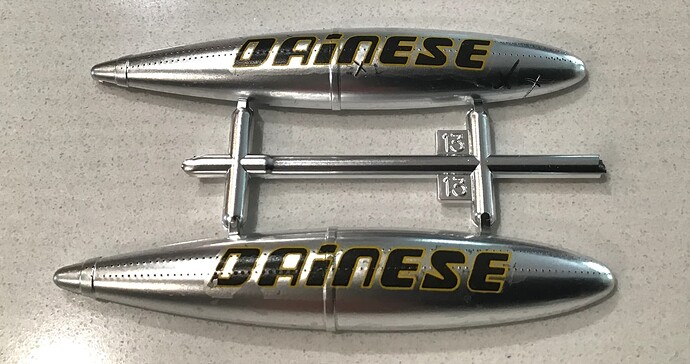 The upper tank half is the decal that was over coated with Liquid Decal Film and as can be seen the solvent still works nicely.