SoCal Open Model Car Show.
Sunday, October 3, 2021
Rancho San Antonio Boys Home Gymnasium
21000 Plummer Street, Chatsworth, California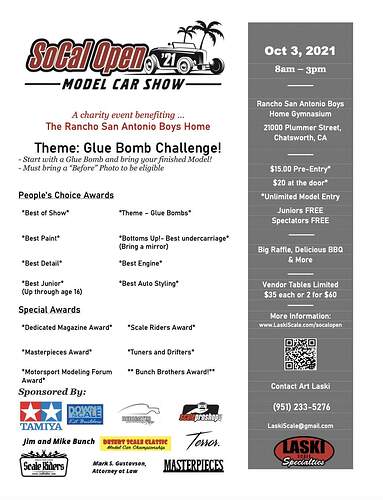 SoCal Open 2021 Model Car Show
First Model show I've attended since the pandemic-19 and saw some Cats I aint seen since then.
I took pictures until the battery died. I captured a whole collection of spectacular work tho.
Let's see how many images I can load up into each post. 57 total
Model Cars Magazine and Dedicated Magazine shooting pictures of models for their respective show/contest articles.
Some amazing paint work in there and also awesome body work.
Outstanding! Great photos KSO, thanks for sharing them with us.
As Michael said, a whole lot of awesome work on display. If I had to narrow it down, the lifted '59 El Camino stands out for me, I've seen it on a couple of other sites and it is a stunning piece of work.
Cheers, D
It would be great if the builders had done a blog about their paint work as they constructed the kit. I grump when one photo is the car in primer and the next is the finished car with nothing in between. Show me the car in masking tape and work being done. How else can I steal, … I mean copy your technique.
Some modelers should crack a window when gluing and painting.
Lots of skilled painters on display.
Thanks for sharing the pics. I'd say that there's quite a lot of exceptional builds there. And the paint schemes and finishes are just beyond words.
joel
Yes, I was impressed.
You're very welcome. And yes, I agree with that Elco !
Yes, a blog or vlog would be helpful indeed. Most of these guys just aren't into the forums blog thing tho. However, if I ask them to explain a certain technique in person, they'll explain everything. Super cool folks
Haha, right?