Nice progress, Richard!
A windy rainy Memorial Day Weekend here at the seashore has made for two full days at the modeling bench.
The rudder bar/pedals are now done & ready for paint. The first order of business was laying out & cutting / folding a box for the rudder bar out of brass shim …

Next the bar itself - lotta fun cross drilling a .020" hole through a piece of .032" brass rod .
.020" brass rod inserted into said hole an soldered.
Top of intersection dolled up with a little epoxy putty and sanded/filed to shape - pivot rod inserted through box and photo etch pedals epoxied to the rudder bar .
Thanks for looking!
Richard
Interior stuff in paint - Vallejo IDF/IAF Green 71.126
is pretty good for British interior green.
I have added some framing to the fuselage interior sides and added a scratch intercom buzzer to the starboard side aft cockpit - cut out of brass shim and buzzer formed with punch & die set -

Cockpit largely done - scratch built rear bench seat , fuel tank plumbing , two cylindrical fixtures forward of bench ( can't find what they are - possibly fuel filters or pumps of some sort) done in the spirit of the late, great Sheperd Pane's " creative gizmology " , and flare release to pilots right. Plumbing for fuel tank done with copper wire, epoxy putty for coupling hoses and bits from the spares box…
Aft balance weight bay in paint…
and the instrument panel - Eduard's photo etch-
Also added were the two remote lights for the instrument panel at the top of the wing tower structure .
The radio face in the aft cockpit is also from the photo etch set included in the Ilmavoimat boxing , as was the Sutton Harness . The harness is the old school stainless variety - PITA to pose and glue .
I would recommend to anyone contemplating building this kit to pony up for the Eduard steel set - I wish I had done so .
Thanks for looking ! - RT
Fuselage halves together -

Horizontal stabs / elevators given the slight scallop treatment -

Prop glued up - hub in two halves and three separate blades with no indexing for uniform pitch .
I wish all manufacturers would make one piece props . Had to make a simple fixture with three radii
120 degrees apart with a wedge at one point to accurately glue up prop -

Inside starboard wheel spat is an antenna in a recess with a teardrop shaped blister at it's leading edge which is missing on the kit . This was reproduced by scraping in a channel with a scriber and gluing in a piece of brass wire for the antenna.
The blister was made by filing the end of a piece of sprue to a teardrop shape then sawing it off and gluing in place.
The tires as supplied were almost square in section.
I made a scraper from a scrap of brass by filing in a quarter round with a file with a diameter equal to the width of the tires.
Thanks for looking in !
Richard
Neat work as always Richard, great little details that take it to the next level!
Cheers, D
Thanks D - always appreciate your input .
I've made some progress - wings together - solid navigation lights sawn away and replaced with clear sprue. Small holes drilled in back of sprue and painted with clear red and green - glued in place then sanded to shape and polished out with progressively finer grades of abrasive.

Spatted undercarriage built up . A heads up to all who may wish to build this kit - the landing light reflectors need trimming or they won't allow the gear spats to join up . Also , the lenses themselves don't really fit well . I cemented them in proud of the exterior as far as I dared and after curing for a day sanded them to shape and polished them out as I did on the navigation lights .
I made a fixture to hold the horizontal stabs in what I hope is the correct orientation . The Lysander book is wonderful but none of the drawings offer a frontal or rear view so difficult to determine if there was any dihedral or anhedral in the tail plane . It appears straight ( neither dihedral or anhedral ) in photos so that is what I chose . Also made masks to define the glazing in the aft balance weight doors .
Starting to look like gawky Lizzie now .
Next task will be dealing with all the greenhouse glazing . I'm on the fence about trying to thin it as it is pretty heavy - we'll see.
Thanks for looking in - RT
Fuselage nearly done . I have managed to thin down the canopy clear parts on the edges that show by wet sanding in soapy water . Starting with files where needed then 400 , 600 , 800 , 1000 , 1200 ,
1500 silicone carbide papers then micro mesh pads in 3200 , 4000 , 6000 , 8000 , 12000. I was able to reduce the thickness at the edges by about half .
Really looks a lot better.

Time to put an old workhorse out to pasture -
and plunge headfirst into the the new age .
Gettin' jiggy widdit …
A pretty nice unit from Masterpiece Models .
Starting in on the superb resin engine/cowling set from SBS Model - detail is incredible to the point where it makes the base kit somewhat
disappointing.
Here's what you get -

and a comparison with some of the kit parts -
I've been test fitting a few components and all is well so far …
Cheers - RT
A bit of trivia for you Richard, I won a little competition to come up with the name for those jigs, and my prize was one of each of the 72-48 scale and 32-24 scale sets!

So there you have it, and Aussie connection on your bench, mate!

Cheers, D
Edit: I cut a couple of strips of Tamiya Tape and put a double layer on each of the touch-points just to be safe!

If I ship mine to Oz will you autograph it for me?

Of course! Then I will probably keep it though. I need a couple more
Nice work on that canopy, Richard. I'll have to try that in the future. Nothing makes a model aircraft look like a toy more than overly thick edges. But your canopy looks like the real thing
Looking forward to watching the engine come together. Should be a beaut!
Marty
Loving your progress here Richard, outstanding as always!
The detail on the SBS resin set is just sooooo good! The collector ring inside the cowl is worth the price of admission in itself, and the engine assembly is nice and crisp. Much better than the resin set in the Special Hobby Boomerang that I am fumbling around with right now.
Cheers, D
Progress on the engine / cowl set .
All together - engine and cowl interior painted .
All bits primed with Stynylrez Grey - engine crankcase and reduction gear case , pushrod tubes and rocker boxes shot with Tamiya satin black. Cylinders and all induction tract done in aluminum.
Cylinders washed with black oil paint.
Cowl interior and baffles between cylinders British interior green . Collector ring in bronze made by 50/50 mix of Tamiya Red Brown and Vallejo Copper.

Ignition wires picked out in red brown - connection hoses on intake runners flat black.
Yet to make are the three triangulated struts that run from the reduction gear case to the collector ring .
Thanks for looking !
RT
That radial is looking great Richard, love it!
Cheers, D
Engine / cowling done - the three triangulated struts installed & painted . SBS supplied the two back pieces for each strut as photo etch and the forward round piece that extends from the reduction gear case to the collector ring is .020" brass rod.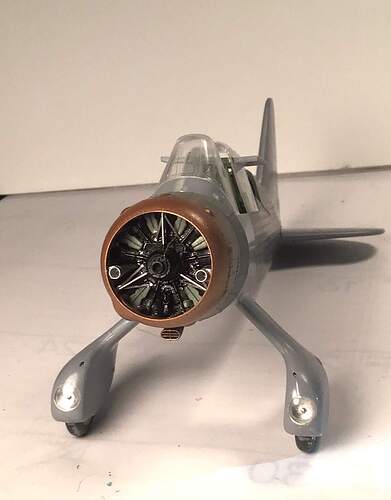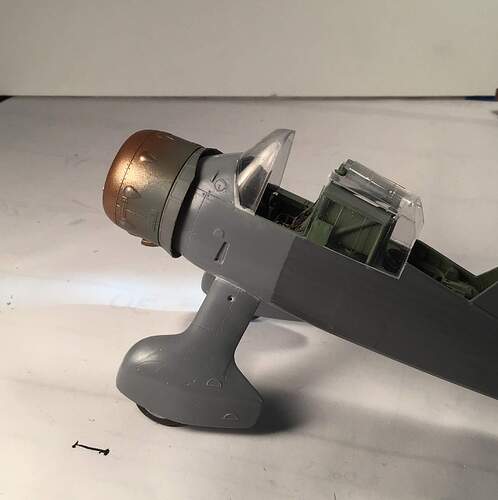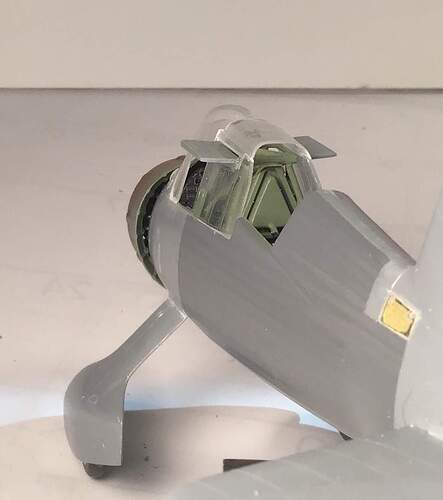 I must praise SBS for a very nice job - detail and fit are just world class - lots of opportunity for things to go wrong but they didn't. Nine cylinders all fit precisely into the crankcase ( providing you cut them off the casting block in the right place - instructions could have been a little better on this )
and all the intake manifolds just clicked into place and all fit precisely into the cowl . It really is a neat kit unto itself and as I stated previously it somewhat shames the rest of the model but I've done what I could to elevate that a bit.
The Bristol radials are also very interesting themselves. The Mark II Lysander used the Perseus sleeve valve radial . For the gearheads among us it is well worth looking into. Smaller frontal area because no tall cylinder heads to accommodate poppet valves , springs , rockers etc and no horsepower robbing valve springs to overcome -
some total force of four thousand pounds per revolution in a large 9 cylinder radial IIRC.
I should add that sleeve valve technology showed much promise for aircraft and Pratt & Whitney , Curtiss Wright and likely others were all developing their own when all were eclipsed by the jet turbine.
The Bristol Mercury used in the Mark III that is modeled here is a more conventional OHV albeit with 4 valves per cylinder ( unusual for a radial ) and SBS has even included all four stems and springs at the top of each cylinder even though they cannot be seen when all is buttoned up.
A few more details to add to the fuselage and then on to prime and paint.
Cheers- Richard
A few details added -
Footsteps on landing gear spats added from a piece of styrene filed to aerodynamic section .

Piano hinge added to access doors using Archer resin surface details -
Inboard seams on struts filled and rivets added to outboard seams .
All masked and ready for prime and paint.
Painting next !
Cheers- RT
My brother in law made custom masks for the letter codes and tail codes . I'm experimenting with them on a paint mule . I did one side in positive by painting red first then placing actual character and then spraying black . The other side done in negative by painting black first . I was afraid that the red may not cover on the black and that I would need to build it up too much and leave a paint edge but it seems to work fine either way so now I must choose which way to go.

Here are the main components in primer -
and a closeup shot of the Archer resin piano hinge after priming - they look great and couldn't be easier to use - very pleased with them .
Thanks for looking-
Cheers- Richard