Thanks DV! What a fantastic deal! I just ordered one ( had to resist ordering 2) and got a set of DEF Model Kama resin wheels for it. Thanks again.
Your welcome. Checking that deal is one of the first things I do in the morning and when I see a good one I try to get it posted ASAP.
It's back up again for $35.99. I didn't pull the trigger then but I might now.
Monotone camouflage, my favorite scheme to paint. LOL.
Must resist the temptation!
I might try the splinter desert camo pattern shown in another thread on mine. Come on, guys, that's too good a deal to pass up. The kit is cool as hell and it's got the snots detailed out of it inside and out.
It is super cool, thankfully for my wallet shipping to Canada kills a lot of these deals. When I move to the states, I'll be in trouble!
Sorry I gotta pass… I spent $120 in my Buffalo kit and with a full interior and all the slat armor I won't be doing any more super detailed kits for a while…
I really would like to build it someday though!
THANKS DV!!! My LHS wanted $70 USD for this kit! It's an incredible kit and beautifully molded. It looks like it's going to build up like a dream. Now I've got one on the way for what I spend at McDonald's! Thanks Man!
Spruebrothers - $35.99 - Takom, 1/35 Early Mid Panther A with Interior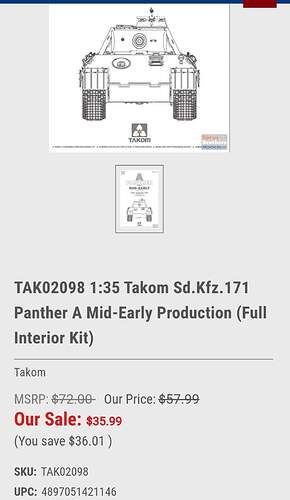 Saw this and wanted to share the info.
Ah, Wade, my credit card is crying out in pain! That's just too good a deal to pass up! Interior kit no less. I love it.
Very very tempting!
They seem to be on a takom sale binge, hopefully the jagdtiger next!
@SSGToms Matt, I know!
It's like a Das Werk price for the whole kitty:)
It's just too tempting! I've got to stop looking at Sprue Brothers except once a month
When you consider $35.99 is a great price for the exterior kit, or an aftermarket interior, you're getting one of those for free here. It's a no-brainer.
Damn you Americans and your super cheap amazing deals…

"They" just try to keep us happy because we don't have a Royal Family.
The Canadian postal system. Saving my wallet since 1851! Another deal squashed by insane shipping
The thing that always gets me is I can ship to Great Falls, MT for like $8.99 but to cross the canadian border, another 120 miles, the shipping goes to $30. I know it isnt sprue brothers fault, its the unionized overpaid canada post employees
Lol… I would happily swap a certain couple of Royals for amazing kit deals…if it were only that simple…
That was an amazing deal for that Panther though… It's almost a steal… And definitely rude not to get one…even 2…
They are all gone now.