There's no doubt about it - the Revell kit is a beast. And I mean that in more than one way. Straight out of the box, it's a very good representation of the Cobia. Other than that, any other Gato you want to portray will require a lot of research and work.
I bought the kit when it first came out, and then life happened right after I started the build. Between deployments and contracting, it just sort of fell to the back of a very long line of projects. Ezra's build has renewed my interest, so I've taken it down and dusted it off. Hopefully I'll continue it soon.
My "research" relies heavily upon a 112 photo walkaround of the Flasher's sail I took when I visited the Navy War College for a conference a few years ago. Groton was not far away, and military conferences are notoriously liberal with their break times. (Between the last presenter and the social at the O club, I figured I had just enough time) Here's the sail on display on Groton. I happened to have lived about a mile from it when I was very young.
Turns out I had even more history with the Flasher. We were living in Groton while my dad prepared to take the Nuclear Flasher (SSN 613) on its maiden voyage to Hawaii. As a member of the crew when the Flasher was commissioned, he was a plankowner. The plank is from the SS 249, so the model will eventually be displayed on it.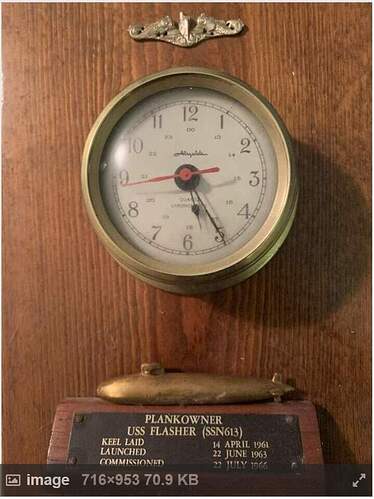 So the first thing I needed to do was correct the sail to make it represent the Flasher's sail.
A lot of the ammo lockers were placed in different locations. Some needed to be added. Also, it lacks two tubes whichallow rapid transport of ammo through the front of the sail to the main deck gun. Then of course the fairwater need to be cut down, a wind venturi scratch built, a spray guard added, and the wire railing replaced with a pipe railing. The hatches on either side need to removed. There never were hatches there - that's a museum addition to what in wartime were just openings. In the Flasher's case one was even plated over late in the war and a locker was installed in its old location. Finally, air relief holes need to be cut into the rear of the sail. Here's a brief overview of just the first steps needed: