That's a nice collection.
Thanks, I have 1 EMD GP35 left in the stash. I want to do a Canadian livery, most likely CP Rail. Were the Canadian GMDD GP-35s the same as EMD GP-35s or do I need more resin? The Athearn I have has the dynamic brakes. This build is a ways off but I want to get everything so when I build I don't get stalled midway through the build. Thanks.
Now that's one great looking extended family. I'm somewhat surprised to see CSX and Pan AM Railways in the mix. As for the CSX which looks like a GP40 or 40-2, that's their current paint scheme. I would have thought that you would have gone with their more traditional Blue/Gray scheme.
joel
Old Rhinebeck - took me 40 years but finally made my pilgrimage there in 2004. My friend and I got up there thinking we just stay at whatever hotels we wanted, it turned out there weren't any. Fortunately, we stayed at a nice bed and breakfast at Red Hook ( Red Bank? ). The day we got there was too windy to fly much. They did the flight in ground effect with the Bleriot, and I took a flight in thier Standard biplane. Otherwise all the world war one birds were static display. A cool thing that happened was a grass trimming low pass fly-by by a fllock of Cessna 195s coming back from some convention. What was really neat that two days later, when I was back at the home 'drome, a couple of them came through my airport. If I lived up there I'd love to be a docent at ORA. My friend, literally a rocket scientist who taught aeronautical engineering at the Naval Academy, he's now a docent at Uvar-Hazy. We keep planning to get back to ORA. I'd rather hang around castor oil spewing ragwings then a space shuttle any day.
Tom, welcome to KitMaker Network and to RailRoad Modeling! As you see, a lot of good people here.
Yes please post your model railroad equipment and questions at RailRoad Modeling. You do wonderful work and we'd like to see more of it.
I must admit that I love the Athearn Blue Box kits. Apparently a lot of people still do for what I've read in forms, plus the fact that they're not always easy to find. Thing I really kick myself for is about 10 years ago, I had a quartet of Blue Box FM Trainmasters, when powered and three dummies. I was planning to paint them all up as a consist. Things happened and I ended up selling them to the Whistle Stop in Fort Wayne Indiana.
Blue Box are fun because, like you demonstrate, there's so many aftermarket parts available that you can really go to town and make masterpieces out of them.
I did the current CSX scheme as I currently live in Clearwater FL and this is the scheme the "street runners" use, not the scheme from "back in the day". There isn't always a method to my madness so if you are trying to "figure me " and why I do what I do good luck! "I yam whats I yam"-Popeye and I think a lot a like.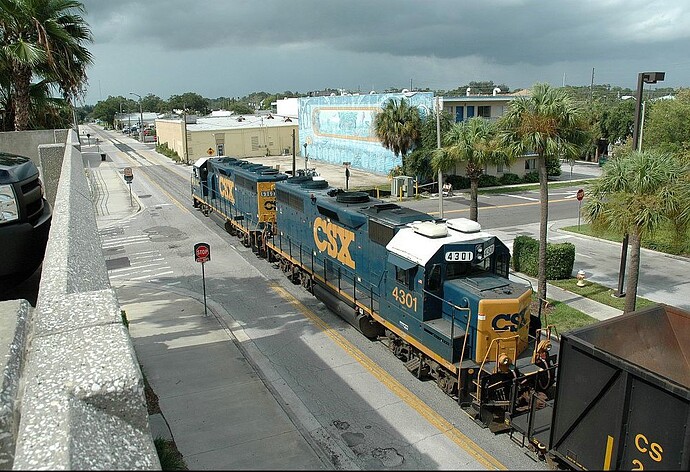 I have been on the hunt for an Alco RS-2 to add to that collection. I keep finding them at maybe $60 to $350 which is out of my price range. I did find some by Proto 1000 at a much better price. How good is Proto 1000 detail and accuracy? I have taken painted ones before and primed them and repainted. Here is one at the junction in my home town in 1960

I'll keep my eyes open. I'm near two shops that sell used locos. If they're not intended to run, it doesn't matter if they're used or not, really.
Thanks, I am fitting the rails. What I do is prefit the rails and stanchions before paint. I line up the rail into the body, then fit each stanchion into the lower frame and square it up by eye to look plumb. Once all the stanchions are on I super glue the stanchions to the main hand rail and let that set up. Once the super glue is dry I take the rail assembly out of the holes in the frame and to the booth to spray. When the paint is dry I refit the rail to the body and lower frame and super glue where necessary. This works for me, YMMV. You will note the rail has slight bends and curves as the real deal does. I built ornamental rails for 15 years and welded and straightened them and very few if any were perfectly straight, close but never 100% perfect.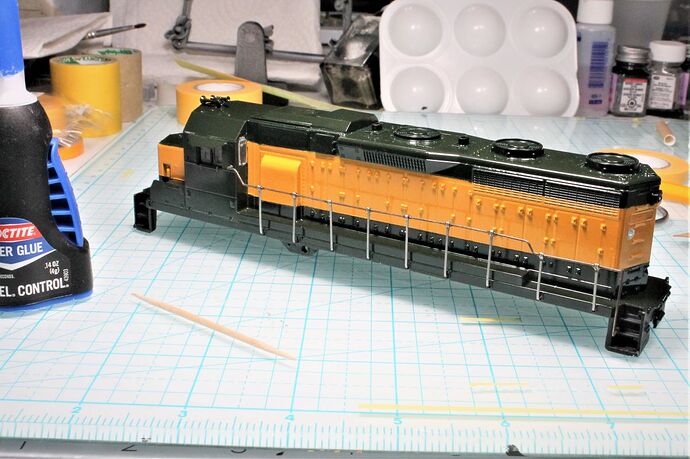 I do something similar - except that I solder them. With a little flux and just the right heat, I can solder the joint before the heat spreads down to the insertion point and melts the plastic. I've also used alligator clips as heat sinks. Does anyone other than dopers even know what those are any more?
I had a cousin that had a device in his car back in the Woodstock days and he called those clamps roach clips, I guess he captured bugs and held them captive with those clips. LOL
I have read many times of people soldering rails. I last soldered in 1969 and had to tin the iron before it was heated in a gas oven. That was my last adventure with soldering as I moved on to heavier metals and large fabrication. I guess it works but I am stuck in my super glue world and I know if I try it something will be melted and it won't be solder! I may try J B Weld as the name sounds more up my alley.
Personally I would not bother to differentiate these as being "static" engine builds.
You are doing very nice engine detailing, visual improvements plus custom painting and lettering. Makes absolutely no difference if these are to be powered or non-powered units.
Well done!
"Static" only applies if the wheels won't go round…









Cheers,
M
That was a moderator's doing. We all know the value of having non-powered dummies on a layout. And they're far from static. Others however, seem to have a lot more time on their hands.