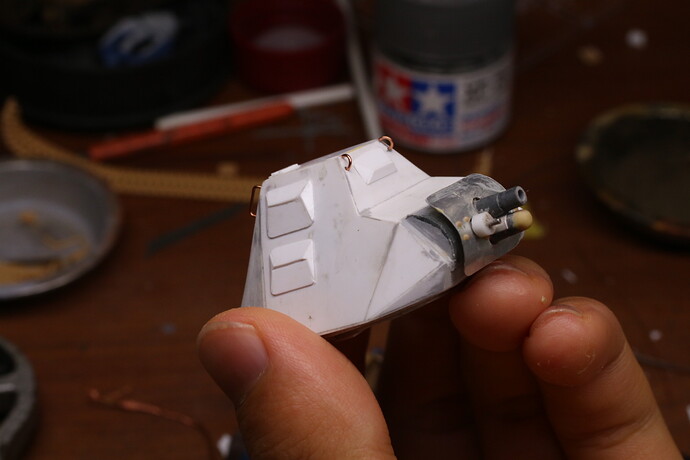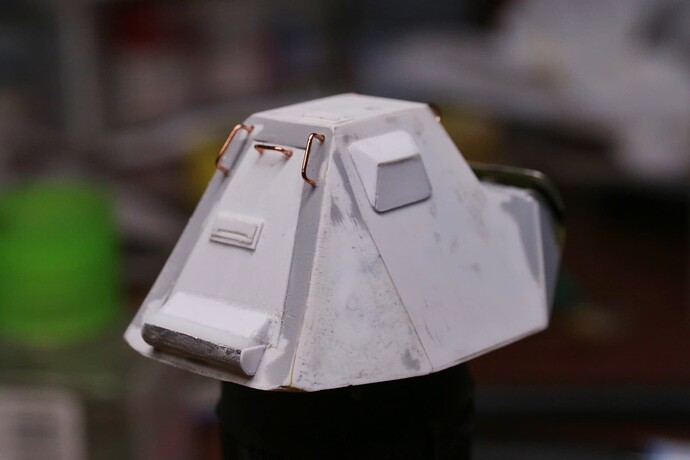 I have just finished turret works.
And I painted surfacer to check any crack.
I found it a little, so I'll fix it.
You can easily see you've put a lot of effort into this model. I have one in the stash and also have the Passion Models photo etch set so I can see just how small this model is. You are doing an outstanding job. That turret sure makes this vehicle look interesting.
I just noticed you added a cable running along the front fender leading to the horn and headlight, nice touch.
~ Eddy

Thank you Eddy.
Yes, this photo etch is too small…
But these have nice details.
The cable is made by copper cable.
This way is written in Passion's manual.
It was difficult to bend cable exactly, but I did somehow.
You're doing amazing work here. The turret seems to be replicated flawlessly. The etch-work must have been difficult too, but you seem to have succeeded.
Thank you Tommi.
Turret making and etch work was difficult, but I did them somehow.
Excelent advances in this tank, its a unique model, your job with the turret and very, very good. Ihope to see it quickly finished.
I follow your job.
Regards Omar
Hi, Omar.
I am glad to you say that.
I love these unique tanks, so I desided to make it.
Thank you for following.
Best regards, Ryotaro
I added welding texture with lacquer putty and had finished turret works.
Then, I sprayed surfacer and paint.
The tank has FCM turret has marking "50332".
So I cut kit decals and drew some figures.
Now that is some fantastic craftsmanship @ryotaro3_22 . Love seeing these updates!
Thank you Dennis.
I'm glad to you said so.
Wonderful work Ryotaro! I am glad you have completed the kit and it has come out beautifully! Love the innovative chain on the front. Very creative! You have done great work!!
Walter
Such an interesting turret shape! Someone should be making these commercially for those of us who lack your skills (probably most of us!).
Thanks Walter!
Yes, I had done the work somehow.
The chains work is easy and quick, please give it try!
Thanks Steve!
Yes, this interesting turret shape is my favorite.
Certainly, a vender somewhere sold this tank resin kit.
However I didn't have much money, so I did scratchbuilding…
Brach Models has a full resin kit with FCM turret and HobbyBoss has said they will release a plastic kit with the FCM turret.
Forgot to add, ICM makes the turret for another kit that you used to make the measurements from.
Hope that helps @SteveB for other options.
Yes, that's right!
I didn't know HobbyBoss's.




I have finished chipping and started streakings…