Tamiya just announced a new tool 1/48 F-35A. 9 decal options, ordnance and a MSRP $98 US.
And here I was just lookinh at F-35 kits tonight. Excited about this release
oh. pretty. Any more pictures? I've wanted one for a while, but the overdone tape lines kinda put me off. Hope the ones on this kit are better.
No more pictures, but here is the link to Tamiya's announcement on their site
I'm in,hopefully their trend in excellence continues !!
9 decal options,thsts impressive
I would prefer the B but somehow I think Big T won't make one, hope I am wrong.
Keeping my fingers crossed that Tamiya does all three current variants eventually, A, B, and C.
I could be wrong and hope I am but Big T doesn't do what every other company seems to do in these cases.
I hear ya. But they frequently have done multiple versions of most of their aircraft kits that have variants. And if I'm not mistaken, the Japanese are looking at building/purchasing the B variant for their new "helicopter destroyers" class ships, so that bodes well for a B version. Tamiya and Hasegawa have a track record of covering JSDF equipment in kits.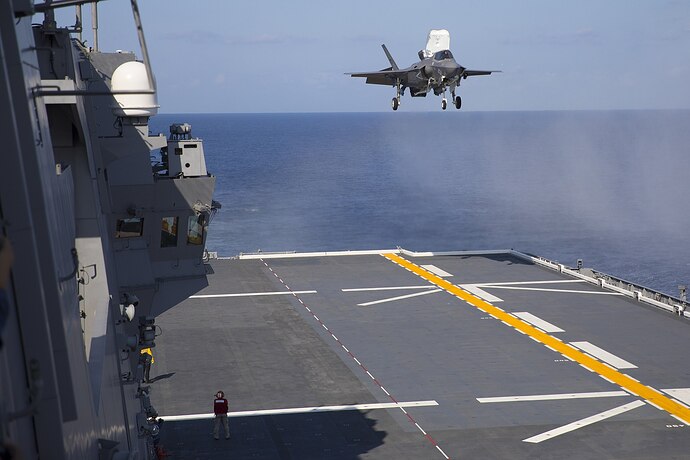 USMC F-35B coming in for landing on JS Izumo. The first Japanese ship to have fixed wing air ops since WWII.
According to Wiki, Japan has ordered 42 F-35Bs.
I suspect that Mr Tamiya might just have a B up his sleeve to play in the not too distant future.
Edit- the second JMSDF ship of the class is named Kaga. She is currently undergoing mods to allow F-35 operations.
Pre order on Squadron $78.00
Good to see an Ozzie version in the list of decal options.
** Comes with nine marking options - U.S. Air Force, Japan Air Self-Defense Force, Royal Norwegian Air Force, Royal Danish Air Force, Royal Australian Air Force, Israeli Air Force, Italian Air Force, Republic of Korea Air Force, and Royal Netherlands Air Force. (Also, drag chute fairing component is-included only for the Royal Norwegian Air Force.)*
Would have been great if Swiss markings would have been included as well.
Technically that would still count as "what if" as deliveries to the Swiss AF won't start until 2027. All the marking options in the kit represent aircrafts aleady operational in their respective Air Forces.
Wow. Pretty reasonable! I expected a $100+ tag
Not "what if" but "future"…

MSRP is $98.00, pre-order at Squadron for $78.40!
I saw the kit at OrangeCon yesterday, it looks very nice.
Might have to order one, was looking at F-35 options a day or two ago