New Tamiya 1/35 U.S. Infantry Scout Set
---
This is partial text from the full article (usually with photos) at
https://armorama.com/news/tamiya-u-s--infantry-scout-set
I really like the visible difference in height between figures. I was thinking just the other day how differing body types are rarely depicted in figure kits.
Could these be used as 1950-70s guys wearing OG-107 fatigues w/field jackets?
They are wearing M1943 field jackets, which were basically used up until the '80s in OD (updated, mainly zipper added instead of buttons). With new boots (modified w/out the double buckle), updated gear and weapons (M14s or M16/M16A1s), and covered M1 helmets, I think they could work. Thoughts?
The main problem would be the web gear. The uniforms are usable for what you suggest, but those later troops would be wearing the M56 web gear which used an "H" style harness (as opposed to the "X" style on these figures). There are other detail differences (like different ammo pouches for the later troops).
The buckle boots would be a challenge to modify to the later full-lace up, types, but Corcoran boots taken from a US Airborne figure set could easily be substituted.
However, these guys would make for a pretty good starting place for troops from the late '50s into the late '70s wearing M56 field jackets over "lizard skins" OD (cotton or perma-press). Too warmly dressed for Vietnam, but just about right for the FRG or CONUS winter.
That is exactly what I was thinking. New H-harness web gear and ammo pouches, along w/ the boots and helmet changes and they would be great for Germany. I will be getting a couple sets.
+1!
I do really like Tamiya's new figures, though. I've been sticking models together for a very long time, and Tamiya is now releasing some of - if not the - best injection molded figures ever to hit the market.
I'll be getting these guys just for their own sake.
However, I remain totally baffled by the near total absence of US Cold War figures. DML had a good run going with their Vietnam war sets (sadly now OOP), but no one has really taken up the challenge to give us US figures specifically sculpted for Western Europe (and South Korea) during the Cold War.
My hat's off to Tamiya, though, for stepping up with new sculpting and molding technology to give us great figures like these.
I must admit when I saw these I thought, wow - if only they were figures form the 70s; imagine such a grouping with say, an M114. Oh well, I'll have to get a set and break out the sanding sticks, lead foil, Milliput, weapons accessory sets etc again.
Beautiful! They would work for anything from Remagen 1945, to Korea, thru Berlin Crisis 1961.
I agree with you, Michael on the total absence of the US figures from the Cold War era (50s-60s). One of these days (maybe in 6 months or so), once my CAD skills get there, I plan to crank out some 3D printed US figures from that era. Hopefully, they will be good enough for Armoramans to purchase them.
Not to hijack this thread, I really like these Tamiya figures, and I'm sure I'll buy a set or two when they come out. Lots of potential and good quality. Hopefully, not too delayed with supply chain issues going on…
Kind regards,
James
I agree about the new Tamiya figures. Not only are they light years from their old figures, they go together well too, with positive locations that don't need filling. I suspect that like some of 3D printed figures around, Tamiya are modelling them from life.
Yes, they are.
Tamiya began using 3D scanning technology for its figures a few years ago. I think their Nashorn (35335) is the first kit that featured a full crew made with this technology.
The figures are actually based on 3D scans of real people wearing the subjects uniforms and gear.
Cheers!
Thank you! I think that's what I was trying to say, badly!
When I was a kid we had a big kit models shop in our town, really big. It was always like a dream to look at all these boxes. Tamiya's always have been my favourite, because I loved their artwork. And every time I see a new one coming from Tamiya, it's like 40 years ago. Wonderful!
With head swaps for berets you could even make British Royal Marines of 41 Commando in Korea, they were issued US weapons, M43 clothing and webbing, only keeping their own boots and puttees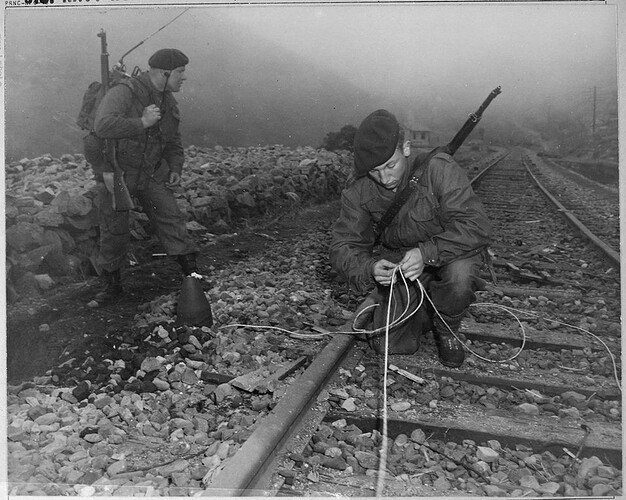 Looks like these are available now. They are showing up on eBay from Asian and European sellers.
Picked one up at a hobby shop in Korea over my vacation for an amazing price of 14.97 USD (b/c of the strong USD exchange rate):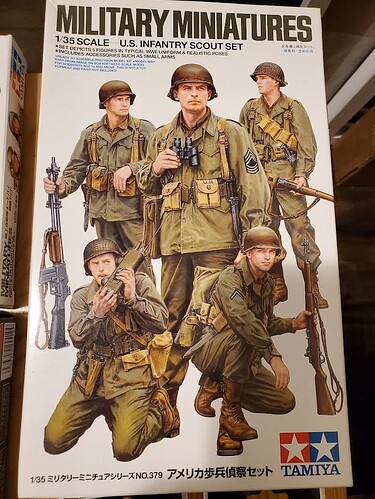 Haven't opened up the box yet but will post some photos soon once I do.
Kind regards,
James
Finally got to take some photos of the sprues:
Looks to me the best 1/35 injection molded polystyrene figures on the market.
The quality of weapons/equipment reminded me of Dragon's Gen 2 sets from a while back. I'm sure that the overall fit of the parts would be better b/c this set is by Tamiya.
Whoa looks like Tamiya upped their game big time