@Canmedic . I have some ideas. Kind of envisioning a def lay position
Having fun watching this kit come together! Making me want to crack mine open
Anyone know where I might find RCAF decals for 417 squadron spitfire in Italy? I think I am going to do a second model for this campaign. I just ordered a spitfire and it comes with apparently bad decals from what I've read. So I thought why not take the opportunity to do a Canadian spitfire
Try Ultracast. They've got a back catalogue of all kinds of stuff.
Really you'd just need to change up the squadron letter codes to make it 417. Roundels and stuff would be standard.
Yeah I realized that after I asked lol. Silly question on my part. Probably just need a standard markings sheet, and a serial numbers/ squadron numbers one
Hi all,
Here's my latest update on the CF-18;
Take care!
Dennis
Here's some Squadron codes and serials. 417 Sqn was assigned AN as their unit identifier.
If you can, try and find a reference photo to confirm the serial. AN V is accurate for sure but it was the only aircraft I could find clear photos of when I marked my Spit earlier this year.
When I went to find serials for my 430 Sqn Mustang I actually ended up pulling the squadron log from the National Archives at Kew because I was looking for a very specific aircraft on a specific day.
The serials in the flight logs are completely different from those listed on the corresponding RCAF Association page
Thanks for that link. I am thinking I am going to do this one AN U. It apparently form discussion I've seen was a former USAAF spitfire and for that reasons has a semi unique paint scheme combining the USSAF desert camo with the rcaf one. It has a red spinner, azure underside and ocean gray and dark green top.
Curious where you found your AN and serial number decals. I can't seem to find any generic unit marking and serial number decals for the spitfire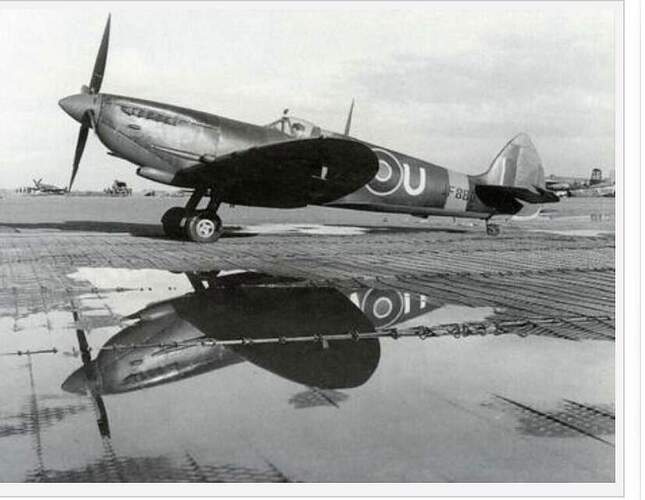 Just thought this fit the campaign…

They're painted on. I had the same dilemma as you and my spit is 1/24 so the after market options out there were even more limited.
My wife has a cricut so I've taken to bugging her to make stencils for me. 4mm seems to be the limit for characters without mangling them
What scale?
Ultracast has letters in stock for both 1/48 and 1/72 in both sky and grey
As for serials, your just going to need to find some roughly scaled letters/numbers. Maybe Archer?
Perfect, looking at 1/48 scale stuff.
Don't know how I missed those on ultracast website
Curious if these work for serials
They also have 6" ones but i am not sure what I'll need
The ones I just did are almost 8" in scale and they look a little big so the 6" would probably be bang on
Still some construction to do . I did do some of the preliminary paint work for the built parts at this stage .

Looking good! I'm excited to build mine seeing these results!
The Mexas is a BUFF for sure (see B-52 nickname)
@Mead93 . It has some issues , nothing that's not easily remedied.
Mostly there are a few small gaps , those could have been M I E . A few parts are mis numbered. I found that it was better to skip around and see how components would for before adding many small details .
Overall I would build one of these again . it is a fun build.
Lots of campaign related stuff arrived today! I'll be using the British equipment and a American tanker equipment (mainly Thompson related stuff) in the Churchill build. Some of these paints will be used in this project, and some to get projects off the bench so I can focus on this campaign.
I also added this spitfire to my order. Glad I did, for $20 it's a great buy. A couple very minor sink marks that will be a breeze to putty and sand flush. Quite a bit of flash but I find that easy to deal with.
I order some decals today to do it as a Canadian spitfire from 417 squadron in Italy
Here are some photos of the CF-18 I'll be building, colour matching is actually very well covered in the kits instructions, with the maker working with the technicians at CFB Bagotville to develop exact paint mixing ratios.
One day out! Make ready the putty and cement!
Edit: and by the way, here's my update on the CF-18!
There is something un-natural at seeing an F/A-18 in anything other than grey. Just looks weird. So of course I love it!! Definitely eye catching.