Looking good, it's a great kit! I haven't built mine yet but it looks awesome in the box
Looks like an old Matchbox kit with the two tone sprues…but much more detailed…
Looks like a nice kit indeed.
I think he has painted the lower hull? In mine all the Sprues are the same color
Yes . I have painted the lower hull and road wheels as well as prepped the tracks . I will get them started on thw weathering process and on the vehicle and then saran wrap them. That will let me complete and paint the build with the skirts and flaps im place as a single unit.
The lower color is intentionally kept a bit darker than what the upper will be . That will help with the final effect
Starting to make a bit of progress on the Mexas . The only real complaint is in some places the instructions are as clear as swamp water.
Couple small issues here and there . It could just me a case of M. I. E. That is also why we call it modelling

Do you have sufficient references for your mexas project Chris? If not let me know I can send you an image of some great resources regarding Canadian vehicles and where you can order them from if you need.
Happy modeling
Al Patterson
CP136
Umiujaq, Qc J0M 1Y0
Actually there is never enough reference . I would appreciate any you send. Also if you see something wrong with the build , please say so.
Al I have been collecting Churchill reference that I haven't looked very deeply into the Mexas as to research beyond a casual web search and reading reviews.
I will send you some stuff later today.
Al Patterson
CP136
Umiujaq, Qc J0M 1Y0
Hey all! I'm starting my July 1 build for this campaign, I'll be posting updates here -
Happy building!
Dennis
Hi Chris
So I found another book I have on the Churchill so am including it. The other image shows the mexas cd's and one of the bonus sets of images available. This particular series has been put together by a former tank commander and the only place I know that you can get them is called Trackjam. (trackjam.com). It's owned by a vet also.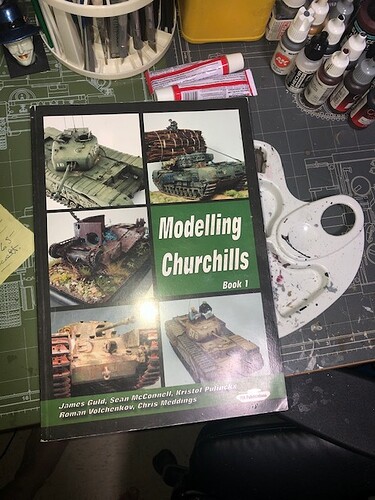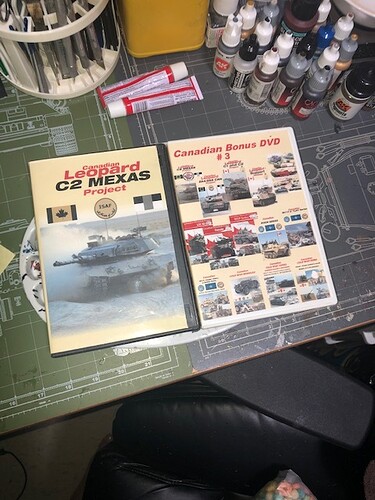 I have so far collected about half of the series. They cover everything from Korea on thru the Cold War to the latest vehicles in service with the Canadian Army done with the blessing and help of our department of defence so if your looking for references regarding Canadian vehicles since Korea I would definitely recommend these disc's. Tons of information and unique images that you can't get anywhere else.
Hope it helps
Al Patterson
CP136
Umiujaq, Qc J0M 1Y0
@Succubus . I have that Churchill book inbound. Is it as good as it looks . Also those Mexas will now go on my list . Thank you.
Just want you to know I still intend to bring this knife to your gunfight next month. That is If I ever finish the Hobby Craft F-15 for Gulf War 30.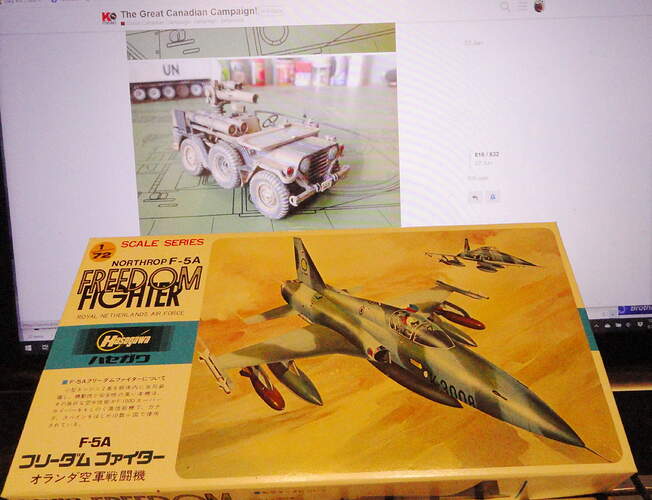 Oh. Vintage 60's moulds… Raised panel lines, next to no interior (not much to see anyway through that coke bottom thick canopy anyway), fit not so good - but such great childhood memories. Brings a tear to me eye.
Have fun Mark. Looking forward to see it built.
I still have its younger, bigger brother, the F-5E 1/32 in the stash… been there since the early/mid 80's…
I did the Airfix flavor about 7 years ago. Modeling disaster. Don't recall that anything fit right. Seem to remember that the radome, radome spacer and the fuselage were not only different dimensions at the mating edge, but were on different centerlines.
Canopy was wider than the fuselage, sanded the crap out of till it was aligned, then sanded right on through. Part of it is actually PVA glue., not plastic.
Ok. Sorted out the paint failure on my Mustang.
Spinner and fuselage band on this kite need to be RAF "sky" which is a weird blue green kinda colour. I didn't feel like buying an entire pot of paint so I whipped up an approximation with what I had on hand.
Unfortunately what I had on hand were acrylics which I don't typically airbrush with. Sure enough my mix was too thin, everything seeped under the masks and I made a bloody mess of things.
So. Upper surfaces have been entirely resprayed, which is ok because it let me correct the tone of the Dark Ocean Grey which came out far too light last time.
I also managed to mix up a half decent "sky" off my Tamiya shelf , which why I didn't do this last time… it's probably a bit too dark, but it's on there and I'm not doing it again.
I went to apply decals, decided I wasn't happy with the printing of them and promptly tossed them. So she'll be waiting a week or so for the new jewelry to come in.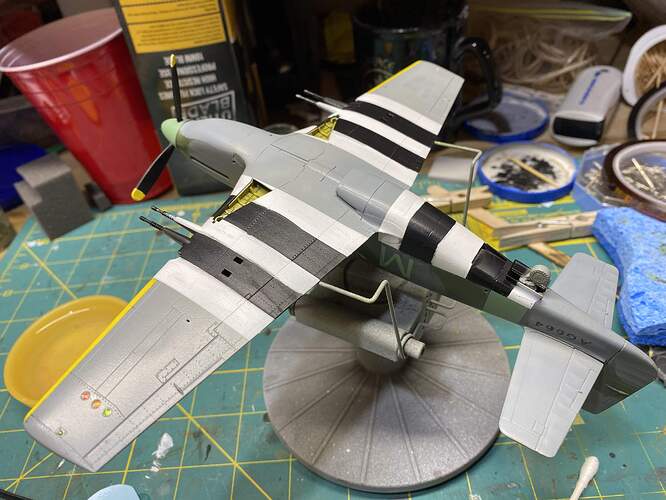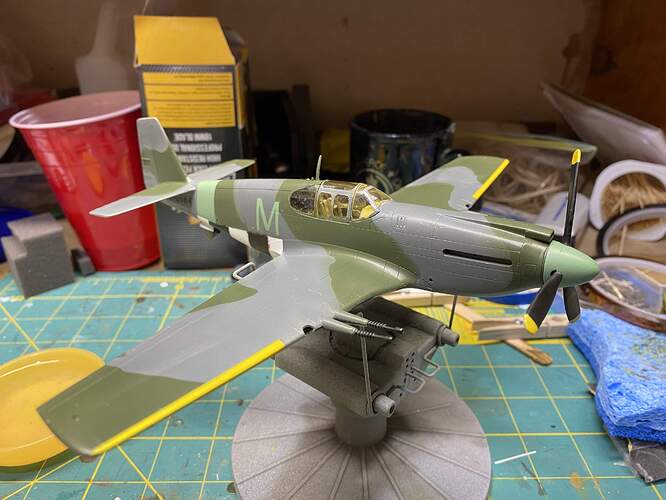 I am really diggin that … Please post more pics.
Thanks Chris.
More pics to follow. I'm in a holding pattern until the decals come. I briefly considered masking and spraying the roundels, but then I sobered up
I'll make sure to take some glamor shots one she's all done. Nice ones, without the chaos that is my bench distracting from things.
I know the paint I use is probably going to be controversial , I like to mix my own colors. Also the thinner I make allows this to behave like some of the expensive acrylics .
So with that I pre mixed a batch of paint for my mexas and did a color match on the kit color guide . Once it is on and a little bit of weathering it should be a match . These are what I used .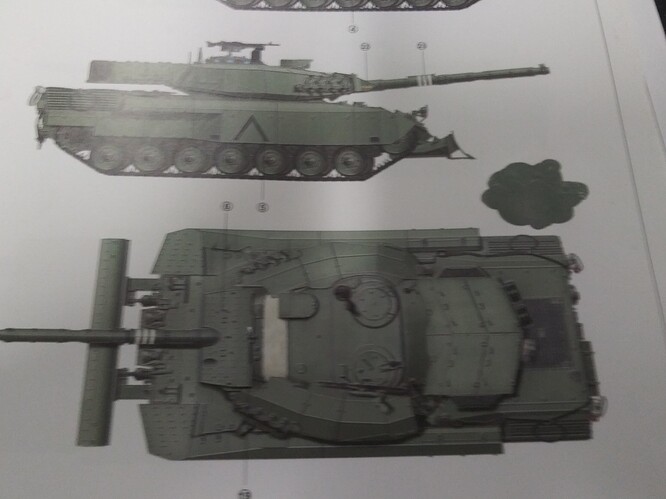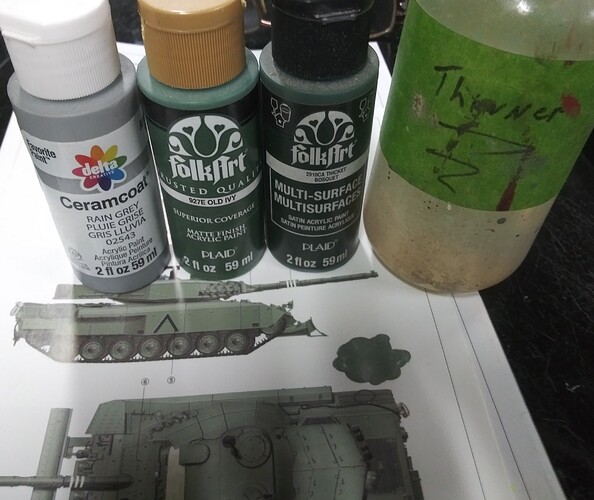 For the 2 months I was in the UK, the sky was only ever a drizzly grey…
Looking good Don. I love the way you resisted perfectly straight edges on the invasion stripes. When they first applied them, they did not use any masking, just a brush and paint and no perfect edges: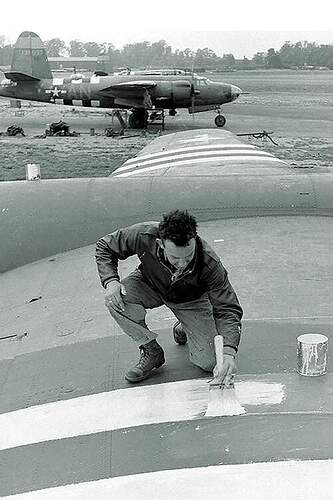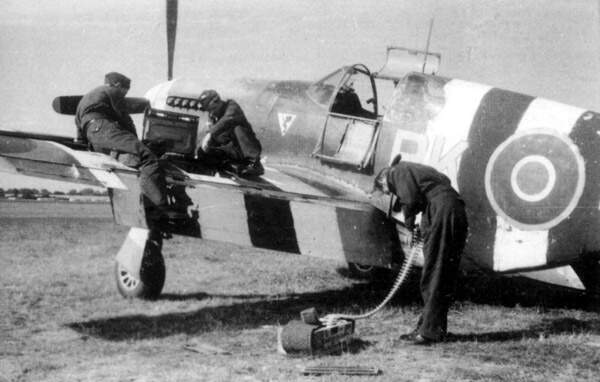 Okay, this may be staged, but still…