If anyone can point me toward additional online resources related to the subject I'd be grateful. Perth Military Modelling Review - Dragon #6392 sFH 15cm Howitzer says there are several items to keep in mind to avoid.
This is my first artillery piece since a Tamiya's vintage 7.5cm PAK40 L46 build done in the late 1990's. It will be very close to an out of the box attempt. The Dragon kit is quite impressive in the box! General background info can be found on Wikipedia 15cm sFH 18
Picture from above source.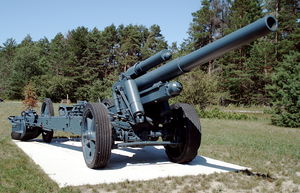 Reason for building, PanzerBiltz & Panzer Leader wargaming nostalgia! In the game, not too much survived if caught in open with an artillery barrage. The Allied 155mm artillery had better range etc and excelled at

raining destruction too in the game. Pretty hilarious way to make an SS Panther platoon disappear from the game board.
What's in the box looks fantastic! Turned aluminum gun barrel and other parts. Bit of PE but not excessive. Plus very nicely molded crisp plastic! The plastic is Goldie Locks & the Three Bear's quality not too soft and not too hard!
There's also a bag of parts that are probably made out of DS material
that are weeping liquid
. I purchased the kit several years ago but didn't unwrap until yesterday. Probably should have separated those DS parts.
Thank you for your time.