Brilliant work Torsten. Lovely little duo.
These are so sweet Torsten!
Magnus
Beautiful work Torsten
No it hasn't, you'll be back!
Lovely work on the dynamic duo Torsten, an unusual and striking little display pair!
Cheers, D
Thanks for all your feedback, guys. Glad to hear that you like the result of my efforts outside my comfort zone.

Maybe, D, maybe …
But I have nothing in my stash at the moment which would suit …
Anyway, I said I would continue here with a real oldie. In my stash I found this re-release of the old Monogram Martin B-26 B "Marauder" in 1/48. So far it's the only kit of this aircraft in this scale. This edition is from 2003 and I bought it 2005, so it has 18 years to ripen like good wine …

I want to give it a try and we'll see how it will work out. So let's have a look at the contents …
… the parts still have raised panel lines, which I will try not to destroy too much. I won't go the way to rescripe the whole kit
… inside the wings I found this …
… there's another marking on the outside which I will sand off …
the clear parts still look clear and well without any flashes …
… the building instruction is still made as the old b/w print that Revell did for many years …
… the kit offers 2 decal options, one USAAF and one French Air Force. The Eduard mask EX105 is essential …
… I'll build "Idiot's Delight", a B-26 B from the 391st BG, 575th BS, based in England 1944. It's the plane depicted on the box art.
… for a long time I have these books in my library. Now they can show if they are worth the money I paid for them years ago …
With a wing span of 45 cm this won't be a small aircraft and I know it won't be an easy "add glue and shake" kit but I always wanted to build a Marauder so now it's time to give this oldie a try. Hope some of you guys will join me along this long and winding road …
Torsten

cant wait to watch you progress through this kit.
David
ooo… 1978 and raised panel lines!
Talk about taking up a challenge
Ahem:
Ancient History: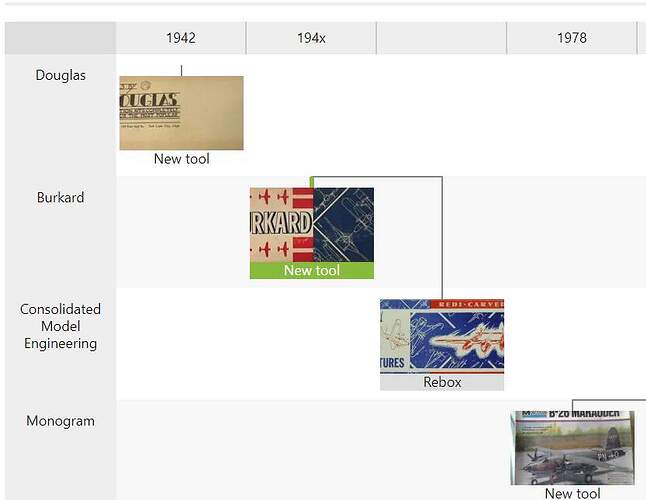 More modern offerings: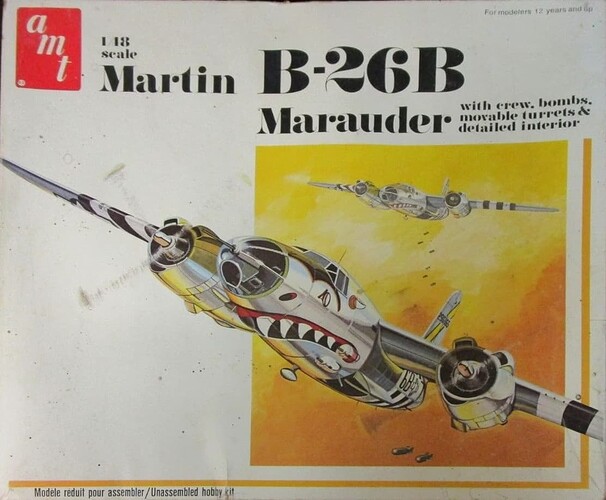 Looking forward to this one. Love a nice twin engine bomber.
Interesting Titbit, If wiki is actually correct:
"The Marauder ended World War II with the lowest loss rate of any U.S. Army Air Forces bomber."
I had to bail to go to work yesterday, but couldn't resist adding the above post. I built the AMT one in my youth. All I can say is I hope the Revell/Monogram one is a lot better than the AMT one (it couldn't be worse).
I wouldn't bet on that, Peter. As we all know, the Marauder had a high landing speed which caused many accidents.
But if you trust this sweetheart, she'll bring you home savely. WASP Shirley Slade (1921-2000) was a well known B-26 ferry pilot …
Started yesterday evening with the build beside watching the last test match of our ice hockey team against Team
Not much done yet beside cleaning the fuselage and opened the holes for the gun packs with a 2 mm drill …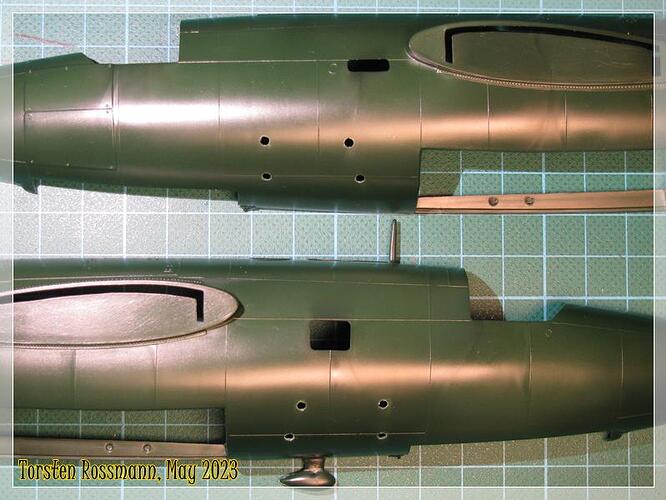 Hope to get first paint on it at the weekend, though the ice hockey world championships start on Friday with 3 difficult matches in a row for our guys against Team

and
We'll see how my mood is on Monday …
WASP pilots are realy underpretiated. Maybe we should do a campaign ? Anything in ferry camo ?
Nice choice for the B-26. My Father was a WWII vet and trained on bombers, B-17s before being shipped to Okinawa and Guam 1944-45. I am watching with interest. His great grandparents were originally from not far from you, Baden Germany. I will watch this build with much interest. John
Thanks for your comment, John, and welcome to my thread!

My father fortunatly was far too young for WW2, but my grandfathers both fought in the war, one in Russia, one in Italy. Fortunately both survived. Hope I can do the Marauder justice though it won't be an easy build. My goal is to present it on shows in October. I have the next one in mid June but that is illusory. But before my inner eye the build is already finished and on the shelf of pride …

Have done only a bit more. Added some weight to parts 34 and 35. 34 is the rear cockpit wall and 35 is the front bomb bay wall. This are old tyre balance weights and about 40 grams. I will add some more lead balls inside the front wheel and hope it will be sufficient …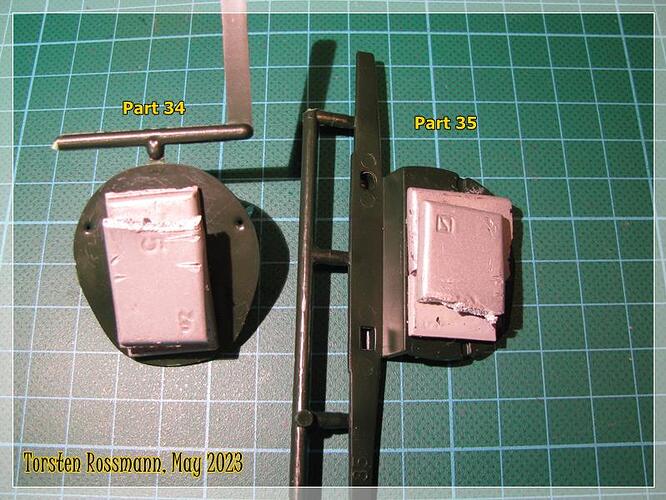 Today I have painted the fuselage and cockpit parts with Vallejo 71010 Interior Green. Lots of paint went through the airbrush …
Ice hockey has started for our team on Friday and they made already 2 spectacular matches with a great fighting spirit. Alas, in the end it was worth nothing, because the others scored one goal more …
Torsten

Definitely following, Torsten! Always liked the Marauder and built the old Airfix 1:72 kit in 2013

Good luck
Peter
You beat me to it Torsten! I've been on the lookout for both this and the A-26 from either Monogram or a later repop by Revell. I've recently built the B-25G in a monogram boxing. I've also been eyeing up the ICM offerings though my wallet sits in the corner hugging its knees and crying over the price! I built this kit 43 years ago (gads 43 years!!) and have been looking to see what I could do with it now!
Chris
Peter, in 1/72 you have more choices. The old - okay, very old - Airfix Marauder and the more decent kit from Hasegawa. Not so in 1/48. Take this or leave it …
Chris, I have also the old Monogram Invader somewhere in my stash. Can't remember the price but it sure wasn't much more than 20 Euros. This Revell rebox of the Marauder still has the price sticker from 2003 on it - 17,99 Euros …
Don't know how much the ICM "B-26" would cost today, but they are not on my wish list anyway. A real B-26 is called Marauder not Invader …

Well, finally I can show you some progress on this 45 years old kit. Beside watching a lot of ice hockey in the last days, I made some detail painting in the cockpit though the rudimentary of the parts do not give much options for detailing. My reference books have some cockpit photos of the real deal but the kit parts still look different. My goal is that the overall look of the bomber is fine for me in the end. So here are my efforts. First cockpit and cockpit rear. I still have left out the gun and the Norden gun sight, which will be added later …
… and with instrument panel. Have used the decal for it. It was a bit balky but Hypersol from Agama showed it the right way …
There are some holes in the rear of the seats but they will vanish and not be seen later when the canopy is on.
Windows are attached to the fuselage parts. The fitting is " so la la …" Have used Micro Kristal Klear as glue …
… the openings for the waist guns are covered with some Gold Tape from the inside against spray fog later. The joists for the 12,7 mm Brownings are already attached. I couldn't really figure out what this little hole in the right rear fuselage (see circle) is. Is it a vent for the rear gunner or a small window? On photos in my books I saw this only on a few machines so I decided it's a window and covered it with a clear left over from a yogurt lid as Revell doesn't offer a clear part for it …
… and finally a first test fitting …

Ice hockey goes quite well for Team Germany now after they've lost the first 3 matches unluckily after a great fight against

and
. But now they're back on the track with 3 victories in a row against

and
. Last match will be on Tuesday against
. After that we'll see if our guys are qualified for the Play Offs.
Have a great week!
Torsten

Looking good Torsten. Good luck to Team Germany.
Torsten,
Just caught up on your B-26 build, Very nice job on the cockpit considering it's 45 plus years old.
joel
Looks great, Torsten! I'm watching with interest!

Thanks for your feedback, guys!

Now that ice hockey is over it's back to the bench for me and I can finally show you some progress of the B-26, though it's not much, because our boys gave us so many happy moments in front of the TV …
When I opened the Eduard mask bag I saw this. Quite big …
So I masked the windows in the fuselage and noticed that they don't fit very well. They are either too large or too small. But that's maybe a problem of the old mould. For the top turret there are no masks, so I used Gold Tape for it …
Between the matches I glued the fuselage halves together after a lot of test fitting. Again with Ethylacetate step by step. I made this in 2 evenings. The fitting is better than I had expected but the seams look uglier on the photo than in real …
And a first test fitting of the canopy. Not too bad for the age, uh … ?
Fun for the next days will be sanding the seams and I will let you know how successful I was …
Please let me loose a final word about this ice hockey event in Tampere and Riga which kept me away from the bench time and time again in the last 2 weeks. I guess not many of you have followed it.
First congratulations to the new Ice Hockey World Champion

Team Canada
In the final on Sunday evening they met Team Germany
! Unbelievable but true! It was the first final and the first medal for Germany in 70 years. Though it was a good and open match for 40 minutes with our team twice in the lead, the canadian defense was simply too strong and so we finally lost 5:2. But Canada is not unbeatable …
Would like to show you this small video which was made from the german bench just seconds after the 4:3 overtime goal against Team USA
in the semi final. So many happy guys jumping in joy. Guess what I was doing in front of the TV …
And after the first final since 1953. Team Germany
, Silver Medalist and Vice World Champion. Sounds so unreal but it's true. We are so proud of you, guys! And now they are No. 5 in the world ranking list!
Also congratulations to Team Latvia

for winning the bronce medal after a 4:3 overtime victory against Team USA in the "small final". It's their first medal ever in these championships. Well done, guys!
Torsten