She is already started. I have only gotten as far as painting the hull.
Blog please
@Biggles50 That looks great. Are you going to put in in a sea?
@Russelle There is one for the original design with a straight stem and a revised one for the final version with the flared bow. The book is really nice, showing the brilliant draughtmenship of the time and a lot of details. It has no photos or detail histories of the class though.
Just realized I put in the wrong pic yesterday. Will send the final one when I start painting.
Cheers
Tom
Actually, I haven't touched this model for almost 10 years. It's painted, and I have all the WEM resin and PE for it, as well as North Star, and some printed boats. Work was interrupted by a move and I lost interest. When I can't see 1/700 any more I'll resume work on 1/350.
This is something i really not understand why they not correct known mistakes… There is more to come. I am just fixing the stern and rudder. One day I start to build the hulls myself and use the kits for superstructures and accessories. Just not find an easy way to construct full hulls. Waterline huls are quite easy.
Cheers
Tom
Your corrected bow looks absolutely splendid, I'd say your method is they way to go here!
Cheers
Jan
@ Jan Thank you! I would not dare such a big thing like converting the Scharnhorst into Gneisenau with all this different AA
I am a bit busy this week and traveling now. I hope to get some paint on the hull on the weekend and will then give a detailed update.
I am in the moment a bit in doubt about the deck colors. Maybe somebody can help me:
Corticene is some kind of redbrown. Steel decks should be a dark gray. Cossacks bow and stern and some parts of the upper deck are steel. However Semtex or whatever is called confuses me. I read the color should be from grey to "wet cement". Roberts is writing from red to brown.
Has anybody a clue how that looked on the Tribals? (Haida is all grey)
Cheers Tom
Semtex varied in color during the war from a possible pale brown to grayish-green. Weathering and salt water washed out the color, and some ships had the Semtex painted over to match the steel deck color. A discussion here:
http://www.shipmodels.info/mws_forum/viewtopic.php?f=69&t=165289

@Biggles: thank you for your help!


Then i will probably choose a pale brown as I want to show her in an early stage.
Cheers
Tom
I may have been misleading, or just plain wrong about the brownish color. I think a better choice for early war would be a pale greenish-gray color. A color that would make you sea-sick just by looking at it!
@Biggles50 Thanks for your help

I thought the light green version was late war and the grey/brown/cement/hemp color the earlier version?
Cheers
Tom
Whichever suits your purposes.

So finally got something finished this week. Everything was a bit delayed after i found out that neither rudder nor stern have the right shape!
On the website of HMS Haida you can see how it should look like
The rudder is much wider and there is a sharp knuckle at the counter of the stern, all confirmed by my drawings.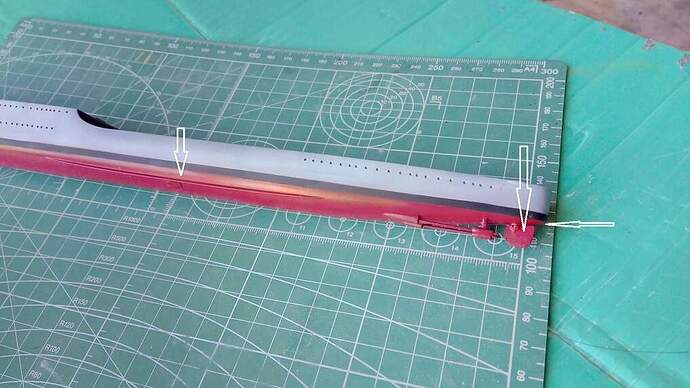 Its not 100% perfect. next time i will insert some wire or brass to make an even sharper corner.
While i was at it i added the grilles for the cooling water in and outlets, drilled out the bulleyes and made the extended ASDIC dome.
I know that´s a bit crazy, but I have the plans and wanted to utilize them. I also decided finally to build her in prewar colors 507 c with the funnel band and the national colors on turret B. I am not completely finished with the painting, have to repair some bugs. Color is Mr Color enamel from Gunze.
Cheers
Tom
Great work Tom

I see you've already painted, but for your reference next time, using super glue is a great way to create a sharp knuckle as it sands well whilst being hard enough to maintain a crisp edge
I did use superglue for the knuckle and for the forefoot Russel, but i am still not fully satisfied. Next time I will try a brass strip remainder from my PE. I am still learning
Cheers
Tom
I managed to do a bit on the weekend. Painted the deck and the Semtex walking areas. I decided for the light brown-grey version. Of course i need to correct them a bit after i discovered that one of the boats is not standing correctly (its more inboard). I will correct this with a bit of tape.

When i painted the bridge and checked against the drawings i found out that Trumpeter forgot the stairs.
I have enough spare PE, but they are in a recess. So some carefull filing necessary. Even stranger is, that the bridge is too high!. When i prepared the stairs i found that they would not fit on the bridge deck level. A quick check with the drawings confirmed that its about 3 scale feet to high. You can also see it on the level of the bulleyes.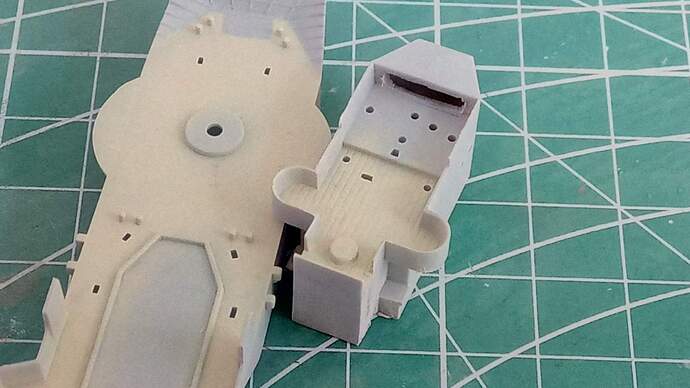 So I sanded abt 2 mm off the bridgestructure
I also added the window at the front of the weelhouse and opened the area under the sloped front where chart table and Asdic stations are.
One thing I will not correct anymore is the bulkhead at the end of the foc'sle deck. I was wondering why there are no doors molded and then realized that there is an open passageway leading in (which Trumpeter) forgot.

I will now check every bigger part before installing. The smaller ones will be anyway 3-D printed


If I now can get PE installed without bending it…
Tom, excellent progress so far
With all the errors you're finding in Trumpeter's offering I can't help but wonder if it's time for a new more accurate offering by a different kit maker

Agreed with Russell, excellent progress so far. Trumpeter made great ship kits but sometimes I do have to wonder how much research they put in. There is always a ton of corrections to be made to their kits. Plus their habit of half-arsing their PE. Why only include just enough railing to do the upper superstructure decks but not the main deck and focsle?!?!