Finished rear: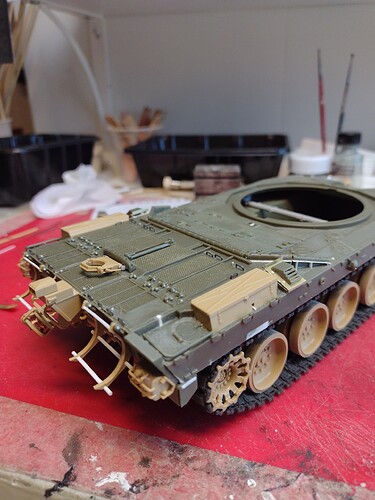 And the front, coming along: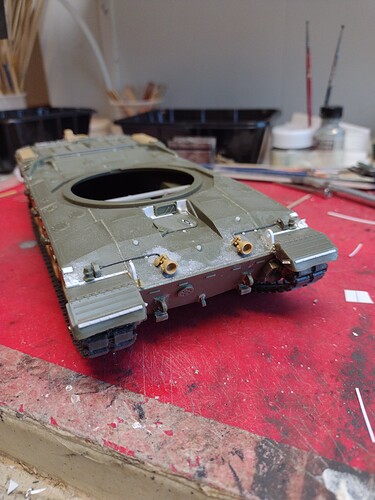 I still haven't decided if I want to use the blade or not.
10 out of 10 for the work you're putting in on this one Russ… Blade could be a good addition, something to make it a bit different from the norm…?
Thanks. This will be the last time I mess with a Trump Challenger, for sure.
Would the blade be fitted on a tank without the additional armor in Kosovo?
As far as I can remember without checking my books, is that all armoured Sqn's deployed to Kosov had the up armour skirts fitted.
Or did you mean the front armour pack ? If so, I dont think it is fitted with a dozer. The belly plate add on is probably fitted.
Did you mean the skirt armour or the front armour pack ? Im 99.9 % sure all the wagons had side skirt armour, but I dont think the dozer fits with the front armour pack fitted. I would have to check.
Outstanding extra work on this one Russ. All of this is really going to show even when it's all painted and done. Really sharp detailing. I bet your next Challenger is going to be from Rye Field Models, though!
My mistake: I have a Star Decals sheet with one Challenger 2 in Bosnia, 1st RTR with SFOR, no additional armor. I meant no nose armor and no additional side armor, just plain skirts. Neither are pictured with a dozer blade. I do understand the dozer would go on in place of the nose armor.
Ah got ya … I would do a generic SFOR wagon then with the dozer fitted.
Hmmm… I just finished doing some work to the lower glacis, hull sides too.

I got rid of a bunch of "Trump bumps" that were supposed to be tie downs, and finished the driver's area. It's getting close to turret time.
I suppose I'll build the dozer and see how it looks mounted.
Trump bumps, I like that one !