Hey guys,
While I'm working on the RFM Easy 8, I had two more ideas spring up. First, a model based on this tank:

For this tank, I ordered the Meng offering. However, I also wanted to build a tank based on this tank as well: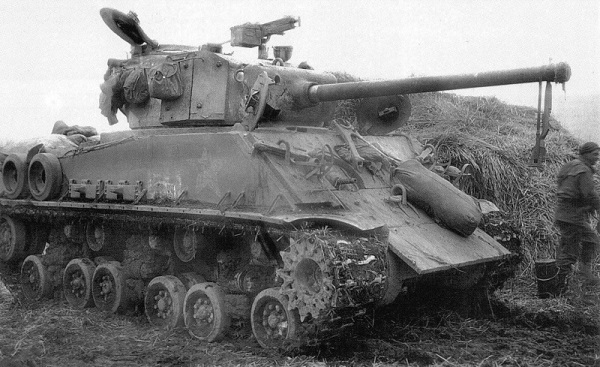 Now my initial suspicions are that the second tank is Flat Footed Floogie AFTER the popular photo of her in/near Worms. A lot of details add up in each photo, particularly the duffel bag strung up on the glacis. Anyway, for this tank I ordered Asuka's E8.
Now, here's where I hit a small snag: The E8 has an early T23 turret with a split loaders hatch. The M4A3 VVSS in the first picture also has a split hatch. Asuka's kit has the oval loaders hatch from later turrets, Meng's 76 W VVSS kit has the split hatch.
So, because I am complicated, I swapped the turrets. The Meng 76 (w) VVSS will now have an oval loaders hatch, later T23 turret. The Asuka E8 will now have the split loaders hatch. My primary concern was the probability of a 76 VVSS having a T23 turret. Alas, there's a photo of a "bring back" VVSS A3 Sherman:

These M4A3 VVSS Sherman's with the oval loaders hatch were solely built by Fisher Body in late 1944, until December. Perfect!
So, here's some progress of the turret swap. For the oval hatch to meet up with the upper hull I had to cut away the molded on turret ring from the lower turret. That will allow the turret to mate up with the kit supplied rotating ring.

As for the Meng turret, I needed to create my own turret ring out of plastic card. Then ensure it was centered and I created a similar method of turret retention as seen in most Tamiya builds. The red arrows indicate the "hooks" I made from discarded plastic sprue. The blue arrow indicates the small cut out I made to allow the "hooks" to slip into the turret ring.

Here they are side by side…
The tank on the right will be the oval loaders hatch, M4A3 76 (w) VVSS covered in sandbags and camo net. A little creative license will be needed as the source tank from the 14th Armored Division had a split hatch.
The tank on the left is the Asuka Easy 8 that will now feature a split loaders hatch and replicate the field added glacis armor.
The entire reason for doing this was simply make an E8 with a split loaders hatch. Not so simple after all…
Stay tuned for more of my Sherman obsession!