The LVTP-7 "Amtrac" entered service in 1972 as a replacement for the aging LVTP-5, that had been in service with the Marines since 1956.
LVTP-7
In 1982, the US Marine Corps contracted the FMC Corporation to conduct the LVTP-7 Service Life Extension Program (SLEP), which converted the LVT-7 vehicles to the improved AAV-7A1 vehicle by adding an improved engine, transmission, and weapons system and improving the overall maintainability of the vehicle.
The AAVP-7A1 has been the mainstay amphibious personnel carrier for the US Marine Corps, as well as the militaries of 11 nations, including South Korea, Brazil, Spain, Argentina, the Philippines and Indonesia, amongst others.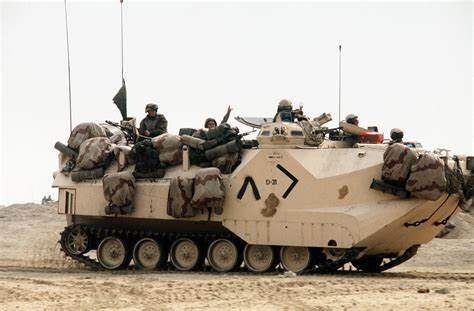 AAVP-7A1 during Operation Desert Storm (1991).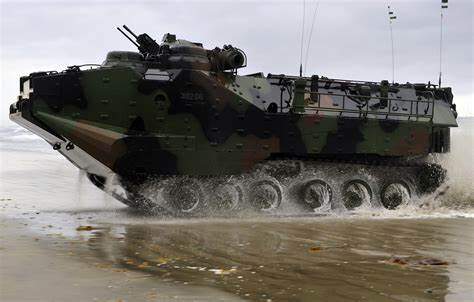 AAVP-7A1 with UpGunned Weapons Station (UGWS) without EEAK armor.
There are several variants of the Amtrac:
AAVP-7A1 (personnel Carrier)
AAVR-7A1 (Recovery Variant)
AAVC-7A1 (Command Vehicle)
AAVR-7A1
AAVC-7A1
The Assault Amphibious Vehicle Reliability, Availability, Maintainability/Rebuild to Standard (AAV RAM/RS) Program was approved in 1997. It encompassed all AAV systems and components to return the AAV to the original vehicle's performance specifications and ensure acceptable readiness until the EFV should become operational. The program replaced both the AAV engine and suspension with US Army's M2 Bradley Fighting Vehicle (BFV) components modified for the AAV. Ground clearance returned to 16 inches (40.6 cm) and the horsepower to ton ratio increased from 13 to 1 to its original 17 to 1. The introduction of the BFV components and the rebuild to standard effort was expected to reduce maintenance costs for the expected remaining life of the AAV through the year 2013.
AAVP-7A1 UGWS RAMS/RS with EEAK armor.