You have done a beautiful job on the Big E. Me thinks you would be very happy…Cheers Mark
Took some time away from the desk after the push to get the Enterprise done but I am back now and started work on the airwing.
So far I have built up 1 each of the various planes I will place aboard. It is a slow process micro-sawing off the wings but looks good. I put a small piece of plastic rod to represent the various hydraulics and hinge mechanisms. Also drilled out the engines of the S-3 Viking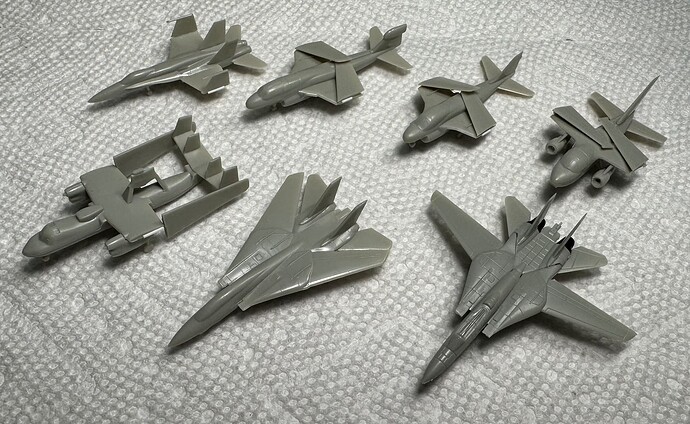 Super not a fan of the trumpeter F-14 (The one with the wings extended). Used some weird plastic for the nozzles that just didn't want to stick. Also has some off gaps which I am going to have to address. Luckily I only need to build 2 of those.
7 down, many…many…many more to go

You are going to be a busy Man doing all the Aircraft…Cheers Mark
If you find that the planes want to sit ass end on the deck because the weight balance without real engines is off, I found that a small piece of rod on the rear end, simulating an extended tailhook will keep the plane level. I thought that was better than gluing the planes to the deck.
Update: The airwing is built. Took me way longer than I wanted, mostly (if I am honest) because I have 0 enthusiasm to build and paint these. I also had a long vacation to Europe which got in the way.
Only 52 aircraft but felt like way more when building them, especially since a good portion had to have their wings sliced off and folded. Added nose weight to everything but the F-14's and F-18's. 2 part epoxy putty worked for most but ended up using lead shot (hammered into a thin strips for the E-2's)
16 x F-14A
15 x F-18C
3 x E2 Hawkeyes (Props and radar domes are left off for painting and decals)
4 x EA-6
8 x A-6
6 x S-3 Vikings
Not sure if I will build up some Sea Kings. Will wait to see how the deck looks. Also not 100% sure if I will use all these but would rather have them built.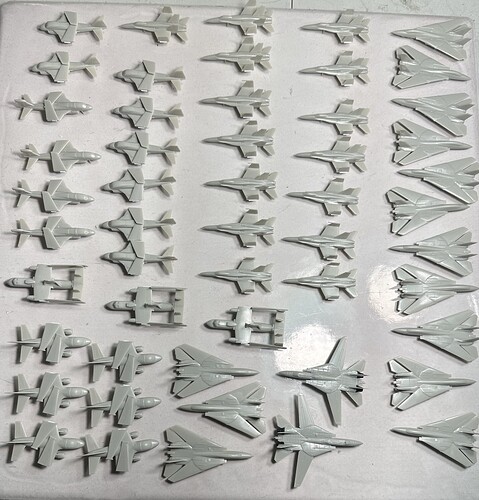 Looks very cool though
Well, the good news is that it is 1/350 scale, they could have been 1/700, only you will have less fun putting on the decals at 1/350 than 1/700…LOL.
Macus
The Midwest Model Shop on YouTube is building the 1/200 USS Enterprise CV-6.
Wow, that's quite an air wing! Great job - and I here your motivation issues towards them… Nevertheless, they look good. And I would add a helo, SH60 likely. They were quite present on the flight decks…
Cheers - myself from the US now, on TDY D.C. area far a week… -
Jan
I was in France to watch some of the Rugby World Cup, then continued to Switzerland and Austria. Sadly, the only time I was in Germany was transiting through to Frankfurt airport
There is definitely a reason I build in 1/350 and not 1/700. The thought of all those tiny details gives me the chills
I would love to build a 1/200 scale ship but my wallet and my display cases don't open that wide

I congratulate you on the splendid work you are doing. I also purchased this aircraft carrier and am completing the kit with new planes; I would like to make a hangar (I have to understand whether to buy something finished or build it myself) and add decals. I can't find new decals; where did you buy them? Thank you
Thanks a lot for your prompt reply
Its taken a while but the first of the F-14's are done. They are slow going for me since I honestly just don't have the enthusiasm for building tiny planes but we are getting there in the end.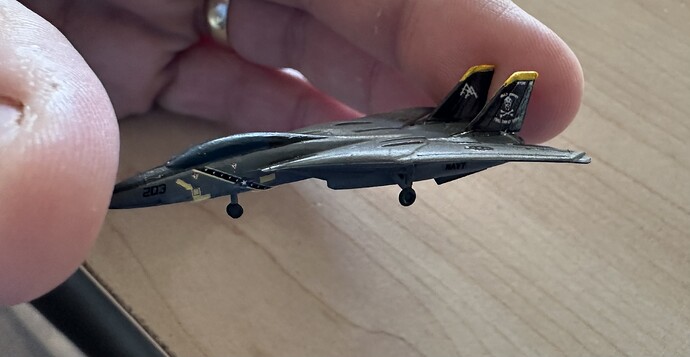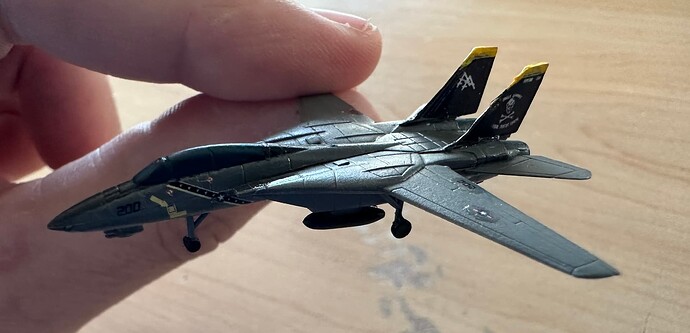 The ones with wings extended are the Trumpeter ones and the rest are Tamiya. The decals are not great. Very thick and there is so much excess transfer film that each one has to be cut out individually. They are also painted darker than I wanted but I have course corrected and the next batch will be lighter. Will just add some visual interest to the deck
Gotta love the Jolly Rogers … will look great on the deck
All those planes. That is dedication to the build.
Ah well - I think I know exactly how you feel…as you know about every little flaw that occurred during the build.
But be assured, your Tomcats look awesome! In your pictures, where they are magnified, you can clearly see the Jolly Rogers, and a crisp paint job. They will look so cool once on board!
Great job, keep up your motivation!
Cheers
Jan
2nd Squadron of 'Cats complete and installed
16 down, 36 planes to go!