Thanks,they are pretty dust proof except the two on the right,I do have clean them once or twice a year,but the other four are great,no dust.
I got an Ikea Billy / Oxberg which is big enough for my current finished models. As I guess I will be able to store there about 20-25 tank models in 1/35 scale.
An important lesson learnt: I had to cut off some of the long antennas applied to the tanks to fit in between the shelves. Probably the antennas were too long, the shelves have a good distance. This is important to double check before buying anything for your models. If a shelf is too close, than any handling would be risky but also it would be less impressive to look at a model.
Tamás
I'll be drilling four holes above each of the shelves on my barrister bookcases, adding small wooden dowels, and adding plexiglass shelves to doubles their capacity. That or gluing strips of pre-stained wood along the sides and then adding the plexiglass. As you can see, I mainly store unfinished builds in them to protect them. And trust me, there are a lot of them.
Finished ones usually get tucked away or sold if they were contract builds.
Thanks @terminator ! It's not as dust proof as I'd like. There is a bit of air infiltration around the sliding glass doors. It is heavy and took 2 old men and a teenager to get it on the wall rails. But I am really happy with it and will gladly buy another.
First step done. Despite my wife is complaining, I managed to empty 2 shelfs. Now I want to make new holes to adjust the distance between shelfs and get at least another 1 or maybe 2.
Lights will come later, I have to buy a 12v A/C adapter.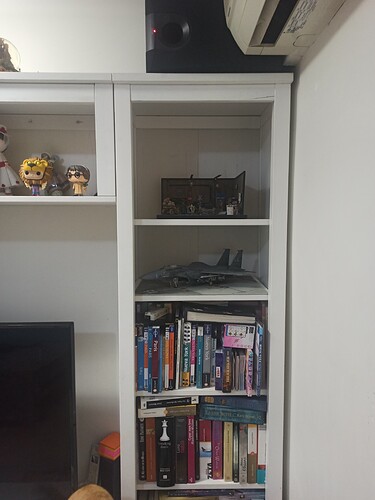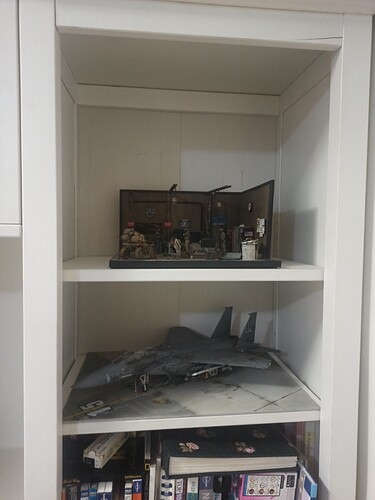 Barrister book cases are certainly a very classical and beautiful piece of furniture to display models, but they are also pretty expensive! If you're lucky you might find a second-hand one in good condition.

I bought three of these. They're not bad, but as you can see the shelves are spaced far apart for mostly tall items. If you could squeeze in more shelves between the existing ones, you would have double shelf space, but they are not made to do that easily.

I usually go the really cheap route - clear car cases of appropriate size, or ship (or locomotive) size cases for my ship models. The covers are tight-fitting and are reasonably dust-proof.

I learned a long time ago in Amsterdam that models in glass cases can be classical, beautiful and expensive as well. Wait…I may have to rephrase that.










Good one!!
….seeing as you are a cunning linguist.
I use IKEA Detolf cabinets with slight modifications. I used 3M Brush Strip for dust proofing and some acrylic sheets with 3D printed holders for extra shelving. I'd say the dust accumulation has been reduced by 90-95% as compared to my earlier display cabinets that didn't have dust proofing.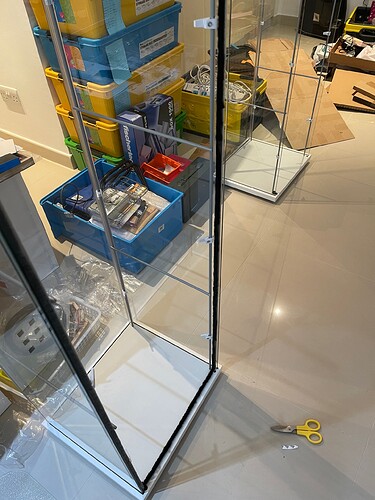 I use acrylic cases for the models I want to display. Zero dust but not the cheapest option. This one is sold as being for a football boot of all things, but is perfect for 1/35th tanks. They do custom sizes too.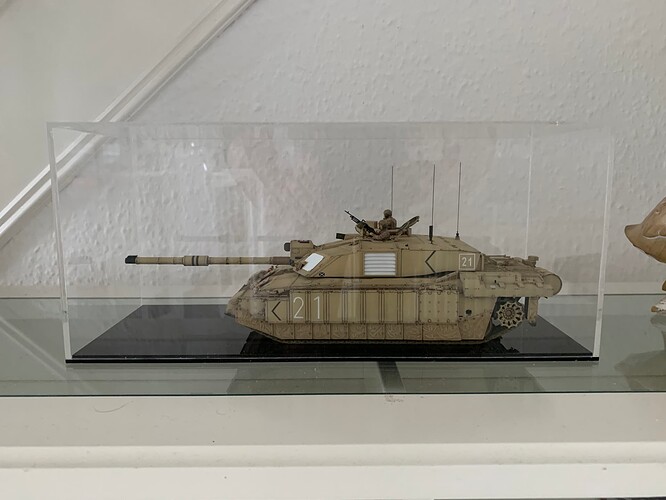 I use a couple of Ikea Detolfs with weatherstripping similar to what @iflytb20 posted up above, but without the extra shelves (speaking of which, how do you hold them in place?) and I also bought an Ikea Besta with Glassvik doors several months ago that I modified with additional foam and felt weatherstripping to make it completely dust-proof. Here's what it looks like:

If you're interested in seeing how I did it, here's a link that has more details: https://www.reddit.com/r/ikeahacks/comments/on3tyc/finished_dustproofing_my_besta_with_glassvik_doors/
The Besta is very roomy, can accommodate quite a few shelves, and is moderately priced, as are the shelves. The total cost for what you see on-screen was about $345 when I bought it last year. I know prices have gone up since then, but not sure by how much.
If you can find the appropriate-sized M8 clamp, you tighten one in each corner about the height you want the extra shelf. Place them so most of the clamp is sticking within the shelf's area so that basically the clamps are supporting a corner of the shelf rather than the sides as the Detolf does. Extra shelves can be cut from Plexiglas or clear acrylic to fill the space better than the stock glass.
People actually sell the clamps and shelves on eBay and such as 'expansion' kits for your Detolf. They have shelves especially designed for holding different size action figures because figure collectors love these cabinets.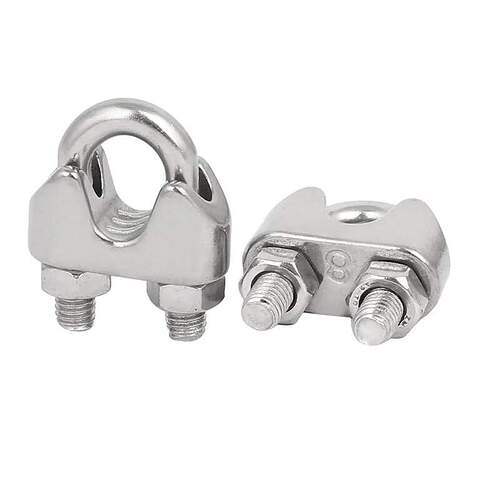 If you are handy you could attach a strip of metal to the bolt by drilling a hole at one end that fits over the threads, screw the nut down over it to hold it in place, and once the clamp is locked where you want it fold the metal strip down towards the center of the shelf area to give a bit more purchase area.
People have also combined one shelf with 1 or 2 more to make one much wider cabinet but that requires being really careful with a router and lots of measuring. Lots of measuring. So much.
My builds get mixed in with the books in the library I built. No dust proofing, and my house gets pretty dusty.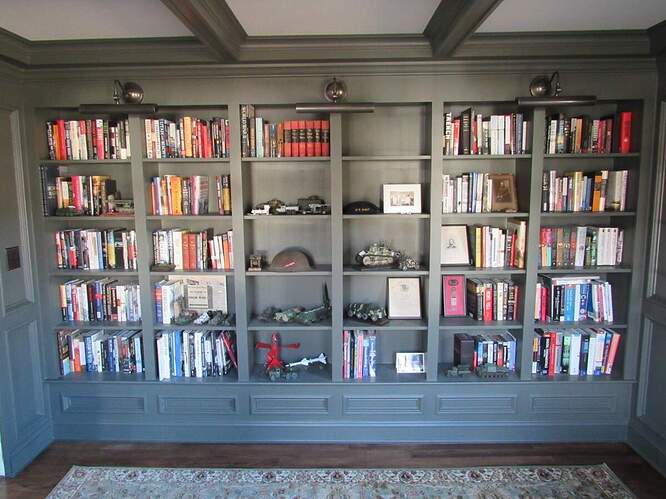 I was considering building glass doors to go with the built in, but that might be a little beyond me right now. Plus, they'd interfere with the picture lights above.
Strongly considering one of those detolf Ikea shelves, and moving the models into my bedroom to help preserve them. Gonna try my hand at a custom display case soon though. I've started building my first ship, 1/350 Dreadnought, and I want it in a case in my living room. Gives me an excuse to finally invest in a table saw.
For me these are the best options. Tamiya do their own cases, but they're expensive - i'd be interested to know how much your 'football boot' display case cost?
Yeah I have a couple of the Tamiya ones, they are a single moulded piece. The one I've shown is from a company called Puffin Plastics and are cut pieces glued together. I paid £25 for it through Amazon but they have shot up in price to more than £35 now I think. Funnily enough the one for two boots, which is about double the size, is around the same price as a single now. If you buy direct from them you can order with or without a base in custom sizes. I'm actually planning on their two boxing glove upright case for my a,b,x any y wings when finished. To me the quality is pretty good.
The set I bought off eBay came with clamps….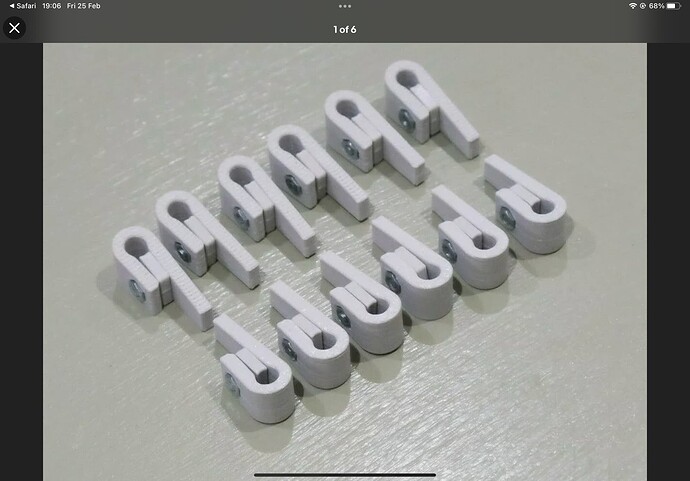 ….like this. They attach to the support like…
…this. You then place the new shelf on them like ….
….this. I can't find the seller I bought from but just search for "Detolf extra shelf" on eBay.
PS : these aren't my pics, I shamelessly stole them off the internet