Hi Ed,
That's a wonderful model you're finishing there!
It's taken me a while to realize that you might help me with a question that I have since I built my Dragon Panther II with Mini Art Studio mine roller:
I suppose you've mounted DEF's roller mounting plate, but whichever it is, I hope it's sufficiently detailed to clarify what the back side of the lower plate should look like? I know it has lateral spacers - but are there any similar things between them that support full width "spaced armor" on the lower hull?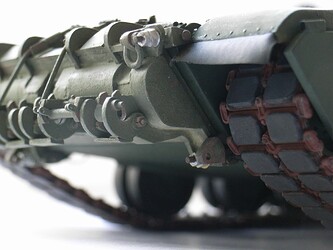 I've mounted the suspension with removable bolts, so I'd like to also show it detached, maybe dangling from my M88's hook, but I want it to be correct and couldn't find any prototype pictures.
In case you or anybody else is interested, here's my full build report:
http://panzer-modell.de/berichte/mdcv_panther2/panther_e.php
Peter
Thanks for replying, Ed!
But as you supposed, that picture just shows that the lower plate doesn't touch the hull. What I need to know is if there are any more spacers in its center part helping to support that space.
So my mounting apparatus will stay on the vehicle for the time being.
Thank you anyway, Peter
Thoughts on my attempt on using tree limbs made out Plumosa fern.

I did paint them to break up the monotone of how they are normally but i think i need more color change from branch to branch.
Made a bungee cord for my cooler.Also redid my tree branchs.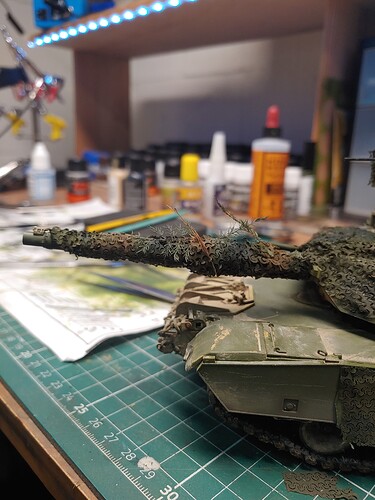 Hope the changes are noticable thinned them out more so you could see more of the branch
That looks really cool and I think the fern adds character.
Someone posted that the new two-tone green camouflage was for Polish M1A2SEPs and not the US Army's M1A2SEPs. That would make sense to differentiate the two M1A2SEPs from domestic and foreign.
Wait … theres a kit under that mud ??? seriously, great build and terrific finish. The branches are very nice and realistic as is the bungee, nice job on it. I've got the RFM SEP V2 and looking forward to getting started on it … sooner than later I hope.
I take it this is a old Reforger ? or is the Reforger still a thing ?
Its from the Atlantic resolve from a few years ago.
No, REFORGER was ended a while ago. Atlantic Resolve is a BDE at a time rotating to Europe to do training w/NATO countries, mostly in the former Soviet satellites like Poland, Latvia, and Lithuania.
Cheers Ed, I got that , what I meant is Atlantic Resolve the new Reforger - ie, the rapid reinforcement of Europe
Cheers Gino, you pulled the trigger as I was typing lol
Just waiting on some paint for the finishing off on my figures and backpacks but my Abrams is in the home stretch now.

That is looking peachy Ed. Lots of little details grab your eye and move you onto the next one. Very nicely done…
It is coming out great. Very nice job on finishing. Where is the figure from?
Figures are from H3 models.I have the other figure as well but i had it off to the side primed