I use Testers Dull coat for a clear finish. Will the odorless mineral thinner damage that?
Greg, I don't use Testor's Dullcote but this old post from Mike may help.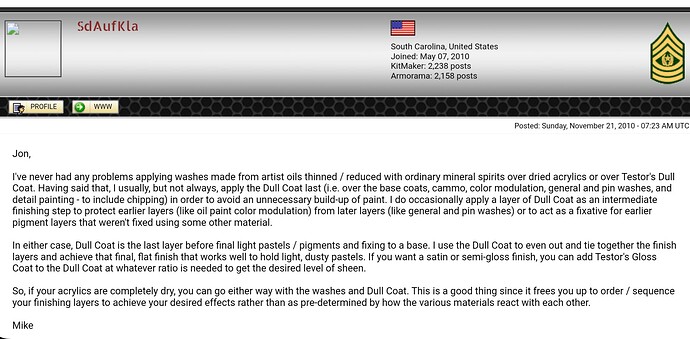 Please see thread for details.
Oils Over Dullcote
HTH,
Wade
Never would have thought of that, I'll keep that in mind
As far as I know odorless thinner will not attack dull cote.
Know this thread is a bit old now but wanted to ask, any recommendations for brand for gloss coat? I've applied paint and decals for another model and am looking to do a gloss coat before pin washing and weathering
Well if you're going to be doing oil or enamel (MiG, AK) washes and weathering you want an acrylic gloss clear coat to seal the decals and the paint in. You can buy any number of brands of manufacturers acrylic clear gloss coats, but I'm a veteran Future fanatic. I know, I know, they don't make Future any more, but there's now an official replacement:
Holloway House Quick Shine Multi-Surface Floor Finish. Same as the original Future. Available at Wal-Mart. Tell all your friends. You shoot it straight from the bottle.
This is topical! I am right near the end of my future and was wondering what the most recent version was
I've heard people say cleaning products can work real well for models. Never knew why, or how that was discovered, but who am I to question the "old ways"
Because of the constant non-availability crap over so many years, I've never tried the 'Future' way. Since this stuff is "veteran" fanatic recommended, I may need to give it a shot.
—mike
'Future 2.0'… guaranteed to extend your future.
…just a little bit.

—mike
Never question the ways of a Jedi airbrush master.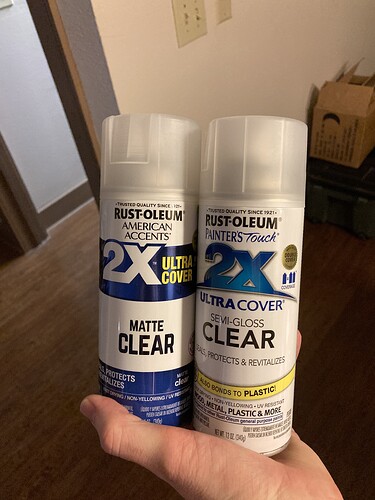 For reference sake, these are the only spray coats I have. I do have the brush on Vallejo matte and gloss varnish (could those be airbrushed? Never thought of that). I've only done models for tabletop games so these have been fine, but didn't know if they're good for models
What is the odor like with the RUST-OLEUM products? I ask because my experience with their Black Semi-Gloss Enamel has been that it lingers-on forever.
I've airbrushed Vallejo Gloss (70.510), Matt (70.520), and Satin (70522). Just looking for a cheaper alternative for spraying larger areas now.
—mike
The aerosol smell lingers a bit. Certainly don't want to do indoors without good ventilation. I spray it either on the porch or in the garage.
And that's good to know that I can spray via airbrush if needed, but I agree it wouldn't be cost-effective
That is 100% on the money with Quick Shine.
I had a detailed conversation with one of our local IPMS club's serious top aircraft modelers about clear coats last month. Quick Shine proved far superior to all of the other stuff out there like Alclad's AquaGloss etc.
It doesn't say anything on the cans, so my estimate would be that these are enamels. Since you have an airbrush, you might want to run down to Wal-Mart for a bottle of Quick Shine.
I think I'll do just that. Who you just use a simple spray bottle from the store for it?
Went to my local Walmart today with full intent of grabbing a bottle of Quick Shine. The Walmart app even said it was "available" in my store — cool!
Ugh! After being mis-directed several times by stockers… Isle L6 to H16 and back to L6 again and so on… YOU SANK MY BATTLESHIP! There was absolute zero floor wax of any kind of any brand known to be found on the planet Earth on any shelf! … Guess I won't be going the "Future" way anytime soon. Welcome to Wally-World!

—mike
You airbrush it. Straight from the bottle. No thinning.
Sorry Mike. It's in the aisle with all the mops and house cleaning supplies.