Looks great Don. The parts issue is a pain, but worth it in the end.
Almost there!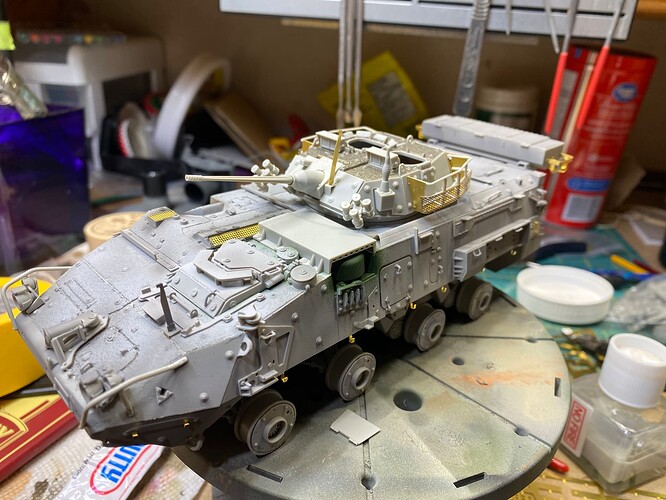 Probably the 98% mark in terms of build. Mirrors and tools and then whatever I end up with for stowage.
Now for all of the white paint.
Very nice Don… Good luck with the white paint… I never have much luck with my white attempts…
That's going to look lovely Peter. Will be good seeing how you meld the various parts together…
Definitely drool worthy Gino. Great work as usual. I actually missed the build log, but had a quick scan through now. I now have to go back and take it all in nice and leisurely.
Stunning build Gino with some brilliant scratch building and upgrades. A big truck made even bigger with that neat addition of the trailer built from various parts or scratched, a perfect build and both finished excellently.
Was a real.plrasure watching this come to life, you really nailed it and done it proud …
Thanks gents. Every one else's projects here are looking great too. Gotta love big, brawny 8-wheeled AFVs and trucks.
White paint is giving me no end of troubles on this one. I think I've got it close to sorted though.
In the mean time, to avoid inadvertently launching the rest of the model across the room, I've started on the stowage for the turret rear.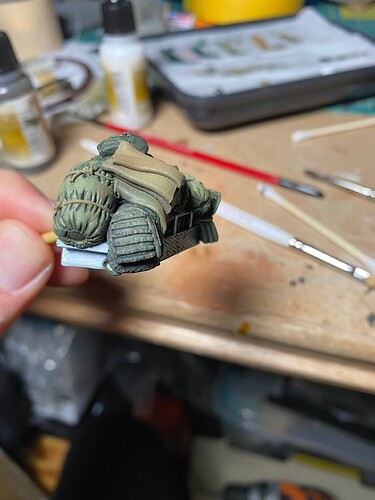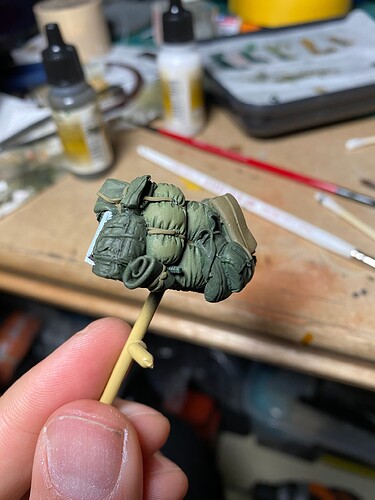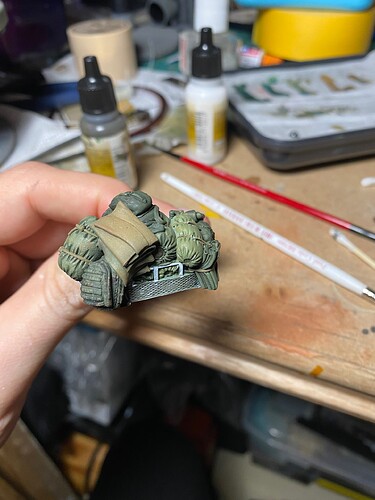 This is from the Black Dog LAV III set and it's meant to go with an Afghan era LAV. Vehicles on UN ops aren't usually so heavily laden with kit, but I wanted to use to use some stuff because a) I paid for it and b) it'll help add some colour to the otherwise stark white paint.
That is some nice detail painting on your stowage Don. Once it's secured that will give a nice contrast to the vehicle white.
I haven't forgotten about my Pantsir, after reverting back to the sand colour, I started to spray.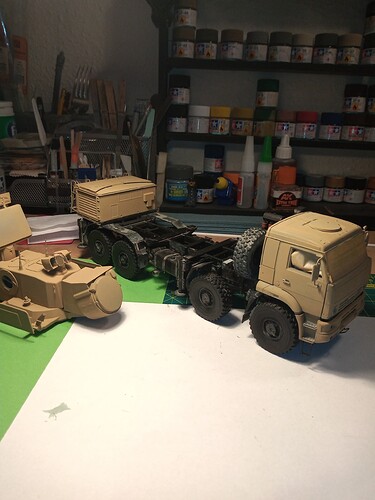 There is a lot of plastic to cover lol …
It's only one coat so far, and I've only done the cab, rear box section and the weapons turntable. Still need to do the turntable base unit, the control box behind the cab and a few smaller bits… Then start the second coat lol… there are a million small nooks and crannies that it's hard to get into, so I may need to do a lot of fill in painting by brush at the end.
Have weathered and washed the chassis and have the wheels left to do.
Stowage is on, and I used epoxy so it's staying on too. Not sold on the colour of the tarp. I have visions of it becoming the classic blue poly tarp, but I think it's too much blue with the Jerry cans and eventual markings. Also it doesn't even clear the base of the turret (despite Legend designing it to) so it may come off entirely.
Sorry Ryan. Not the shade, that I was going to play with. I mean the overall amount of blue things on the model. There's 4 blue water cans plus there'll be some blue UN markings and then the tarp. Just don't want it looking like a house in the greek islands by the time it's done.
Go for a yellow tarp
The beast is painted. It seemed to just keep going on and on and on…
The weapons turntable is assembled, and the main sub assemblies are just dry fitted to the chassis at the moment. The Spartan is to compare size.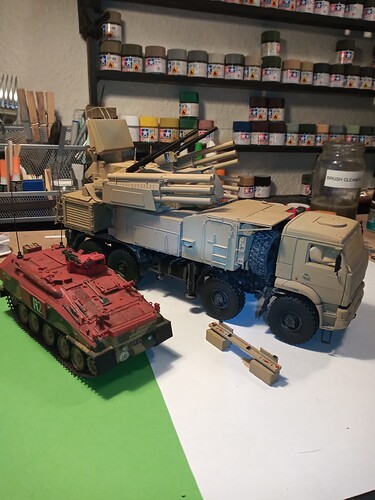 Have started detail painting the smaller bits now like the clear lens and the tracker heads . Wheels still need the dust wash applying.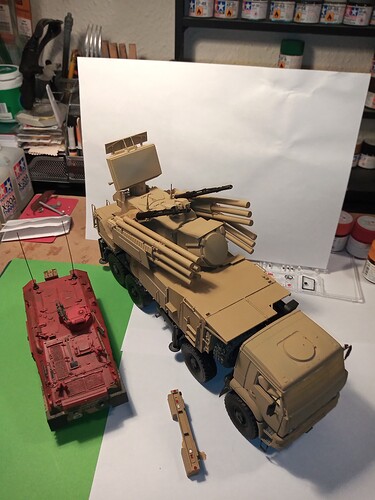 Can side windows need putting in and that's about it then. Once detail painting and a few touch ups are done, it's weathering and washes.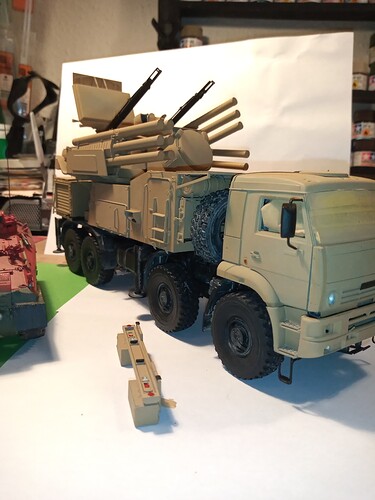 Did you buy the gallon size paint can for that?
Felt like it lol… I mixed Tamiya XF 59 and buff 50/50 and then split that between 2 mixing jars and then thinned that down about 60/40… Used 1 and a half of the mixing jars worth … enough left to touch up some areas if needed.