BTDT with kids and animals.
Woke this morning to cat

. Some days your the bug, sometimes the windshield.
Hello !
This time it's really finished ! The fig is from Alpine miniature with modified arms.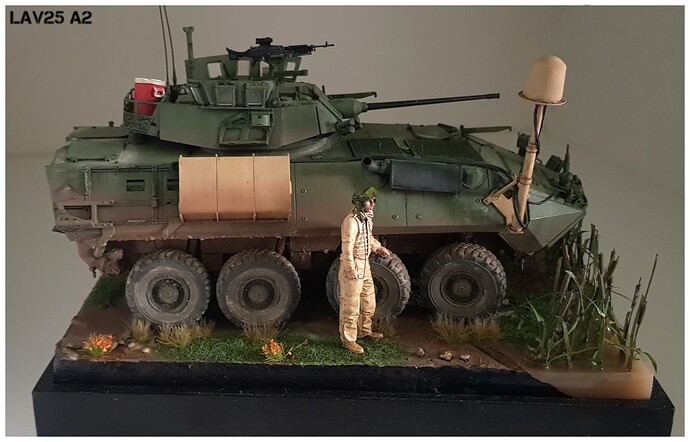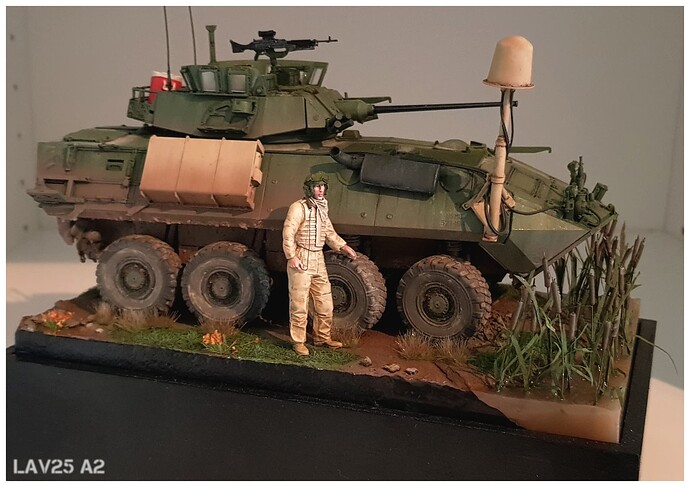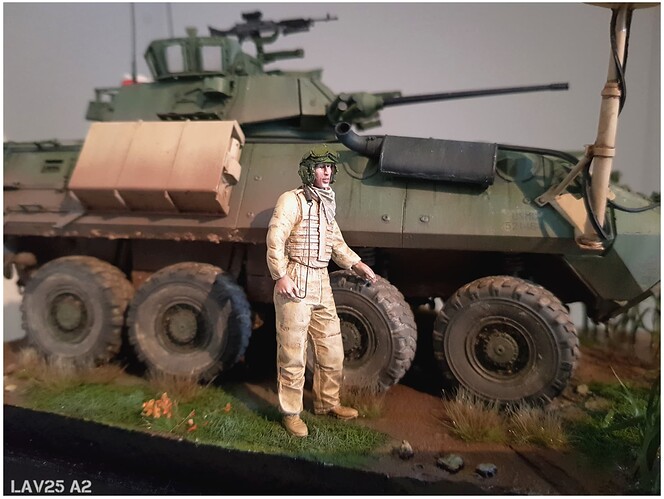 I really enjoyed this campaign !
Thanks for watching.
Nice addition… Gives the whole scene a good sense of scale
Everyone …serious bump for this campaign… It has already been extended and it's due to finally wrap up on the 14th … That is 6 or 7 days depending on time zones…try hard guys as there some great builds so close to finish …
Just finishing the last of the bolt heads now John. Had to scratch build a tad more but that is done. I hope to have paint down and fully assembled by the 14th.
And here she is with most parts dry fit. Ready for a clean and primer.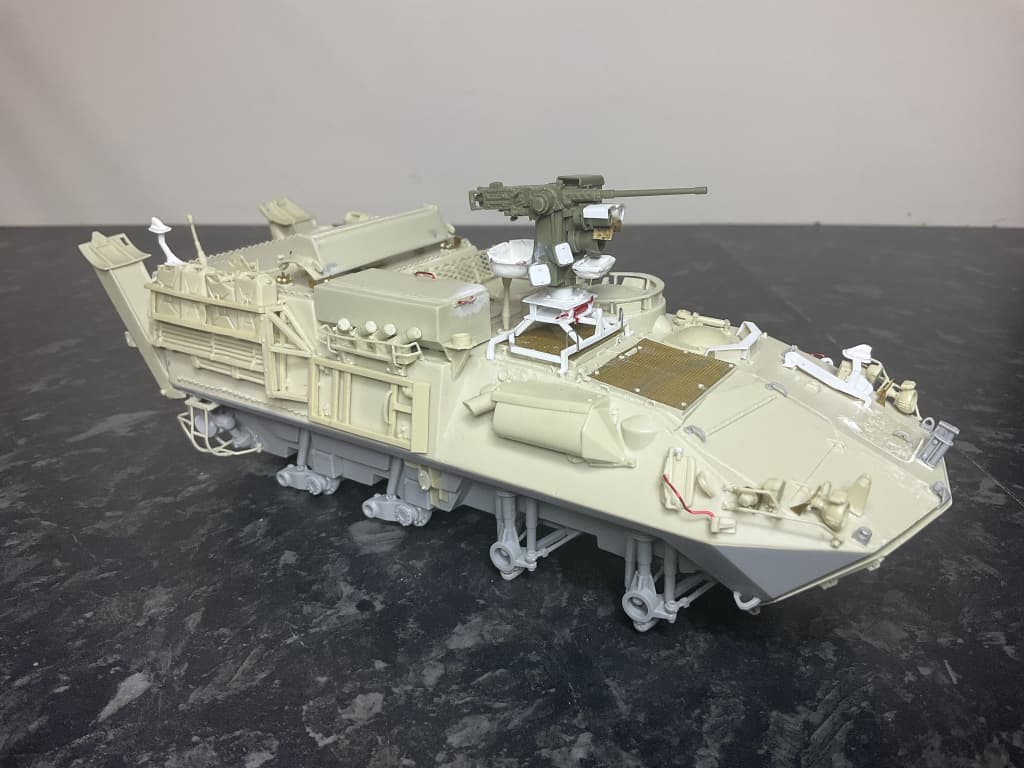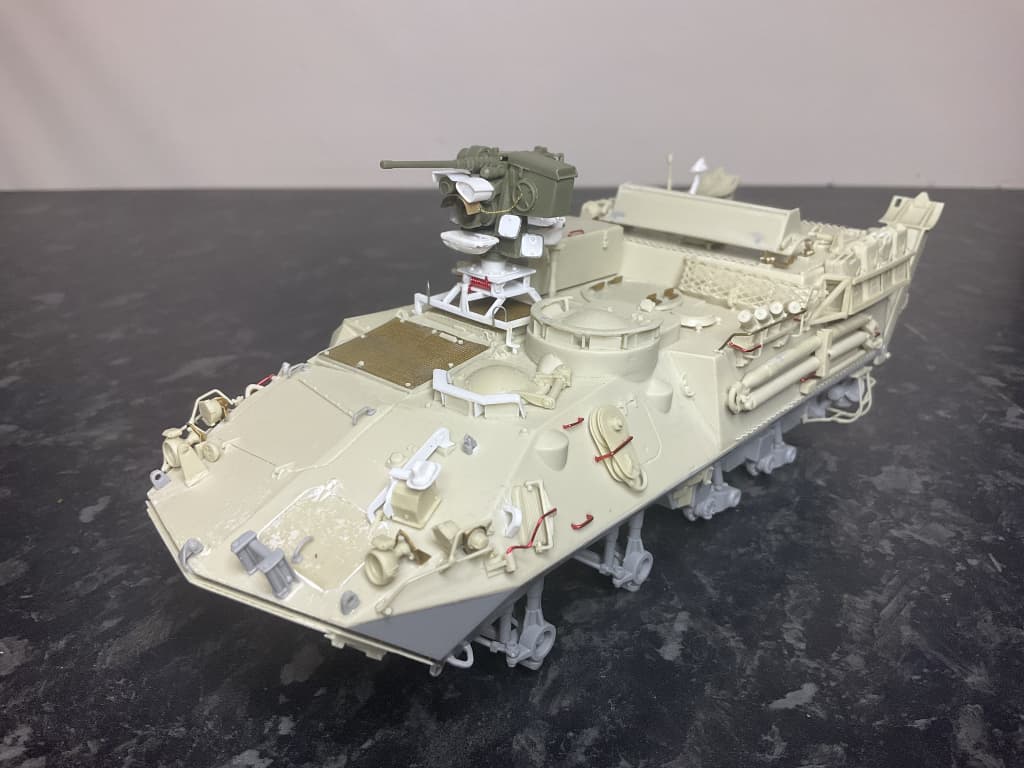 Pics of the forward mount for the sharkfin blade aerial are rare. However, the ones I have seen show a very diffeerent mount than what Trumpeter give you in their ASLAV Kit. Trumpeter's is just a straight support glued to the other side of a kit part, but the pics show a much more complex support that is mounted on the opposite side to Trumpeter's, which I scratch built. This is an ASLAV Ambulance vehicle in Iraq, mine will be an ASLAV - R (Recovery) based in Afghanistan: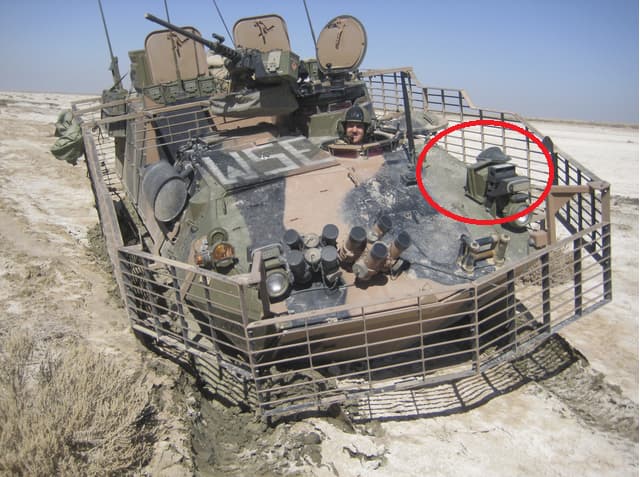 Liking that a lot Peter. Looks superb and some really nice scratch additions as well.
Thanks Guys.
The guy that made the master for this conversion has contacted me. He saw the pic one of the club guys posted on my club's Facebook page. He has sent me a pic of the spider mount showing what is usually hidden by the shell catching basket. I needed to make a few modifications.
Primer is now down and drying…
Okay, decals are still wet, but she is together. I'm calling her done for the campaign.

There will be more work done soon, weathering and especially fixing the tie downs on the jerry can rack I broke while adding the decals…
…which leads me to another issue. I need a couple of decals to really finish the markings. I bought some custom decals from some random guy off the web, to use on this, however when I tried to use them tonight they just disintegrated. So I have scrounged in my spares and managed to find some close enough to use to get her ocross the line. I borrowed a set of 'Caution Left Hand Drive' decals from the Trumpeter ASLAV-PC (fortunately there are two in the kit).
The only really noticeable issue is the '38' and 'B', which are smaller than they should be. However, I can live with that.
Thanks for the extra time John. It was a great group build to be part of. A lot of fantastic models made and I'm glad I got here.
Great job Peter- the camo looks the business!
Great finish Peter, it really looks good… The cam is excellent and the extra detailing you put on it has paid off tenfold, cracking job mate, you should be rightly pleased with it
Well it's the last day today, but there's a few hours until midnight…will finalise everything tomorrow then sort out the confirmed finished builds and get the names and award sent off to the Staff Jim…
Thanks for the kind words guys.
Ok Chaps. Some really great builds we had here and some very nice almost got theres who didnt quite make the deadline sadly.
Below is the list I have sorted out of those who did manage to finish up and show completed images, If I have inadvertently missed anyone, get back to me and I will them update it before posting it off to staff Jim.
John @Johnnych01
Don @Canmedic
Lucas @DeskJockey
Olivier @Bison126
Karl @Karl187
Peter @petbat
Gil @Gil17
Tom @barkingdigger
Reynier @SableLiger
and the award for those that forgot what it looks like.


Well done everyone and once again, some outstanding builds
Congratulations to everyone that made the cut. Some beautiful builds represented in the campaign.
Hi all and for everyone who completed their build in the time frame I have messaged Staff Jim with the list of names and the award etc. Will leave it with him and once he gets time, I am sure it will be sorted. I will keep on top of it if there is any big time lag.
Once again, a big well done to everyone who took part and produced some really outstanding work. Thanks for all the effort.
Great jobs, folks! I almost got one coat of paint on mine before I ran outta time. Maybe next one.
Thanks John.
The curse of joining too many builds Mark. Been there, done that, and have the scalpel scars to prove it.