Yes, the craftsman at his job…
Yeah- "wasting his free time in nonsense activities"(SWMBO quote)
"wasting his free time in nonsense activities"
Are we married to the same woman @ayovtshev lol
I hope so @Johnnych01, because I'm a happy married man

Angel, excellent scratchbuilding and detailing! I didn't think there was much to do with this little kit but your improvements are making it come alive.
My SWMBO describes my modeling as "positive and constructive" as opposed to "sitting in front of the TV drinking beer all day" so I guess I'm getting away easy.
Thanks Matt!
There isn't much to do with the kit actually if building it in operation mode.
One only needs to:
avoid mounting the 2.0 cm. Flak ammo boxes(parts B10 and B11, step 12) and
decide whether the projector will be a Navy, or an Airforce one.
For a Navy projector the vanes(PE parts G1,G2 and G4, step 2) are a must, but then an actuator:



must be scratchbuild and added to projectors RH side.
The Airforce projector lacks the vanes, so the PE parts mentioned above go directly to the spare box/bin.
Cheers,
Angel
Hmm - Mine calls it my "unhealthy obsession with plastic junk". Unhealthy because she is a cycling fanatic and rides 300 km to 400km per week, where I hardly ride at all these days. Her 'hobby' cost far more than mine.
Some progress on the Flakscheinwerfer, I'm building:
Got some ropes and load belts added to Sd.Anh.51 fenders.
Then followed the advice of @k_mero4 and sprayed the Flak Sw 36 with Mr.Hobby's H-513(Dark Grey) and H-514(Grey), painted some other colors.
Found the right tire pressure decals in my spares(BMW R75 from Italeri) and added them.
Sprayed a lavish amount of flat clear and glued all subassemblies- except the cover- together:

The cover has four nasty ejector pin marks, which I'm healing with Mr.Surfacer 500 now. When I fix them, I'll spray the inside of the cover and will look for a way to mount it without glue.
There will be no weathering at this stage, because I still have to decide what vehicle will tow the projector and carry its generator.
My research in this regard is focused on the Bulgarian Armored Brigade, which had in its AA Deachment a motorized battery of 12 light(2.0 cm Flak 38) AAG.
The Armored Brigade was organized along the KStN of the German 1941 Panzer Division and I found a Luftwaffe KStN from 1940, that shows the presence of 4 Flak Sw 36 in a light Flak battery(12 guns):
https://www.wwiidaybyday.com/kstn/kstn2201lw1aug40.html
There are some matching numbers and if I find a proof that the Arm Bde AA Detachment had some(at least 4) 60 cm Flakscheinwerfer 36, then the towing vehicle will be the Horch 108 Type 40.
Cheers,
Angel
Wow! Angel, I built mine OOB years ago and it's staying that way. Haha! However, I really do like this thread and all the knowledge provided,

—mike
Thanks Mike!
Built OOB, the Flak Sw 36 looks amazing too!
Can you show us your build?
Cheers,
Angel
That's looking fantastic Angel, more amazing scratch detailing… Looking forward to seeing the tow vehicle and it all come together
Angel, what you are quoting is only for Luftwaffe KStN. For Heer KStN there is no information that Flak Sw.36 is included in the light anti-aircraft batteries. If the anti-aircraft units of the Armored Brigade are formed on the model of Panzer Division, then they are on KStN 192, 194, 198, 1712, 1713. There are no searchlights.
I would rather look for them as part of the anti-aircraft cover of army headquarters.
And the model has become perfect.
Congratulations.
Kalin
I agree. I got it just to try-out an AFV kit for the first time and was very pleased with the quality and fun-factor. I've been meaning to update my images and post them here. I'll try to do so when I get a chance to cleanup some of the picks.
Cheers!


—mike
Angel, As promised, here's my OOB build-up of the kit:
AFV Club (35125) 60cm Flakscheinwerfer SW-36 Searchlight
You give a valid point, Kalin!
The devil is (always) in the details

The Arm. Bde. AA Detachment was formed after Sep. 9th 1944 coup.
No German advice could be used when forming it as Bulgaria already had broken relations with and declared war on Nazi Germany.
But bearing in mind that the entire modernization of the Army(both structure- and equipment wise) since 1939/1940 was centered around German know-how, one cannot rule out the possibility of said transformation happening along some German KStN's Bulgarian General Staff had.
I doubt the ones you mentioned were provided by the Germans, because they would have caused increased demands for supply of weapon systems Bulgaria lacked(f.e. 2.0 cm Flakvierling to name at least one) at times when the Wehrmacht needed these direly and would have given an ample excuse each time the German advisors tried to escalate on the issue they had with the 'lacklustre performance" Bulgarian Army showed in its modernization.
I see a trip to the Military Archive in Veliko Tarnovo shaping up…

Angel
Having fixed the nasty ejector pin marks on the inner side of projectors cover, I sprayed it with dark grey and sealed it with flat clear.
Then I turned my attention to the special Sd. Anh. 51, that was used to carry the Maschinensatz 85V 8kW.

Built the frame/base, on which the generator was loaded:

I'm using one of Italeri's Sd. Anh 51 trailers and had to deal with a lot of flash, ejector pin marks e.t.c.Some parts of the trailer will be reworked to bring them in par with the AFV Clubs ones.
Once finished it will carry the Maschinensatz, I intend to scratch build.
Cheers,
Angel
I've got the Sd.Anh.51 für Maschinensatz 85V 8kW built: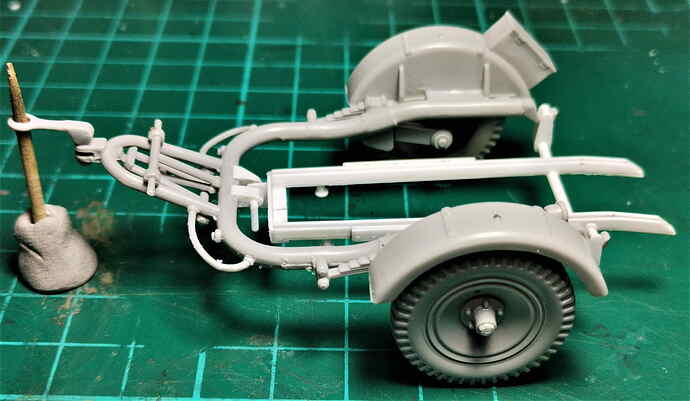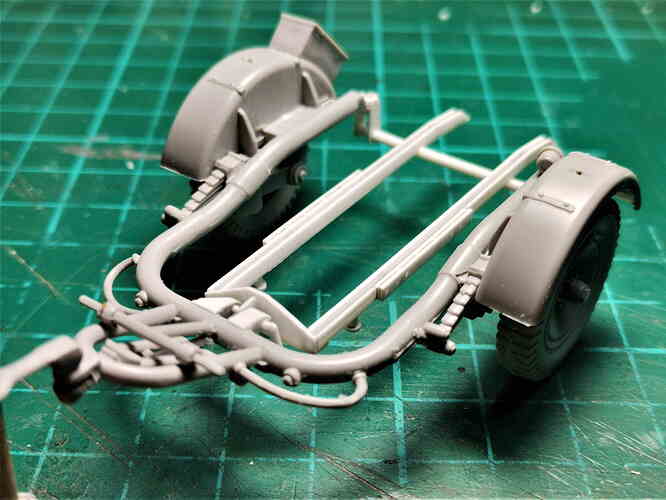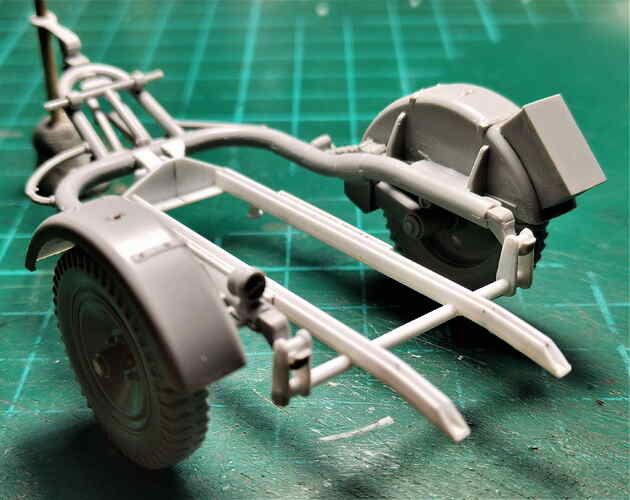 Need to add some bolts here and there.
Then will paint it and start building the Maschinensatz,
Cheers,
Angel
Such a small kit but beautifully done Angel, looks sweet
The old kit scrubs up nice.