Okay, I thought I would try this sub thread process and flesh out my Centurion build with info on the modifications needed to make a true Vietnam Era Australian Centurion to match the decal options AFV Club give you, especially the more 'colourfully' named ones…
The marking options are, as listed on the PMMS site.
AFV Club AF35100 Centurion Mk.5/1 RAAC Vietnam Version (perthmilitarymodelling.com)
169083 A Squadron, 1 Armd Regt, Vietnam 1970

169066 C Squadron, 1 Armd Regt, Vietnam 1968

169108 "The Very Diabolical" C Squadron, 1 Armd Regt, Vietnam 1971

169030 *********** C Squadron, 1 Armd Regt, Vietnam 1971

169039 *********** C Squadron, 1 Armd Regt, Vietnam 1971
As stated previously in the main thread, these decal markings in the AFV Club kit do not match the vehicle characteristics of the kit if made OOB. To explain:
Australia received their Centurions both factory fresh and with some transfers from British Hong Kong based vehicles or NZ vehicles. These were delivered over several years. The first 111 factory fresh were in 2 main batches:
The first 60 vehicles, Australian Registration Number (ARN) 169000-059 Were all Mark 3 Centurions, which were upgraded to Mark 5 then 5/1 standard. Kit options 4 & 5 were from this batch.
The second group of 51, ARN 169060-210 were Mk 5, then upgraded to 5/1. Kit options 1,2 & 3 were in this batch.
When Australia first sent Centurions to Vietnam in 1968, they were "British Standard". Fitted with headlights, side armour, smoke greanade launchers, etc. A pic of a cent in Phouc Tuy:

In theatre operations soon saw these items removed. The side plates were just unsuitable as they collected mud and debris. The lights, launchers and often turret bins were quickly removed by vegetation. Then, to upgrade to 5/1 standard, armour plate was fitted to the glacis. The lights were never replaced in position after that.
Then the fenders were replaced with 5/16 inch steel plate as the originals were very flimsy and easily damaged, often flexing enough to also pop the side stowage bins. This pic from April 1969 shows the replaced fenders with a square cut corner: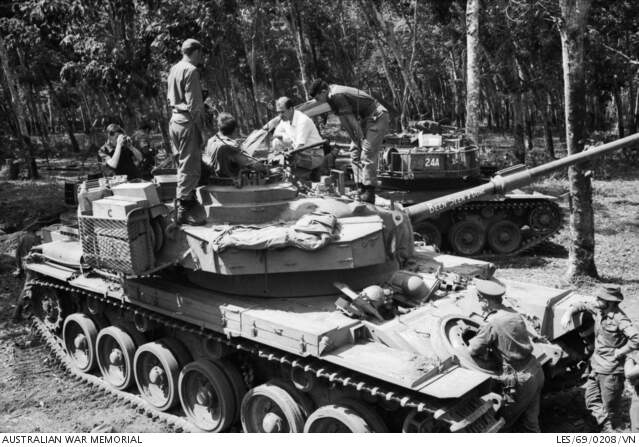 where later it was rounded - August 1969: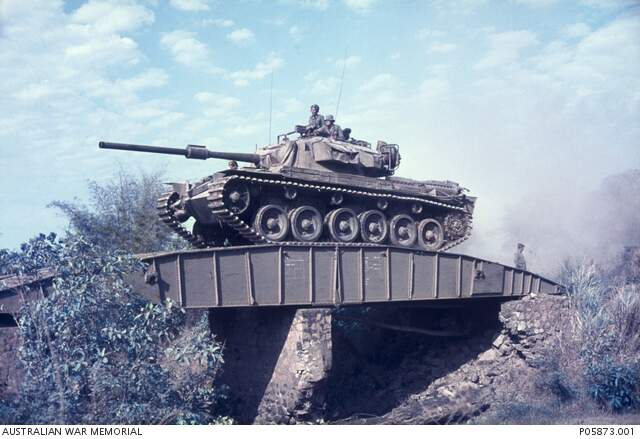 and March 1970

The issues with the bins were not satisfactorily resolved, so these were reinforced by welding sections of corrugaed steel to the front of the boxes to make them more rigid. This pic from July 1970 shows these reinforced bins and the plate steel fenders:

This picture showing the reinforcements in more detail.
These reinforment modifications were not identical between vehicles. The above pic shows them attached from one end of the box to the other, however this vehicle has fewer: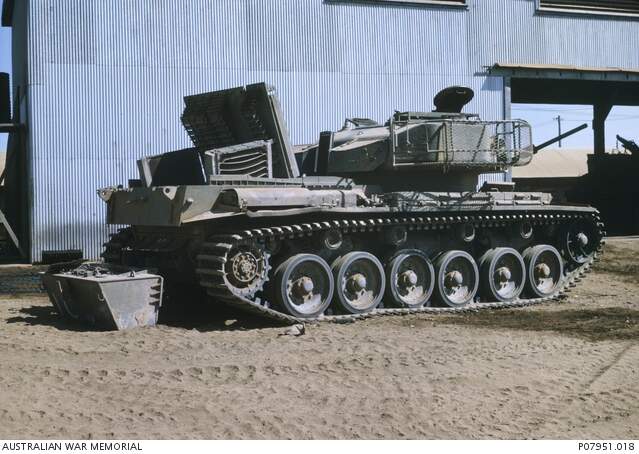 and this different again…