Never wrestle with pigs. You both get dirty and the pig likes it.
George Bernard Shaw
There's always an ample supply of the rude jerks and or clueless idiots on all social media. Churchill sums it up very well in my opinion…but sometimes a really moronic barking dog does deserve a couple of rocks
wink
No one should be using Facebook.
Only reason i even bother with Facebook is family and thge one or two groups i like to go, but for the most parts is just ads and random garbage.
And then this one suddenly out of the blue.
Again, nothing to do with the original post or his comment on WW1 tanks, factually wrong anyway and ends with a threat. Yep. Just reported to the group admins and Facebook. Probably nothing will come of it, but it's the principal of the thing.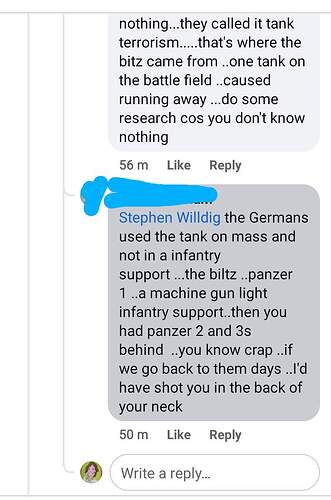 The very definition of an ignoramus.
Oh, personal threat. That would be enough to have the Facebook Police carry him away.
Seriously though; this guy must have all his tank knowledge from World of Tanks of something.
Quite possibly. I can't work out where his argument or evidence (or lack of) is coming from. I'm getting the impression that he hasn't even bothered to look at what I shared. Asking me for photos of captured tanks? Well, they're in the pages I posted. Even original film footage and a photo of dozens of tanks in a German maintenance yard. That alone refutes his original claim they only had 3.
I'm just baffled by the hostility of it all.
I will tell you what's going on. He's dead set that he is right and everyone else is wrong and you proving you're right with irrefutable evidence and that act is a threat to his fragile ego that there are people in this world that are more knowledgeable than he is, so he resorts to lashing out violently against you because you are proving him wrong and he can't have that.
Is like arguing with a cinderblock wall. Don't waste your time with small-minded people.
Hmmm…sounds a lot like certain current political issues…


A real narcissist,its an epidemic in todays society.
"I'd have shot you in the back of the neck"…
Hmmm… inference is that he doesn't even have the guts to stand and face you, even in the protective world of anonymous social media.
I do believe tanks were first deployed on the Somme in September 1916… not 1915…
Just how old is this moron? I'm getting puberty vibes here…
Yes, that Bovi one did not exist back then. Also since then, the Koblenz replica went to Munster.
I'm not. There are people, usually of low intellect but not exclusively so, who have their own unique perspective on the world and anyone who disagrees with it (even with the best of intentions) is regarded as being personally hostile therefore Ad Hominem attacks are the proper response. The internet merely gives them a bigger audience and emboldens them because anonymity/distance (usually) prevents the smack in the teeth such behavior would earn them in the real world. There's also a phenomenon which was known as the "Usenet Evil Twin" where people who were sociable and well behaved in real life develop a contrary personality online; I regret to say I was (am?) one, I enjoyed a good Flame War… In my defence I will say I didn't start any but I participated with enthusiasm. In the un-moderated alt. groups that jerk would have thought he had been set on by rabid wolves as we questioned his ancestry, sexuality (or lack thereof), unfortunate personal attributes and habits (often in concerning his relationships with other individuals, groups and species). One individual introduced themselves to the group in a long diatribe which for some reason dwelt on those attributes which made him a supremely masculine specimen. From this I extracted a quote which which was along the lines of "I don't wear a helmet when I play Ice Hockey even though I've taken a lot of sticks and pucks to the head". Below this I merely commented "We've noticed…"; for some reason he took umbrage and left, never to return.



Cheers,
M
Everyone knows the Flamm Panzer Kampfwagen Mk III did not appear on the Eastern Front until 1917.
The Whippet (I think he may be referring to "Musical Box") was only prototyped in January 1917 and the production version didn't reach the front (in very limited numbers) until December of that year. They first went into action in March 1918, not as exploitation tanks but to disrupt the German advance during the Kaiserschlacht (Ludendorff offensive) in which they achieved some notable successes but at considerable cost. They proved themselves in the Allied August counteroffensive, it was during the Battle of Amiens on the 8th that "Musical Box" went on it's remarkable rampage. Although many Whippets were lost few were captured in a useful condition although one was used by the Freikorps in 1919. The Japanese aquired about half-a-dozen and these are believed to still have been in use in Manchukuo in WW2!
Regards,
M
FB needs to start production of their own plastic kits
Insults, the last resort of a moron. I'd be tempted to post a final message "I wish you well in your recovery and hope the increased medication helps". Life's too short to give these guys oxygen by engaging with them. I'd like to hope it's obvious to most viewers who's nuts, doesn't need pointing out or arguing with.
It is sort of sad that by hiding behind a keyboard and using a screen name (or an entirely fictitious identity) that there's a group of people that delight in behavior that if it was said face to face would result in a beat down of epic proportions. That's the downside of the internet along with people in general revealing in their lack of critical thinking skills. Personally my pet peeve are the proliferation of conspiracy theories and how people wilingly dive into them, which is it's own psychological study in itself. Personally I don't mind a good back n forth but I detest the immediate retreat to fallacy, see my above critical thinking point. At least in the good old days of print only if you got a letter published you had to put your real name to it, cut down on the deliberate personal attacks.
I've read a lot of archaeological/historical academic publications and while it was slow motion (it might be a year or two before the response appeared in a subsequent issue of the publication) and couched in (mostly) civilised terms the depth of personal hostility between certain academics could be almost palpable. It's surprising how many ways there are of implying another party is ignorant, senile or otherwise incapable of doing any mental "heavy lifting" without stating it directly…
Cheers,
M
Absolutely, Darwin's On the Origins of Species being a perfect case study particularly from the religious sector…to this day.