I'm trying to visualise how that would work, & failing utterly.
Could potentially make an interesting dio
Mal
ROFL! Gotta love when auto correct makes it funny
So I did a stupid thing and tried to edit something and now anyone who had signed up got erased?
Anyway. It's game day for all you Centurion builders!
Have fun, post pics. If anyone knows how to move this into the active pile from staging area I'd love to know.
There you go. I didnt want you alone in the going group, so reclicked

I have decided on the Amusing Hobby Shot Kal ALEF, but not yet bought it as it may well be an Xmas pressie

I re-clicked too. Rory is still looking a bit off colour though

I need to get my butt in gear and finish other builds as this one is going to be a long one for me and I need to start early. Spare parts to fix my compressor are on the way, so hopefully I can push out the paint shop backlog.
Nice. Based on what you want for Christmas, you must have been a VERY good boy this year…
Im hoping lol… And there's good … Then there's really good lol…
There's an old Tamiya kit in my stash - this should be a good reason to build it warts & all…
Guess I'll still go… won't be building till the new year but in with AFV clubs shot kal 1973
Glad to see you are keeping on top of your duties Mr Toms @SSGToms

@Johnnych01 Just keeping things tidy, Mr. Hagen!

Looks like you've got the first fist of the empire… and for what it's worth, go for the multi color one, looks great!
Pretty sure one of my presents from the wife arrived today, the Amusing Hobby IDF Shot Kal Alef, so she whisked it upstairs to be hidden away until the 25th
Or it was something she bought for herself…

Can I join with this project? I need some motivation to finish it. Still needs lots of detailing and corrections.
If not I can do an IDF variant (tank version or afv or cev) or the Hobbyboss later Olifant
Sure, shelf queens are welcome on this one. Heck, do more than one!
Getting a little work done today. Fenders and stowage boxes are on. Exhausts are assembled but they're not slotting into their locating holes so I need the fenders to dry first before I break something.
This is my first AFV Club kit. I'm very happy with the detail, but the fit on everything so far has been middling at best.
Good news is, tracks and more importantly, all my reference materials are on the way!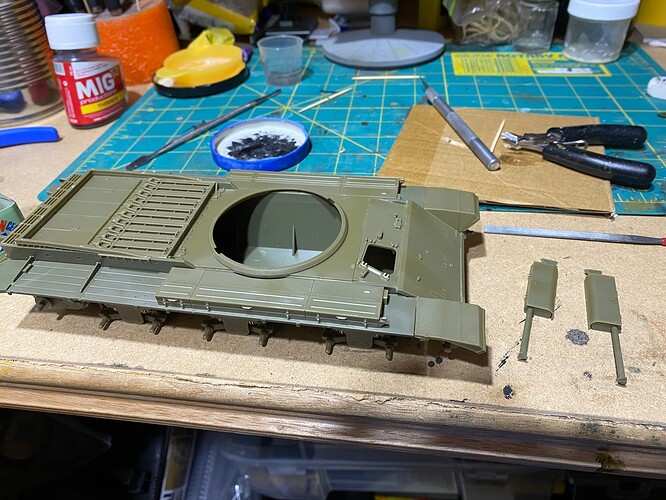 Looks nice so far Don.
I just gave a a few bumps to my 8 wheeler campaign stating tomorrow and the Trumpeter campaign I have stating on the 10th … and this one lol … I can see some stressed busy times ahead for moi lol …
I saw those.
Think of it this way, between the 3 of them it'll give us something to work on while waiting for things to dry!