I have just the opposite. I have had to build as I could not paint - so nothing drying! Replacement compressor capacitor was delivered yesterday afternoon, so I'll install today, but it is raining and humid here, so no painting will get done… Actually, I am waiting for things 'to dry' when I think about it!


Oakey doke… So here's my contribution to the proceedings…
The Amusing Hobby IDF Shot Kal Alef.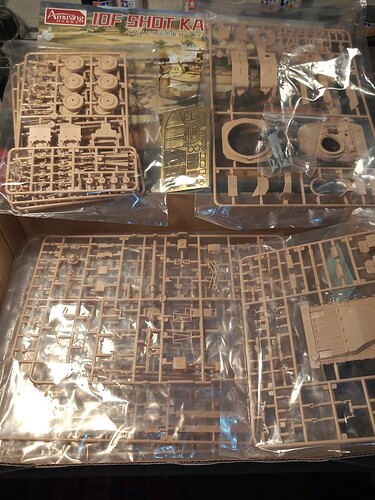 This will be my first Amusing Hobby build so I'm going into it with an open mind and looking forward to it.
I have the AK RC IDF paint set for it and after a quick look in the box I think it looks pretty good.
Some nice texture to the turret. A PE fret for the baskets and few other bits. Choice of a central mounted .50 or searchlight…leaning towards the .50 as it looks mean lol. Only thing that did jump out was looking at the sprues there are quite a few what look like delicate and small fragile parts with some chunky sprue gates and some held on by up to 4 gates … Which seems excessive… But like I said … Open mind and looking forward to it …Oh, you also get a nice resin Commander figure as well…
Looking forward to it! How many colors in the AK set? I love the way real colors spray and have nothing for Israeli colors in my stash so I'll probably pick ip the set
Three, the early 70s , the mid 80s one and the 90s to modern. I will update with the colour codes and names tomorrow Mead
AFV Club isn't much better on that front John. I completely gave up on the grab handles for the engine deck louvers and ended up making them out of wire.
Use a very fine Razor saw John. Delicate strokes to slowly cut through the gate, else heartbreak. Cut through the outer gates first and work your way in to reduce the stress on the part. I did this with AH's Conqueror and had no breaks at all.
I believe that's correct. The upgrade started in '63 and AFAIK by '67 it was competed.
The tank depicted in the boxart is almost definitely a post YKW variant. During the war Shot's had a single, commander operated 0.3 or 0.5 cal MG.
Thanks @ReluctantRenegade, I had done a little bit of looking online for any references from that time frame and I couldnt really find any showing a wagon with 3 turret MGs fitted, so guessed it was probably a bit historically out. Saying that, I will be building it with the 3 MGs fitted just as I think it looks a bit more hard core … One thing I am not sure on is correct stowage and how much would be put on… what time frame would be correct and what type of stowage is the best out there … but not crazy priced …as Im not one to pay more for stowage that the actual kit itself …
I love Amusing Hobbies kits John. They are fun to build, fit is fantastic, and they have all been really well detailed. And RC paints, well, you know they shoot like a dream…have fun!
Thanks for those links @ReluctantRenegade …
It does look nice from the quick look through I did yesterday Matt. I think I will be foregoing getting extra stowage for it though, well, a resin pack anyway … i was looking on evil bay for it and they were on there for £48 !! thats crazy, considering the kit only cost me £42 … I will just see what junk I have in my spare stowage container and work from that.
Mead, the set I got was the AK RCS015 - comprising AK RC096 Sinai grey 1973, RC095 Sinai Grey 1982 & RC094 Sinai Grey 1990.
Fantastic. I'll look at getting it. I have the 1973 Sho't to build, and I'm already looking at other Israeli stuff
For all of you plan on using Indy link tracks of whatever variety, get your podcasts lined up.
107 (I think) links per side. I'll find out for sure once I go to fit them I guess.
Are they workable? I assume so. I know the afv club Churchill ones are!
My Mk. 5 is one of their old releases. Rubber bands and the stupid vinyl outer rims for the road wheels.
Those are R-Model metal tracks. I actually kinda wish I'd got the AFV Club plastic ones as the few I got in the kit for spare stowage are lovely and just click together.
I am a sucker for metal tracks though. I love the heft they give to a model.
Ah you are right, the sho't kal has rubber bands too.
My archer build was the first time I used metal tracks, and I was sold. Easier to clean up than plastic Indy in my experience and as you said the heft and natural sag (vehicle permitting) can't be beat
That's why asked too, the Churchill ones supposedly just click together
Decided to get some paint down today. Should be easy right? Nope. Fought like hell with my airbrush this morning, actually two of them, only to decide I got a weird batch of Mr. Surfacer. There was nothing I could to do to get it to spray.
Oh well, decided to try and follow some others on here and skip priming.
This is going to be an exercise in masking, so I'm playing it safe by working from light to dark and covering up as I go.
The Grey and Sand colours for this scheme have no easily obtainable equivalent, so I've eyeballed them as best I can. Grey is IDF Duck Egg Blue with a few drops of dark grey. Beige is Sandbeige both from AK.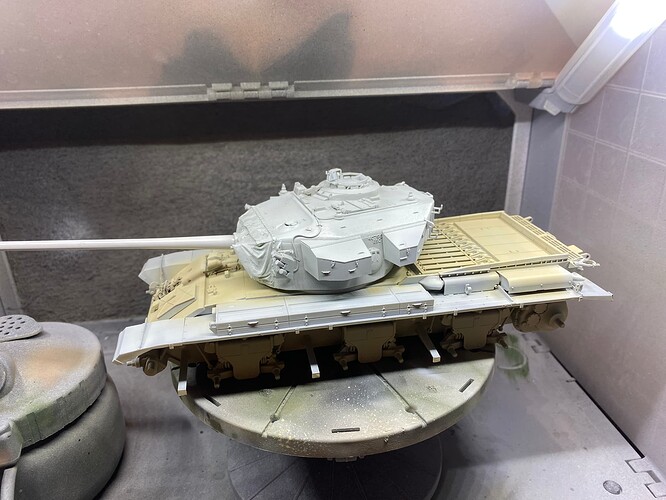 Need to let these cure and then out with the masking putty