Beautiful rendition Dan- that wall with the beige paint is perfect for an advertisement too! What are you planning to do with the wall?
Thanks, I have two options for advertisements, one small and one large. I haven't decided on which yet. I'll get a photo soon.
Silly buggers ask the web-site visitors to enter their date of birth,
web-site only viewable for those of legal drinking age. Must be some silly law in some country,
or a commercial gimmick/ploy …
Common to ask that in the US.
Dan, Thats a decent amount of stuff you get in that kit – seems like good value for money …
Now, for my 2 pence worth, and this purely my take, I would be thinking along these lines …
I would use the circled sign here in that place its shown and get rid of the bigger one from your placement. It looks more like the real deal and authentic to my eye.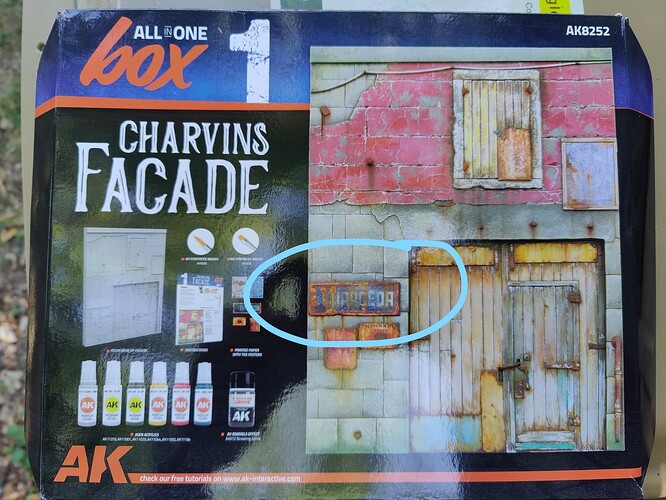 For the rest, this was my take on it, and again, my own choice so please feel free to totally ignore it lol
The one just below and to the side of the 1st floor door, I would get rid, it looks to high to be read or seen properly unless you are 12ft tall.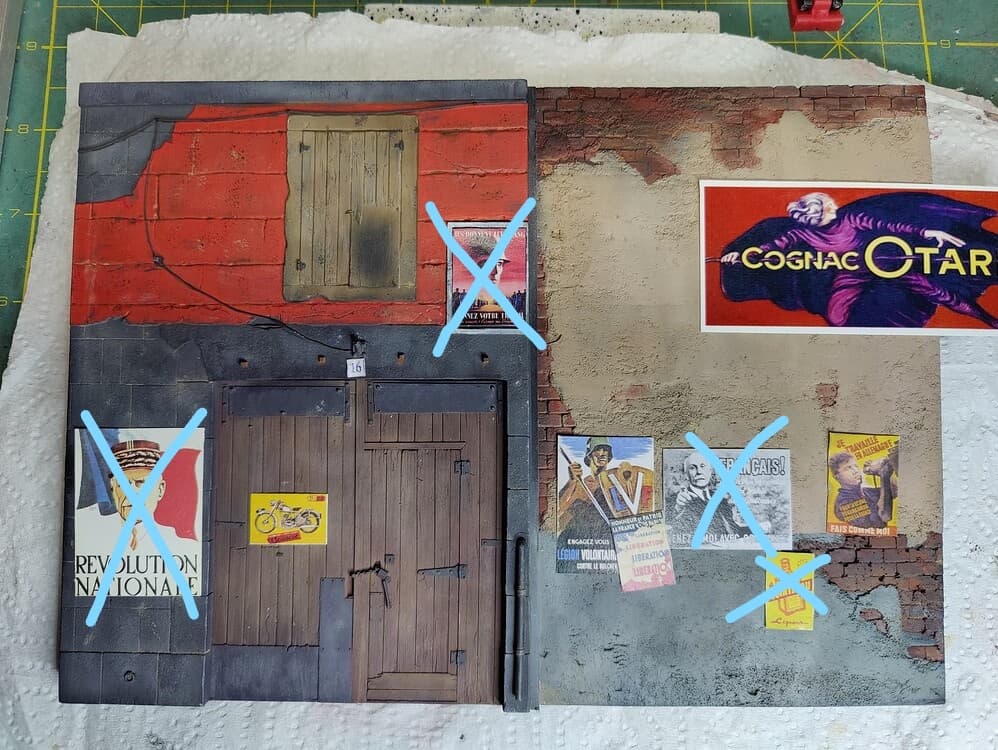 Once the cognac one has been centred and the LVF one with the poster on top of it and the one in yellow with the worker on it have both been brought up onto the plaster area, all the ones with crosses I would remove.
The small bike one on the garage doors gives it a nice place of work and what they fix …
Sometimes less is more.
Whats the actual wall made of Dan ? its a set i wouldnt mind getting hold of. Do the doors open ?
And is the cognac wall included or one of your own ??
Thanks for the ideas.
I added the blank wall and I don't remember who makes it.
The facade is 3D printed resin. Doors do not open.
The decal is from Reality in Scale.
I'm trying to copy the idea of the top photo, which is from a French movie set. I need to work on that idea more.
I like the idea of the decal being offset as modelers like to have displays "dress right dress", but I'm not 100 sure.
If you notice, most of these posters are from the Vichy govt.
I don't like the provided advertisings as I want my facade to look a bit different.
There's a large French mural-sized ad for wine;
Du
Du Bon
Dubonnet
That I've always found interesting (the ad; not the wine!)

Another variant, probably easier to replicate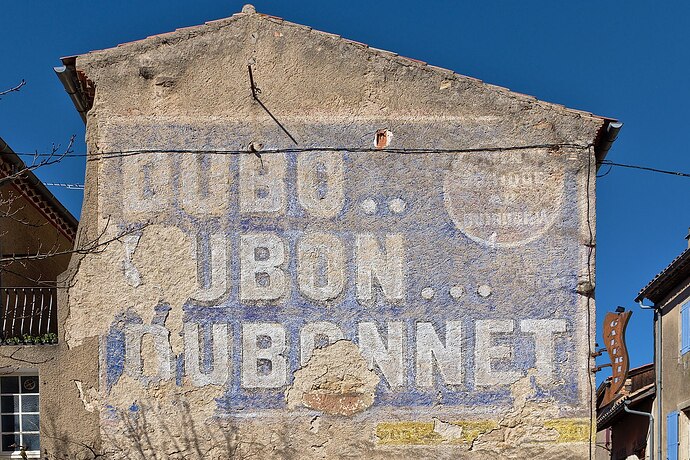 it even comes with a touch of military history:
" a way of persuading French Foreign Legionnaires in North Africa to drink quinine.[4] Quinine combats malaria but is very bitter."
A light airbrushing of medium blue, white dry transfer lettering, dust it over with a light grey with a slight tint of yellow (aging revetment has a slight yellow tint). The circular thingy in the top right corner can "disappear" due to flaking revetment
That is a nice layout you've got there on that latest pic Dan.