So sharp and clean Damian - looks great!
cheers
Michael
Some progress on the '56 between sessions on the Jeep, I decided to fit the front end lower part prior to paint but leave the back end off. Test fit with both taped in place showed that the rolling chassis wouldn't insert under the body if both ends were done.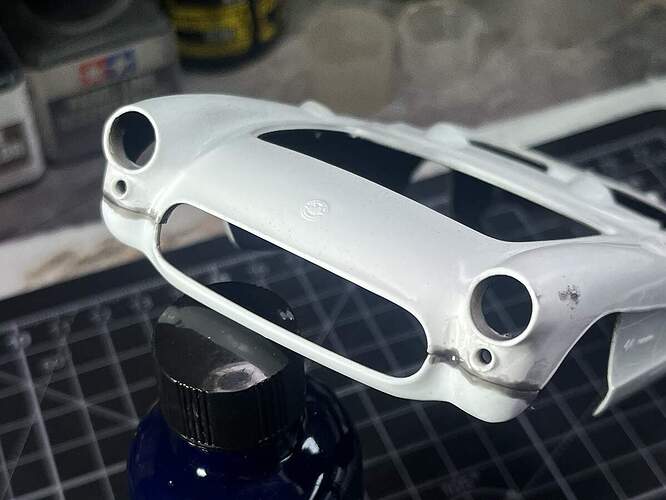 Cleaned up a bit and first shot of primer (MS1500) inside and out.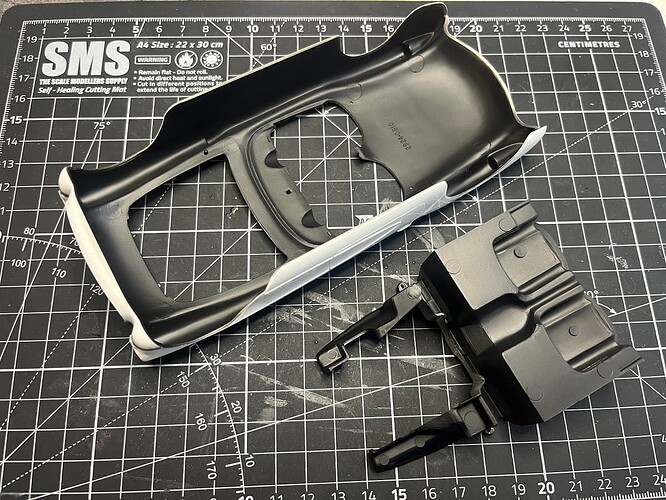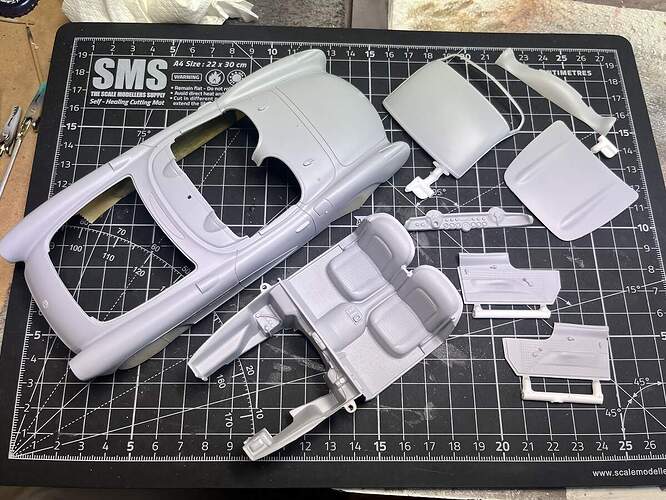 As always, plenty of body work to do to bring it up to spec.
Cheers, D
Body work continues on the '56, wet sanding, repriming, wet sanding again. Those pesky fine mould lines and scratches that just won't disappear
I've gone back over it with MS1000 instead of 1500 to see if the coarser primer grade will fill the micro-scratches and it seems to have worked so far. Another coat and a quick buff over the next couple of days and hopefully ready for colours to go on!
I also started on the interior with a shot of Tamiya Buff followed by a light shot of SMS Super Clear Gloss on the seats and door cards to protect the colour from the PLW to come.
Cheers, D
D,
Nice job beating those fine molding lines. Looking forward to how you work your magic with the interior.
joel
This one's really taking on some good shape. Your time spent with the car body is going to yield your signature results Damian.
A 265 V-8. I haven't heard those numbers in YEARS. By the standards back then it was surely a monster but it seems so small now. In any case, your replication of the power plant is very well done.
Detail paint on the interior chrome parts is done and I fitted the inner door sections to the floor pan.
The side flashes got a shot of Insignia White, and I kept the compressor busy with a few coats of Turquoise to bring some serious colour to the bench
Really happy with the result, I will give it a couple of days to fully cure then hit it with the fine wet sand and then it's clear gloss time!
Cheers, D
D,
I just love that color combo as it screams the 50's. Nice start to the interior, as color complements and works well with the exterior White/Turquoise.
joel
I'm right there with Joel on the color. So clean!!! I can't wait till it's gloss time for this one.
Great looking paint job.
The gorgeous turquoise/white exterior combo. The interior will go well with the exterior. Personally I would have picked a lighter shade, but that's just me.
Happy to oblige Joe!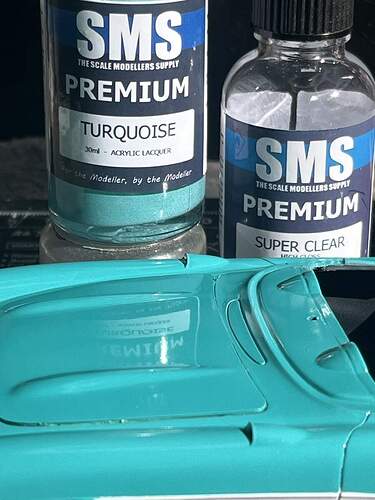 SMS Super Clear thinned with about 10% MLT. One light mist coat followed by 2 good wet coats with virtually no waiting in between, then a barely wet coat of neat MLT to get it really laid down smooth. Very happy with the result here, the reflection shows how nice the finish is without any follow-up sanding or polishing.
As always, there are a few specks of dust to deal with, but a couple of days to fully cure first.
Cheers, D
Love to see the glossy paintwork you major car modelers lay down . Very nice !
D,
For me the wait was well worth it. You just nailed that gloss paint job to perfection.
joel
That clear coat is very impressive. Super smooth paint job.