And their railroad line in 35th?
Thanks, Dan
Not personally, but I have heard positive more than negative.
Thank you-do you know if all their kits come with tracks?
Yes. I checked over on scalemates, and a guy unboxed the Ommr and it has tracks. The intructions for the SSys also showed track assembly.
Great railway kits, i highly encourage you snag them. I built the type ommr some time back and it was actually 2 kits in one box. The track is pretty decent and they also give you a "decal" of the wood for the flat cars if you decide to not paint it yourself.
I am currently building this tanker railcar. I am treading it here if you wish to follow along. So far so good!
Nice. Is there a reseller or do you just purchase direct?
I got 3 different kits off ebay. The shipping was not the greatest, it was pretty slow.
Thanks, I'll check out your build.
Interesting. Is the company in China? There's not much info on the web site (or I missed it perhaps?).
Do you know whether their track and mini-art track (and for that matter dragon track) are all the same spacing?
Took my local hobby dealer some time to find the saber kit for me but now upon just opening the box it looks absolutely outstanding with amazing detail.
Here is what the track looks like with this kit. I think it looks better then the track that come with the trumpeter kits. 20211016_232939|690x310
Yep, I would say this is the standard Sabre tracks shipped with their kits, and I found them to be very good -although I am no expert
I bought the miniart rails as they have better detail than the Sabre ones
I use the Trumpeter track but not their roadway base. (Looks like something that would be under a train model that is sitting on some big executive's desk - no thanks!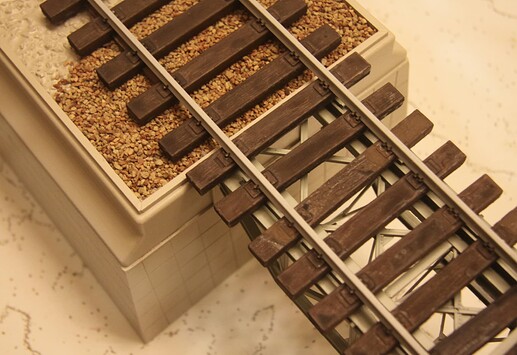 (But I did use the Trumpeter bases for some bridge abutments I needed, - Can you spot them?)

(Also, that is two HO Warren Thru Truss bridges turned upside down and spliced together to make a similar truss bridge in military scale - i.e. 1/35th.)