Thanks, she should sell quick for the charity people. Only trouble is… I have more shelf queens to do Bahahahahaha.
Hello Boys & Girls,
By accident this is my first post on new forums (hope not the last
).
I found some Hurricanes from Arma Hobby (1/72nd scale) who were lying hidden in some … shoe box (probably left them there to dry for about a year or so).
So I'd like to join with these two, if you don't mind.
Current state is as on following picture:
Planes are assembled & both are primed and preshaded in "I don't know what I'm doing" style. There are only few parts left unglued (undercarriage, exhausts and antenna mast).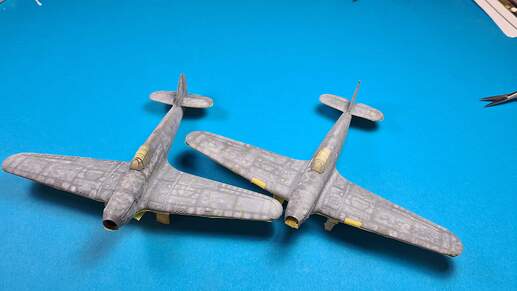 In next step I'm going to paint them with Hataka Orange line dedicated paints (these would be C009 Dark Earth, C026 Sky "Type S" & C016 Dark Green.
Cheers,
Radek
I built an Arma Hobby 1/72 Hurricane Mk I last year, it was a nice kit. Looks like you're doing good with these two.
@md72 . Thanks Mark, did you have any issues with this kit? Just asking, because overall this is indeed a good quality and quite well manufactured kit, but I had some issues fitting front canopy and instrument panel (looked like they both were too wide for their "slots").
Painting continues - I got them covered in camo, incl some bonus areas painted (black pads on wings and red paint at gun mounts). I'm going to build both in 303rd Squadron markings. One with red gun pods will be RF-R (R4175) flown by Sgt pilot Josek Frantisek. Other one will be RF-F (V6684) flown by Sqdn Leader Witold Urbanowicz.
Here's the current state of the build.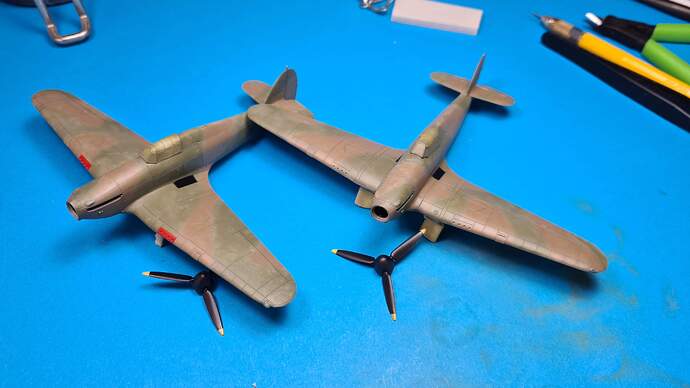 Cheers,
Radek
Most of the issues were self induced. I recall the cockpit and all the bracing was a bit fiddly and I didn't get it quite right, don't recall and IP issues, but I did manage to lose the control stick.
Ok, managed to apply decals on both Hurricanes. I must admin - these Techmod transfers are love and hate story for me
- from one side they're very sharp in quality, well designed, thin, but being thin make them very vulnerable to my clumsy skills - they break, in result I had to buy another set of aftermarket decals from Techmod for RF-F plane and they were much better than kit decals.
Another interesting fact - I'm using hataka orange paints. To secure decals I used hataka orange gloss varnish and also X-22 from Tamiya, with 2 days of drying time between hataka & Tamiya and later 2 days before applying decals. I used Microsol SET/SOL & GSI Mark Softer Neo to settle decals. I found that in some places, despite quite good varnish layer, decal solutions penetrated and melted paint. Nothing that I couldn't recover, but that was unexpected.
Here's the current condition of both planes: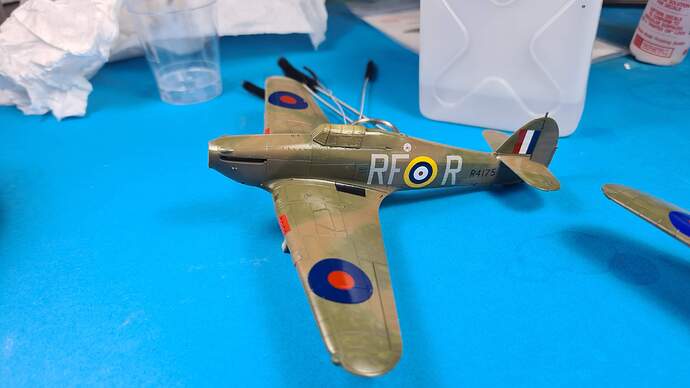 Cheers,
Radek
Hi All!
Lots of nice things going on here! Radek, very nice!
Well, I've kind of gotten to a toss up, an Oscar Ki-43 I started about a year and half ago, while watching over my sister-in-laws coffin during her viewing.
And/or the Fujimi F-15 I started for the Terrible Teens campaign.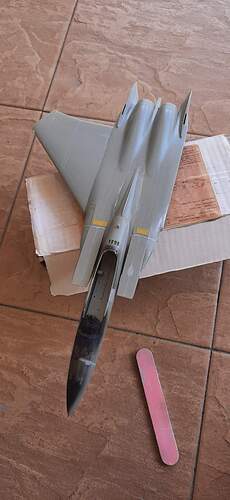 I'm sure I'll figure it out! Keep up the great work!
Well, Looks like I've got two more now.

Matchbox 1/71 F3D-2 from Korea the Forgotten War

Finally got the primer on it but there's about 5 more coats of paint to go.
Special Hobby 1/72 F3F-2 from Biplanes of WWII.
Plenty of assembly, painting and rigging to go.
Hopefully one of them will be my first completed Hanger Queen this year.