…and done!
Very recommendable 1/72 scale kit of the Bf-109E, the best I built so far
Cheers mates, let's see if I can add another model to this campaign!
Congrats on finishing, Peter! Looks beautiful - a striking colorful scheme!
I would like to join with the recently released Red Iron Models Sputnik kit. This is their first injection molded kit, their previous ones being resin and photo etch kits.
The kit is all on one sprue, along with a fret of fairly robust photo etch, and four pieces of precut brass tube for the antennas.
Assembly goes rather quickly though the join of the two body halves leaves a seam around the circumference that requires careful clean up to preserve the molded on details.
Nice choice, Ernie. Definitely something out of the ordinary.
An interesting subject to be sure
Today I was able to get a coat of paint on Sputnik, a little polish and a coat of sealer to follow.
Hi mates,
as I finished another model which would have fit into this campaign, but left out the photos, I'm in again with a recently ordered Messerschmitt from 2020, AZ's Bf-109 E-7 Trop.

At the moment the decision is between No. 1 and 3,
And here was the other one I finished last week:

Cheers
Peter
Nice choice, Peter. I have always loved the desert Emil camo (option 1 and 3) since building it on the matchbox kit as a kid many decades ago.

Ernie, good to hear progress is going. Looking forward to see more

So, over the long weekend I was able to get the Sputnik finished up. not a bad kit at all and if anything was let down by my middling efforts to turn out a decent result. The photo etch screw heads were cool, but the etch itself was of industrial standard and even after annealing was still somewhat resistant to forming nice bends.
Overall this is a decent kit and was a fun build, it will look decent enough on the shelf so I guess that's a win!

No one is in with the Tamiya Phantom yet?
Cool build, Ernie! Looks great and definitely has historic significance.
Phil, nothing on the phantom yet - are you jumping onboard with it?

One is winging it's way to me even as we speak, but I'm not going to have cycles to work on it until next year. So if it's still considered hot out of the molds in 2022 I'll do it for a group build then.
I'm curious about the AZ models 109s. Looks like they make a 109f-4 in 1/72. I had only found the Fine Mold$$$$ version before. Do they make nice 109s?
Yes, Phil, they really do. I build some already albeit reboxed by Kora, KP and Specialhobby. They are nicely detailed, don't need much filling (if at all…) and make nice models. And of course, not so expensive as FineMolds kits.
You should try one and see for yourself.
Cheers
Peter
Reboxed by KP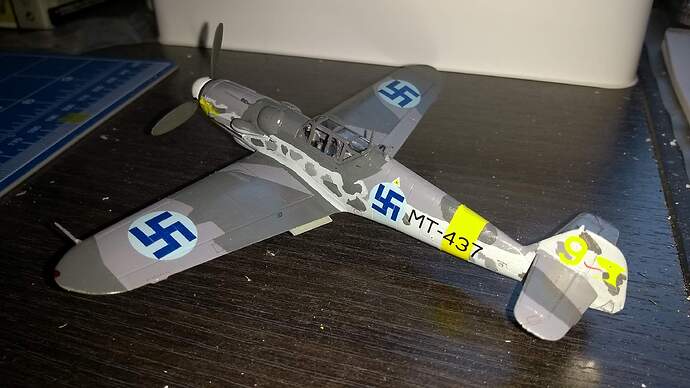 and from Specialhobby
@ErnieS - That Sputnik is very interesting and looks really cool! Good choice and well done!
Nice details in the cockpit, Peter! Especially considering the scale.
Looking forward to see the decals on.