I agree, stateside, it never happens. Ammo procedures stateside and in peacetime are definitely different than in combat.
Very nice. I am looking forward to seeing how this turns out. I'm sure it will be awesome. Good luck on it.
Thank you Gino.
I'm not that optimistic, let's see how it develops.
I had an idea about the compressor motor what about 1/72 or smaller airplane radial engine cylinders I think they might work if you have the scratch build skills (I know I don't)
Thank you. I have to see. The compressor is the last thing, it will definitely not be like the original.
Yes, keep it until last. I'll see if I can find this again at Fort Carson and take better photos of the compressor motor for you.
Of course if you build the FSRN you don't have to worry about that motor at all.
since this seems to be a maintenance thread I was wondering if anybody has seen the contact truck shelter for any of the iterations of the contact truck (1097/1152/CUCV)
I took a run at creating the FRS in 1/35 scale. I made a couple big mistakes but overall I am reasonably happy with the product. I did butcher a HEMMT Wrecker for a lot of parts along with the crane. The base skid is a modified Accurate Armor kit. All other items come from all over the web unfortunately I did a poor job of documenting where everything came from.
hope everyone digs it., happy modeling
That looks really nice. Great job on it.
Holy crap, that's nice! Great job
Absolutely nice! Great job!
Wow! Absolutely outstanding scratchbuilding. Excellent job.
man that is beautiful and if you could get someone to kit that it would make me very happy. Now we just need a PLS and I can build what I was signed for.
I am waiting on a A4 HEMTT variant so I can kit bash the M1120 HEMTT Load Handling System.
I believe there is a kit out there now but I havent tried to procure it yet.
No, unfortunately, there is no A4 HEMTT kit available yet. Trumpeter has shown an M1120A4 as part of their forthcoming US Iron Dome System kit. We'll see if it is actually on an A4, or if it's simply slapped onto their existing M1120A2 kit.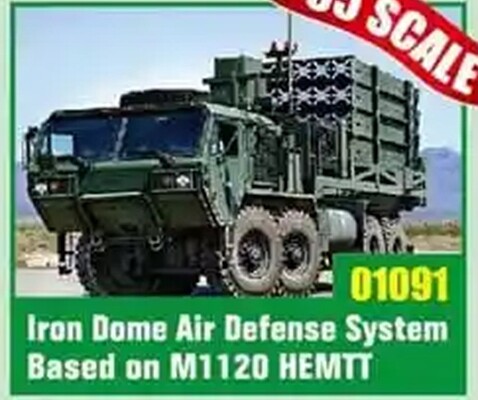 There is a 3D printed HEMTT A4 conversion set in the works by a member here, @CAD_user. It is looking good but will be pricey.
3D HEMTT A4 Conversion Parts in the Works - Armor/AFV / Modern - KitMaker Network
Or you could just build your own.
M978A4 HEMTT Fuel Truck (Former M983A4 build) - Armor/AFV / Modern - KitMaker Network
the US Iron Dome is the one I saw, I wasnt sure if it was out yet or not.
Thanks