@165thspc Michael, thanks for posting the video and confirming that kit has the new parts. That is the kit I have and it's in storage at the moment so I couldn't look into the spruces.
As for your comment about having parts for one assembly into multiple spruces is frustrating at time especially if ordering separate spruces. Trumpeter needs to learn this lesson from other manufacturers like Tamiya, etc. I think it will be easier if someone just pre or part assembled these parts and casted copies… hint* hint* I am sure several individuals will buy them in a heartbeat…including me!

Keep up the good work as this is becoming another great build and reference thread worth saving. I think Mods should start pinning your thread on top so they don't get lost. They are wealth of knowledge.
Mike
I am starting to think I might just scratch build the missing parts. Already the 7410 utilizes the shorter 2/3rds equipment "attic" so less to build. It looks like all I would need to build is one oil radiator + fan, one oil reservoir tank and one air filter assembly plus some small rectangular fluid tanks.
Just more Reference photos:
These three images are all of the standard length chassis, all torsion bar suspension (no springs) vehicles as might be used on the Scud TEL. (The bottom two trucks both have the full sized long "attic" - do not know what else to call that!)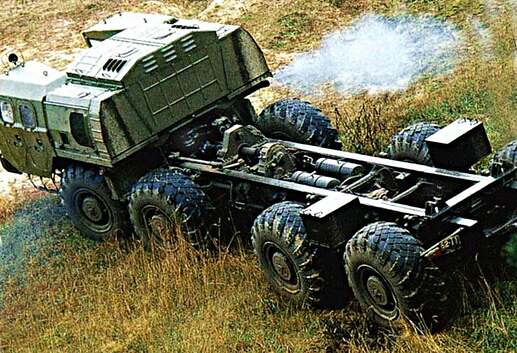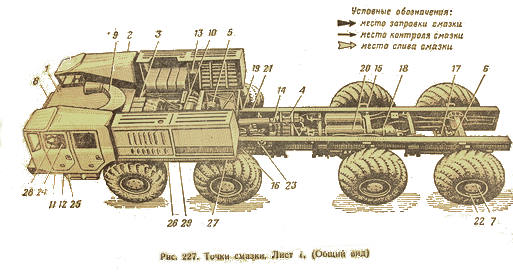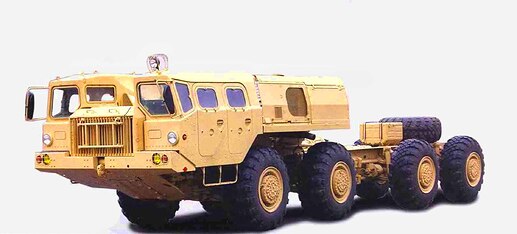 Here is the best model photo (so far) of the full length "equipment attic" I have yet to find. This photo is probably showing us this area on the Scud TEL model.
The fellow here is calling out the location of the engine air cleaner.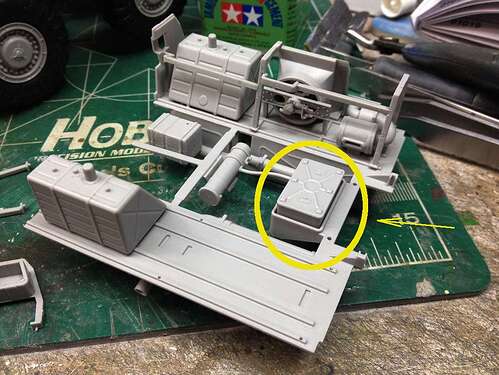 The front of the vehicle is to your right. The only thing missing from this assembly is the large flat metal "suitcase" that usually mounts in the front right corner of the "attic". I believe the fellow intentionally left it ou here for greater clarity of the rest of the equipment in his photo.
In all the "walk around" photo sets I have found so far, no one seems willing to climb up there and photograph this area of the vehicle (perhaps containing vehicle electronics???) and/or it is covered up with sheet metal.
Electronics would still be my guess. That would help explain the louvers
More diversions last night:
Eight wheels and a spare plus a little paint! Yes I too like the resin AM tires better but these are so nice already - and at no additional price!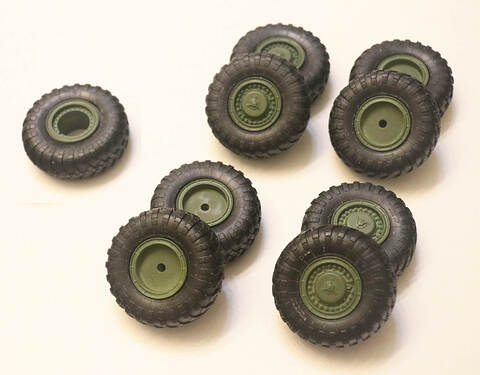 In the "good old days" we had the very nice resin wheels such as these (Tank Workshop - I think) as compared to the awful old Dragon plastic wheels. (Hey, it is all we had to work with at the time so under those circumstances - they were beautiful!)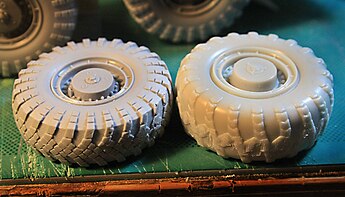 .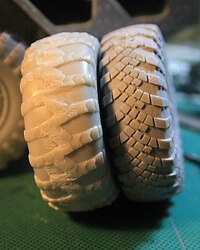 After MANY years of sitting on my work bench I finally just yesterday tossed these old Dragon wheels and tires into the recycler!
I did do SOMETHING Productive: and according to the manual.
Last night I built the #1 axle and its associated steering gear.
For the moment these axles actually steer AND the A-arm suspension moves up and down (except for the interference of those axle half-shafts. I wish Trumpeter had made these half-shaft parts captive but with no glue necessary sthen they would not hinder the movement on the suspension during assembly.)
With just a little more engineering and mold work the steering and the suspension could have been made fully workable.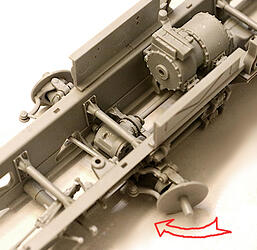 . .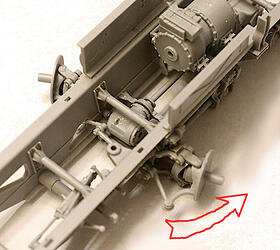 Construction Note: I am still having to cut the ends of those axle half-shaft off shorter, in order to get the wheel hub assemblies to go together. (They are being a real pain in the tauckus!)
---
WARNING: Danger Will Robinson!
No really - use every caution when putting together the four front steering hubs. There are many left and right handed only parts and they are easy to get confused. Definitely don't cut parts for more than one hub off the sprue at one time.
Check part numbers three times and then glue only once!
p.s. And in the main drawing (page 9) they will show the completed chassis assembly upside down but then in the exploded detail drawings they will show the same parts right side up with no obvious indicators for doing this!
Don't think that has not been the reason for some major confusion!
AND . . . even MORE Diversions from the instruction manual!)
Chopped up that "Attic / Cabin" just as I said I was going to.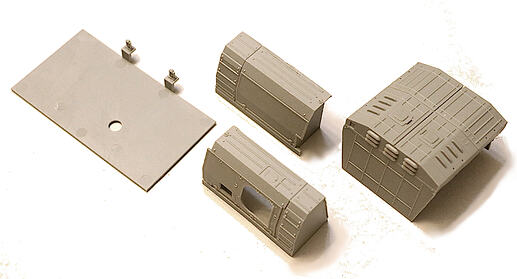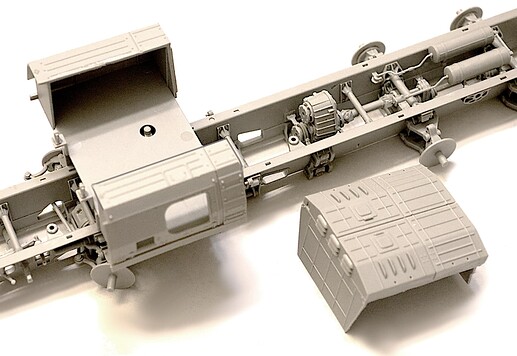 I am going to make that center section of the attic a drop-in/removable piece so that I can keep my options open for detailing this area in the future.
Interesting photo here: Sometimes wrecks can be Reference.
This time on a single split cab unit. It looks like they have moved the oil cooler radiator and fan to the right front corner of the vehicle with that air filter assembly inline up and behind it.
_
An example of an undamaged vehicle of the same design as seen above.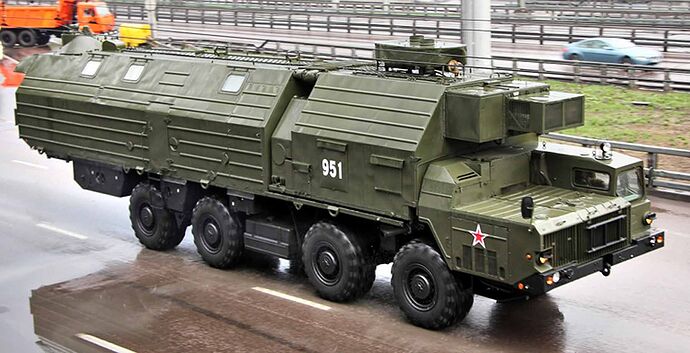 A little more cutting up in the "cabin":
Sorry boys but no more shacking up in the "attic" cabin overnight! - - As there is now little or no more floor in that area! Did you think I was going to let those Trumpeter blokes hide that lovely transmission?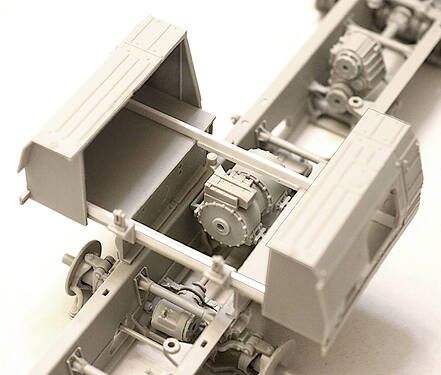 Just a little bit of work with the jeweler's saw and some wee scraps of Evergreen "C" channel! ~ and Presto!
OK ~ this will probably excite me more than it does anyone else:
Because the cabin floor WAS there on this model, Trumpeter had deleted entirely the engine main air cleaner plus whatever that tank is behind it. *(I'm guessing a cold start ether injector but otherwise I have no idea.
So . . . I was reading thru the Scud TEL instructions on line and noticed "Hey, these parts are all on sprue "G". I have a sprue "G". Could they be one and the same??? BINGO!
So I may not have all the auxiliary parts that mount in the side alcoves of the "cabin" but I DO now have the parts that will mount where the floor used to be.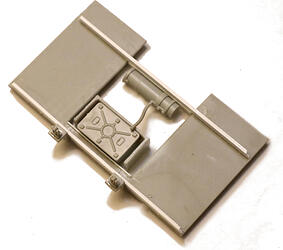 These parts will install in this approximate orientation though the ether tank may have to mount behind the cross bar with me extending the piping in order to clear the top of the transmission.
---
It always pays to study your sprues!
How about an 8-axle, 16 wheel ICBM TEL?
That's not the missile you are seeing there but the weather tight canister it travels in. Prior to raising the rocket that nose cone is blown off (I believe by compressed air) and it drops in front of the vehicle.

MAZ must be into modular drivelines much like Oshkosh is here in the states with their TAK-4 suspension and steering."You tell us how big the load is and how much it weighs and we will just keep putting axles under the frame till we can fit/hold/carry the object."
Or even check this out - the world's biggest non-semi fuel truck?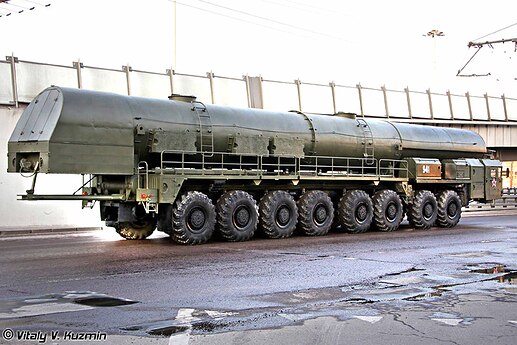 Just like the majority of rockets, starting with the V-2, the internal structure cannot support the rocket's own weight if fully fueled and loaded in the horizontal position. Therefore the rocket must be fueled only after it has been moved into the vertical launch position. Hence the need for the Mother of all fuel trucks to tag along.
Roll'n, roll'n, roll'n . . . . .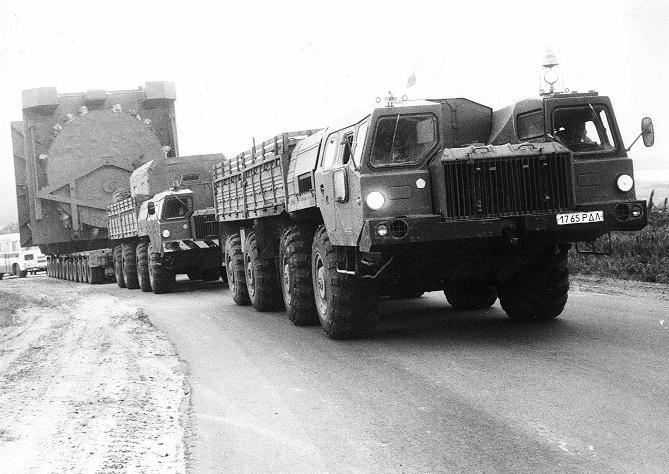 I believe this vehicle is designated as the 7430.
Mobile Costal Defense Battery:
The vehicle to the left is perhaps the world's largest/heaviest recreational vehicle. It sleeps 4-8, has a dining area, kitchenette, bath room and even its' own top mounted close-in anti-personnel defense gun turret (There at the rear, on the roof.) Not to mention an electrical generator big enough to power the entire battery.
*A Little More Work Done in the "Attic!"
Some small additional cuts made to my "attic" and the engine dropped right in.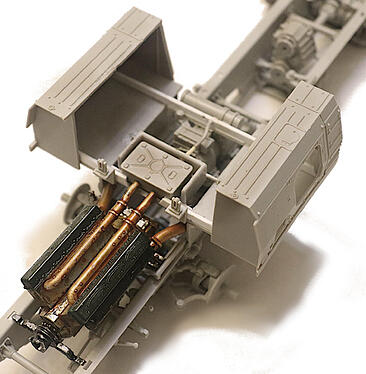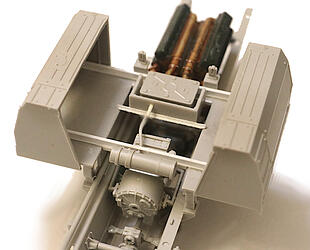 I'm going for this being a fairly new, well maintained vehicle so only light rust on the intake and exhaust pipings and no fading (well maybe a little fading) on the overall body paint… The instruction sheet said "burnt metal" as a color suggestion for the piping.
(I used a Silver base coat with a Vallejo "Lite Rust" over wash.)
For last few months, I have been tinkering with an idea of purchasing a RV motor home. Not sure if I will go with class A, B, or C yet but an RV nonetheless…to take family trips. Looking at your posted above and the vehicle next to the Mobile Costal Defense Battery got me drooling a bit as it is what I would love to have. An RV that has big tires and 4WD. In this case multi wheel drive

I wonder if some Russian military surplus have one of these for sale

You just want an RV with a turret!
(The power traverse is an extra cost option.)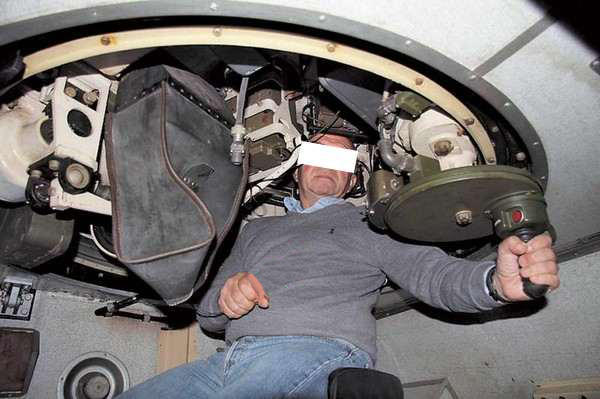 Construction Suggestion:
The engineered "fit" on this Trumpeter model (other than those half-shafts) is nothing short of amazing! Be sure to carefully clean off all your sprue gate dimples and mold parting lines or it is possible some part later on won't fit because an earlier overlooked sprue gate makes an assembly a bit too long or too tight.
How if Trumpeter could just learn to make their sprue letter identifiers and their on-sprue part numbers READABLE!
It's not my old man eyes - it's that some of the part numbers and sprue letters are just not there!
p.s. Also: Excellent locator pins provided on all these many (600+) parts, well hidden ejector pin placement and next to NO flash to deal with! ~ Kudos