Thanks for your insight! I suppose it does have the advantage of not having much drop over it's effective range.
Good luck and good hunting!
I hear he's been promoted to Comrade Bioweapons Commander.
Potatoes and onions …
where is the meat?
That's a special high speed commando unit.
They are called: Vladimir's Vegans…
LOOL

Bits and pieces for sale: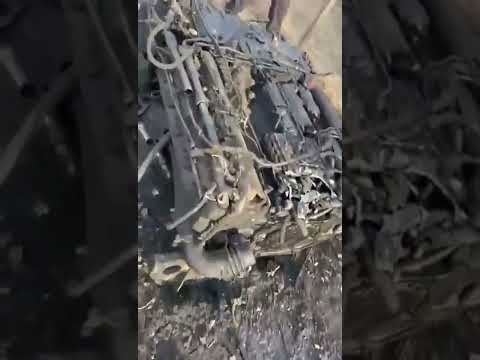 Maybe someone can figure out what it used to be …
Good reference images for the torsion bar suspension …
Whatever did this was 300% overkill …
Do the maggots in those onions and potatoes count as meat?
At least they are protein …
Just cook the soup a long time so that nothing is recognisable …
Or call it special protein noodles …
In its former life, it was a BMP-3.
Even tho I have been doing alot posting & dropping pics, I managed alittle modeling time…
My conversion of WW2 German to 2022 Ukrainian is done and primed.
Now he goes under the brush…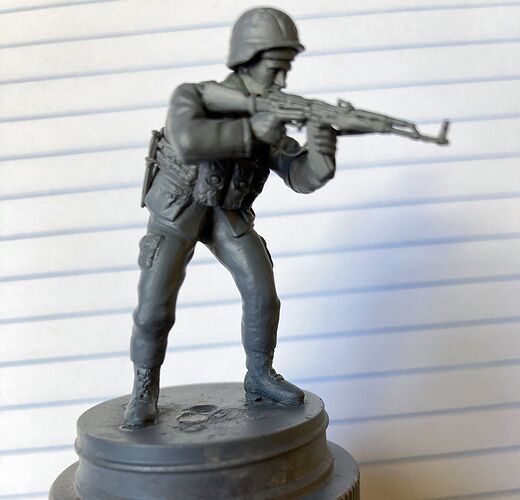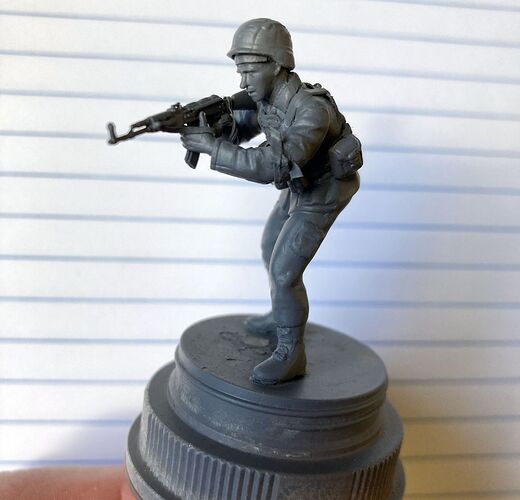 a classic "L" shaped ambush would have been idea, but probably broken by escaping armor. Plus we don't know how many guys the Ukrainians had with them. I can see four to six on the left side of the road. If that was all they had, then they did a masterful job! Ideally you'd set that party up in four parts. You hit them dead center to create total chaos (achieved). At the sametime you have three to five men up at the top of the picture. Give them an RPK (not an RPD), and a couple NLAW's plus at least one RPG26 for soft skins only. Some will try escaping the ambush by simply going ahead to regroup (won't be but two or three). About three hundred meters out of the kill zone you once again set up with a couple NLAW's and this time a couple RPD's (your gonna be right ontop of them cause they won't be looking for you up there). Then in the potato field you set up with four to five men and more NLAW's and RPG26's. You'll cover those guys with two RPD's and the usual AK's. The RPD's are critical in that field, as by then they are dismounting the vehicles in a dire panic (but not really accessing the situation).
When it all quiets down you call in the farmers to clean the mess up, but leave the bodies on the road for the Russians to see as they pass by. (gets into their head)
Your idea of an "L" shaped ambush is correct in a tight place with few vehicles, but the tanks would break the small leg. UNLESS! That is unless you want to draw them to the short leg. Then you set up two or three command detonated arty rounds under the surface. You blow one track and the rest stop in place (watch the films as they all do for a few seconds). Then it's Dodge City all over again. Ideally you know the Russians are going to drive out of the kill at speed. Which way? We saw them head strait into that field. Ideally you'd have that field preregistered for 122mm or 152mm arty. Doing that, you'll save ammo and just pick off the guys on foot. It appears to me that the Russian issue body armor is suspect in quality, or they're too lazy to wear it.
Taking a page from Erwin Rommel's note book. Can you imagine them heading into that field after it'd been flooded for a day or two? They'd see three or four inches of water, say lets head that way. Half would be bogged down and fleeing. Then you get a new set of new condition equipment looking for a new crew.
gary
Very nicely done… You should throw this chap in @Tank_1812 Ryan group build for figures
the NLAW is much faster than the Javelin, but also has a much shorter range. In the videos they hit them so close that the data link is almost useless. Also the NLAW trajectory is near flat. The Russians are really going to be sick of this piece of equipment as the end user seems to not be afraid of the other guys (very key element I might add). He gets up close enough to you that he knows what your ordering for dinner, or worse yet smells your bad breath (or vodka)
gary
Excellent idea and I agree.
@Neo you can add the figure here.