The braille building looks awesome. But shouldn't this be in a separate thread?
You sure make it seem easy…
Hi Erwin,
It is covered in a separate thread but I don't know if you can create a link to it, so just wanted to add the odd update within this thread to prove to my 1/35th friends that I am still working on a project, and one I'll hopefully complete,

.
Cheers,

,
G
Hi Bert,
Thank you for your kind words, much appreciated,

.
Cheers,

,
G
I missed that one, then…
How is it called?
Hi Erwin,
Not sure if this will work,

.
Cheers,

,
G
p.s. how does one create these shaded name references that I often see, e.g. '@G-man69'?
Ah, in a group build… hence I don't see it

That box is simply by tagging like @G-man69 : putting an @ sign in front of the name/username…
Use the @ key and a pop up appears with a list of names. Just click on the name(s) you want.
@G-man69
I have been away from this topic for a while so this comment might come too late:
That Staghound turning around a tight corner looks like it has manoeuvered a couple of times to get into that position. I would have the front left wheel closer to the outside edge of the road. It would be almost like turning into a narrow driveway, the front wheel on the outside of the turn would be kissing the edge of the driveway while the inner rear wheel would almost hit the inside corner/gatepost. To get the Staghound across the bridge the driver would have to almost go over the edge before turning sharply towards the inner rock face and then a hard left again to straighten the car before the bridge. Maybe he would need to reverse once to get straight (sharp turn into a narrow driveway and then a narrow garage door)
@Armorsmith @golikell, thank you both for explaining that one to me, much appreciated,

.
Cheers,

,
G
Hi Robin,
Thank you for the feedback, it's much appreciated, and you make a good point,

. I have been distracted from this build to a certain extent by having a go at my first 'group build', but when I eventually return to this I'll take onboard your comments,

.
I was going to have a figure guiding the Stag onto the bridge, but may be a second one behind also, giving the impression he's being helped to manoeuvre around the sharp corner, and set the Stag so that one of the wheels is precariously close to an edge,

.
Thanks again, and cheers,

,
G
Hi all,
Thought I'd post another couple of update images on my Braille scale build, just to prove to Tim that I'm sticking to my guns,
.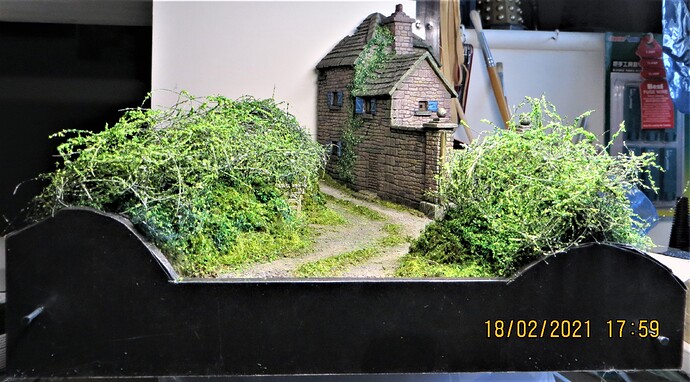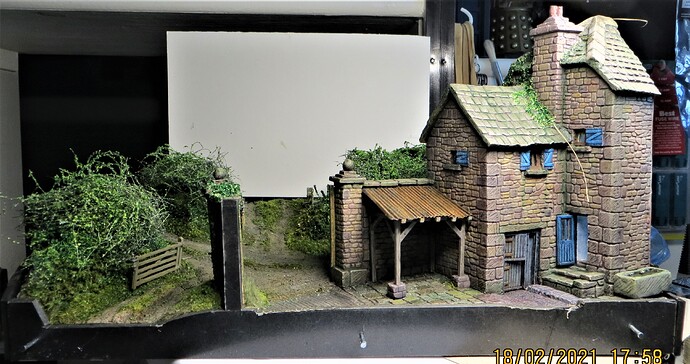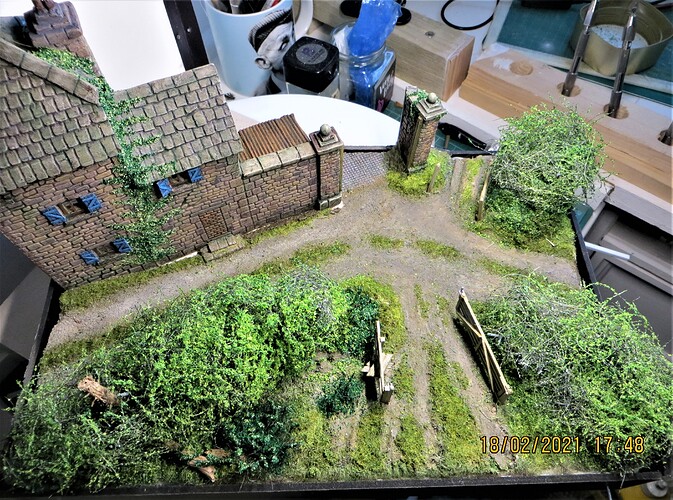 Cheers,

,
G
Yet another outstanding piece of work! I sincerely hope you will finish this one…
Yep that is outstanding! Love the hedges.
I will make sure G finishes this one Erwin… Plus he is the co- organiser of the group build… So he has to
I count on you then…
All I can do is look at this and be jealous! Your hedges are fantastic! You're gonna have to drop whatever you're doing and post a a step-by-step sidebar on how you made them. I'm counting on you.
Cajun
Thanks Tim and Jerry for your kind words, much appreciated,

.
G
Erwin, John has threatened to drive his CVR(T) over me if I fail to complete this one first time around,
.
G