Getting them into the hobby early, eh?
Exactly
One of them dropped a Tiger 1 kit and sort of got all stressed out. Told her don't worry its a WW2 German tank, those things always pretty much end up blow to bits in the end.
She started laughing
Do you have lots of mice and rats around?
That cat looks well fed …
I am not calling kitty fat, just a bit round maybe …



Looks like too much work. Much easier to throw them in one big box and send them to me.
Robin, Jo-Jo cat's three hobbies are eating, sleeping & trying to sit on a warm laptop PC
Mead, you probably wouldn't want 3/4 of the kits in my stash as they are all old stuff from before 2005
New resolution - finish 6 kits before buying 1 kit going forward
I like the older stuff! Half my kits are pre-2000!
Mead, you probably wouldn't want 3/4 of the kits in my stash as they are all old stuff from before 2005
As long as they are Tamiya and there arent any Academy kits, older kits are really fun to do!
Some of the old kits from defunct companies are the best kits I've gotten my hands on. The old accurate miniatures TBM avenger is a thing of beauty, hard to believe it was released in the 90's, if only I'd aged so well rofl
Accurate Miniatures…there's a name one doesn't hear a lot these days. I used to live in Gastonia near Charlotte/Concord where Accurate Miniatures was based. That was a very exciting time in the mid90's. Pretty cool to occasionally visit to IPMS/Charlotte, sestest shots and hear the latest directly from the AM team at a club meeting. The early AM team did some very interesting kits but the original management team probably should have watched the bottom line closer. The new owners pretty much worked a miracle to save the company from what I understand.
It's a tight stack in the closet but managed to fit all of the 149 kits
My helper said it was dirty hard work and he's ready for a bath
.
Had the stack whittled down to 119 before Covid. Looks like more building and no more buying for me until six kits are complete.
18 Panthers & friends
15 Tiger/King Tiger's
32 Pz IV's & friends
Not buying any more German WW2 AFV's…at least until Tamiya releases something else … wink
I recently discovered them, and promptly bought up 6 of their kits! They are amazing for the price (about $20 each)
Nice collection you got there. Really digging the ISU-152
Time to get to building!
I wish it was build time
Got to move the 300+ bottles of Floquil & paint rack next
Slow



progress.
Jo-jo doing safety inspection for insurance company.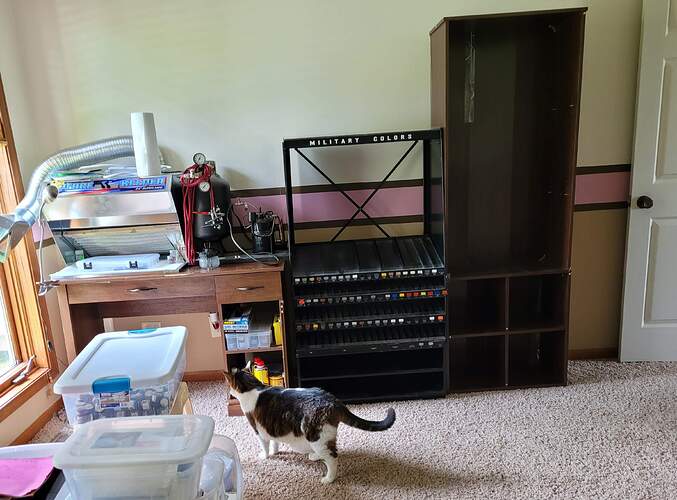 Contacted his supervisor for more detailed risk assessment.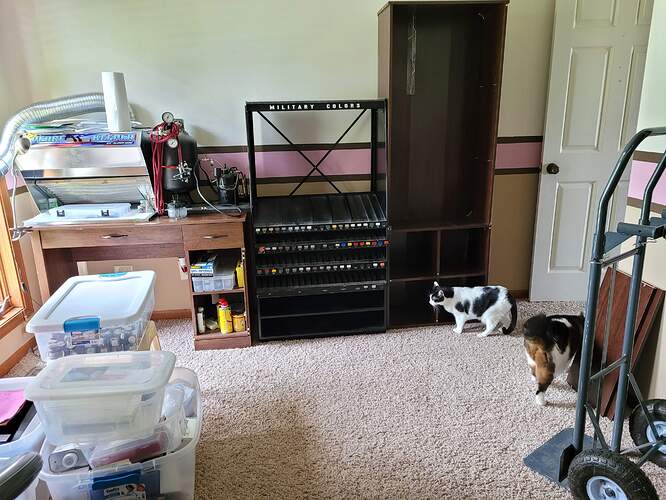 She approved provided she gets a cat condo in the bookshelf.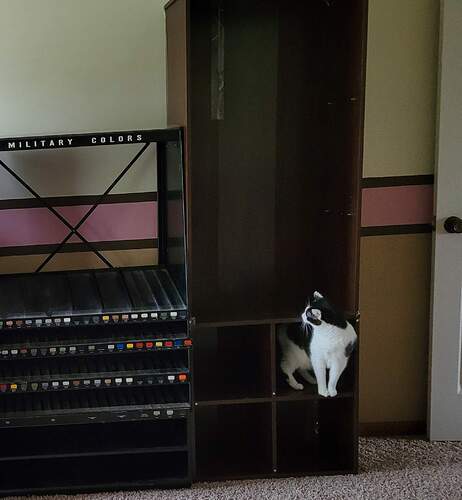 Only the desk and completed models remain to move!
Didn't realize how much RLM German airplane paint had accumulated over the years. Haven't built any
since 1995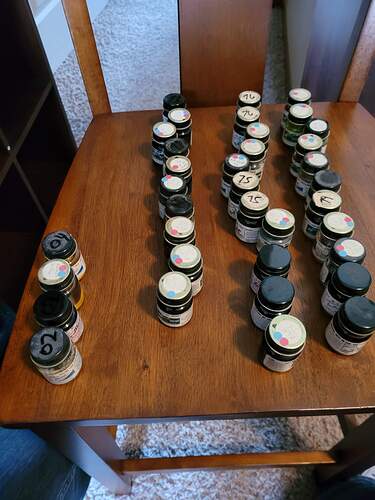 It's been a good day!
The spray booth & paint rack are better organized than before moving. Took five hours or so for organization. Which sounds excessive but each little Floquil bottle got its AN, RAL or RLM number wrote on top They are grouped by subject and the RLM stuff is in consecutive order. Only one bottle had a seal failure, a bottle of silver and it maybe usable for brush painting with a little thinner.
Feels good to exercise the OCD muscles
Might as well do it once and do it right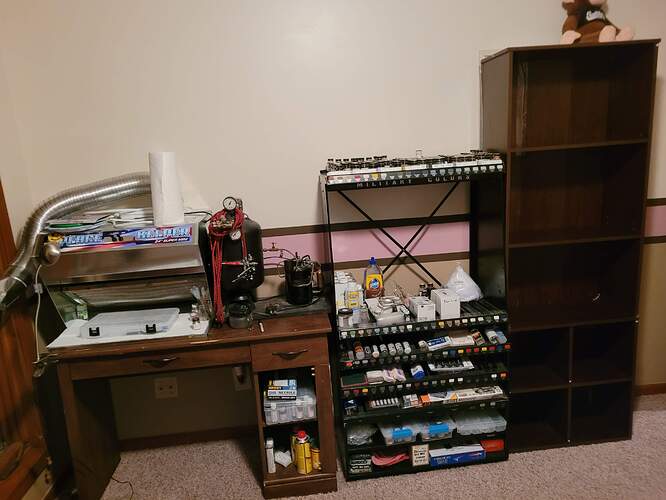 My fiance has been wonderful and supportive with the hobby room move.
…this arrived today…ordered before the no new kits vow of course…
Always room for one more Pz IV
The Achilles balances out the Pz IV for the Allied side of course. Actually the good old Avalon Hill Panzer Leader game from the 1970's inspired the Achilles purchase.
… mmmm-hmmmm …
of course …

Been there done that……make a declaration to the wife about no new kits while some are "in transit".
"Oh yeah, I forgot about this…I ordered this back in January…how freaky is that honey?"
I've been using this line for about two months now and it's starting to wear very thin. Good thing there are shows starting in a month so I can start "winning" lots of "raffle prizes" for "only two bucks each!".
I figure "In Transit" is good for a month or so with moving
Hopefully the Dragon JagdPanther from China makes it here by then!
I just had to "round out" the stash with a couple of important additions like the Achilles before going "cold turkey".
On the bright side three 20x20x20 inch boxes of mostly duplicate kits are getting a new home.