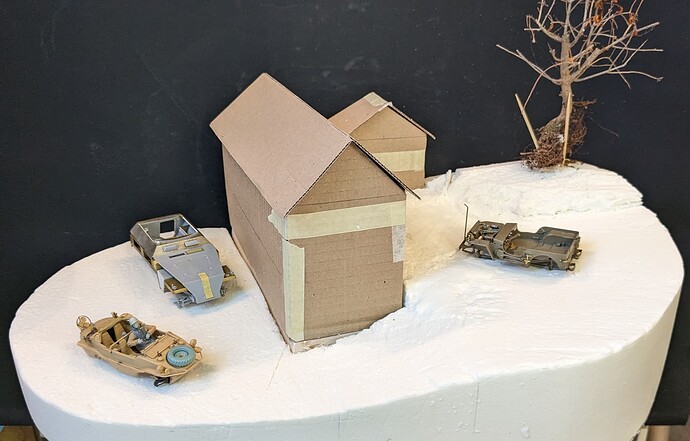 Well, I'm back! Rumours of my demise have been greatly exaggerated, etc…
Looking back I can see that it was November 21 that I finished my last project:
Sorry it has been so long. It's all the usual excuses: work, family, life, etc. I haven't even been much of a lurker…
But I have not been entirely idle!
So I guess I started this project over a year ago and it's something of a swerve from the last one and the one before - which can still be found in the archive for the old site:
https://archive.armorama.com/forums/271173/index.htm
When I was in my first modelling phase as a teenager back in the early 80s I had always wanted to build a Battle of the Bulge diorama. I can still recall the rush of excitement when I finally bought this huge book (published in 1984):
It was a HUGE inspiration. It also wasn't cheap! As a comprehensive work of scholarship accompanied by all those maps and photos (many in the classic Then and Now format) I still don't think it has really been surpassed, although there have been many excellent works published since.
Of course, there has been a lot more written about the history of this particular conflict since then, with the 'Duel in the Mist' series of books being a particular highlight.
We are all familiar with many of the images of the Ardennes offensive, such as a King Tiger crowded with Fallschirmjäger, or heavily armed Panzer Grenadiers posing in front of knocked out American vehicles at Poteau. Then there are the cine films showing the advance of Kampfgruppe Peiper advancing on Stavelot.
It is worth noting that most of these come from the German side, taken during the early phase of the campaign. Ironically, many of these images survive today because they were captured by the Americans quite early on during the battle and then used in newsreels.
Then there are many more photographs taken later in the battle, mostly from the Allied perspective, usually showing destroyed German equipment and shattered buildings - often covered in snow (we will come back to that in due course).
Of course, there have also been a lot of dioramas inspired by these events - so many, in fact, that it might be said that the whole idea of depicting a scene from the Battle of the Bulge (a title that itself now seems somewhat dated) in model form has become something of a cliché.
So what to do? Well I am not going to lay claim to trying anything totally new here - but I am going to try and give it a slightly fresh spin. I am also going to avoid tanks, although, as you will already have spotted from the first picture, there is going to be an Sdkfz 250 Neu halftrack and a Schwimmwagen - plus a Jeep.
More to follow shortly…