Split and reposted from the "8 Wheelers from 1965 to Present" thread.
Originally posted by Michael "165thspc" Koenig:
Just wanted to show a lessor known 8 Wheeler built by Oshkosh. The S-B-S is somewhere back in the archives.
Offered to the Marines but they did not seem interested. A few however, have been sold to our European Allies. (To my knowledge no official designation number was ever assigned to this vehicle. Oshkosh built them totally on spec.)
The vehicle is based on the Marine Mark 23 heavy truck but with an extended frame and O-k's modular TAK-4 axle structure plus a stock LHS container system.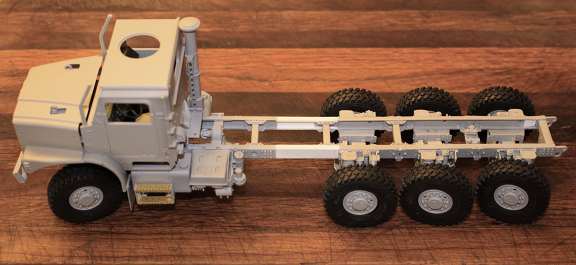 It took two Mark 23 kits and one HEMTT LHS plus a container to build this model but I assure you NOTHING was wasted out of any of those kits. Right off the bat you can build this shorty Oshkosh (also Experimental) 4x4 called the "TerraMax" with the left over parts!