Peter; What "cover over the lens" are you referring to???
There is the bellows lens hood/shade but a cover/lens cap???
If you are talking about that front cover with the square hole mask as seen in this photo.

That is either a choke mask to give additional sun shielding when using a longer telephoto lens. (Sun flare was a much greater problem in 1938-45 than it is today with our modern multi-coated lenses designed to greatly reduce flare.)
---
OR . . . it is a special effects filter. - Shoot one take with the above filter mask. - Then shoot a second take with a filter mask cut to be the reverse of the first. - Sandwich the two films together and you can create, for instance, a close up image of someone surrounded by a background of other moving images, much like a movie double exposure.
Here is a drawing of a possible reverse mask for this special effect.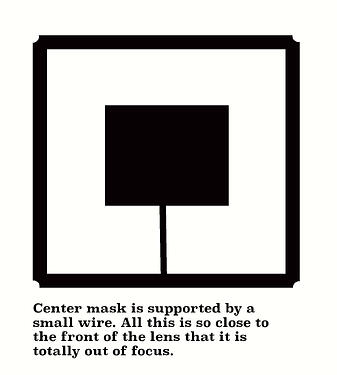 I had almost the exact same type of tapered bellows lens hood with similar filter masks for shooting special effects wedding shots making double exposures. Sorry, I don't have a photo of that rig.
(My Bronica ETR wedding camera had an override switch that would let you take intentional double exposures.)