Absolutely beautiful work, Mike. Obvious it is a true labor of love for you


I have finished my Ukrainian "what-if" F-18. It is the (very) old Revell in the "Hunt for Red October" boxing. I suspect the model is even older in its original boxing.
The model comes with only some sidewinders and sparrows(?) so I added some F-4 tanks and F-14 JDAMs.
Creating a unique Ukrainian style camouflage took a long time for decalling but satisfied with the result.
Very difficult to weather with almost no recessed lines to work with.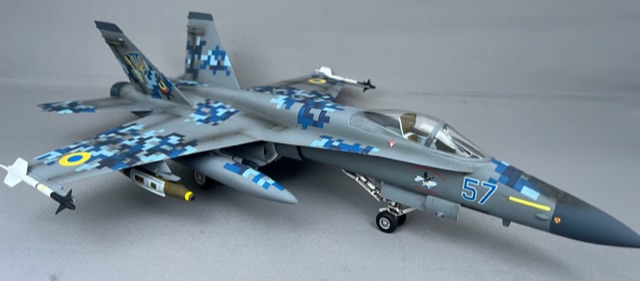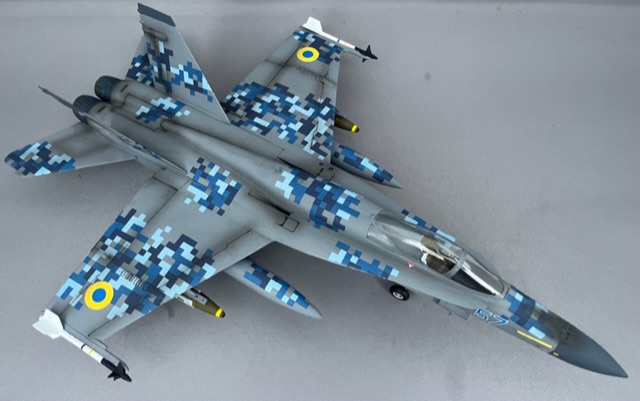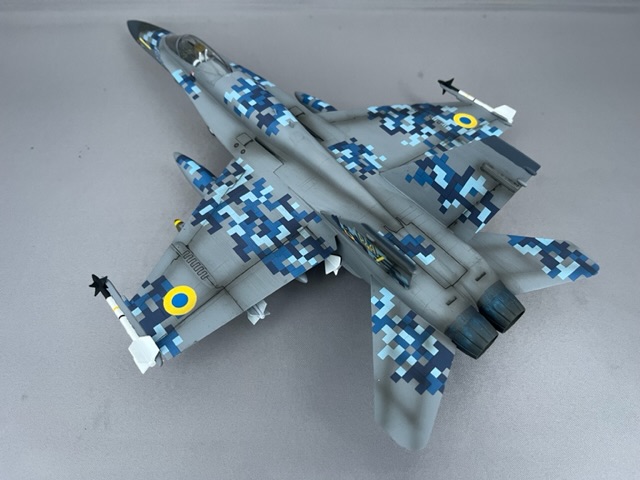 You have done a cracking job with the digital cam on that Jesper. Did you make the mask or was it from a set ?
A dazzling pattern for real.
Wonderful camo job there Jesper!
Yep. the Red October boxing was 1990, but the base kit was first released in 1979.
Great job Jesper. It looks fantastic. The digital camo is excellent.
Thanks for the comments, guys. Much appreciated!
The camouflage is made with greenstuffworld decals. They are very high quality. Thin, strong, and react well with decal solvents.
Nice work on the decals, Jesper! Also, one can never have too much ordnance!


—mike …

Ahem… did you lose something?
More small stuff out of the way. Scratched-up the Inspection Chute and fitted the Hatch (previously built) with a figure.
Figure is from the 'Tori Factory (MF-21C) 1/72 Lancaster Bomber Crews Set.'
—mike …

Der Überläufer… oder der spion?
X-wing is coming along. Decals are on and it's had another gloss coat and is hanging to dry. Then it will be some weathering before a final flat coat, and the landing gear and canopy permanently installed.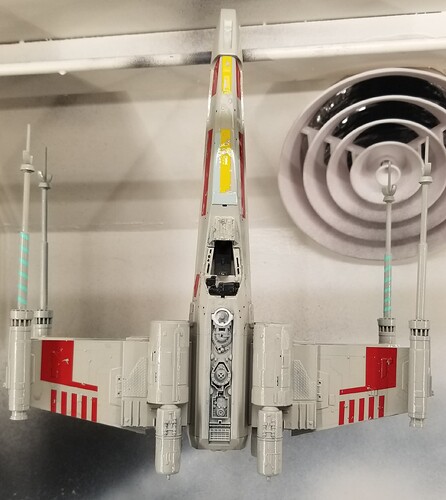 "Hmmm… I wonder what does this lever do?"
I added a few more details to the Ramrod, Ramrod, Ramrod.
Control Panel and hoses.
…"Oops!"
––––––––––––––––––––––––––––––––––––––––––––––––––––––––––––––––––––––––––
[EDIT] Added the following image:
Moving the tour along to the bridge… I'm replacing the original seats with these. Scratched the pedestals out of Evergreen Styrene.
• Special Hobby 1/72 Focke Wulf Fw 190A/D Seat (x6).
And the deadline approaches!
Yikes!

—mike …

A lever and a ramrod … That's going to end in tears lol
Coming along great!
Mike, of course you just had 6(!) extra FW190 seat laying around?
Looking forward to see more

Haha! Not exactly. I ordered three from Squadron and three from BNA in Australia. I think the Haunebu IIb project has completely booked all available seating on the planet.


Here's more…
Been working on grinding/filing the unsightly Epoxy globs around the landing gear bays and slapped some Mr. Surfacer around. I've also added a couple of round Greeblies to the deck.
Whenever this assembly was pulled from its storage box and placed on an actual flat surface, I noticed there was a slight warpage occurring. I placed a couple of weights on the rim in order to guarantee a solid twelve wheel touch-down. After a little over one week all wheels are good. …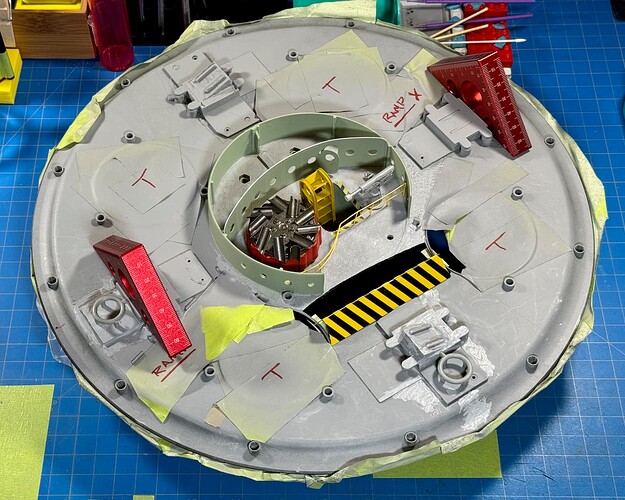 Here's a closer look into the Bomb Room. Happy that the tricky alignments are coming along nicely.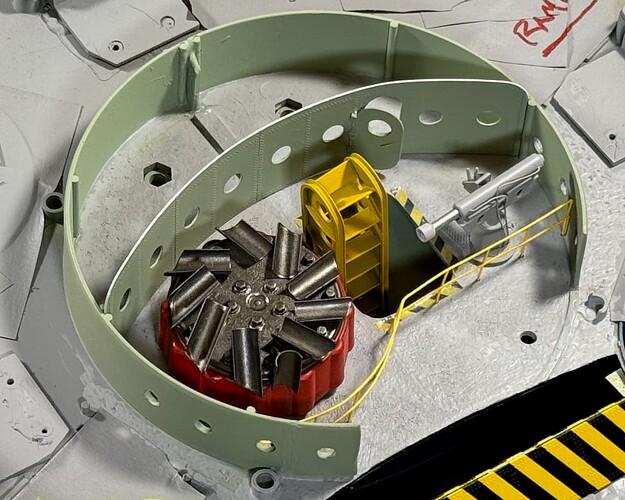 I'm chomping at the bit wanting to pull masking tape and add all of the remaining sub-assemblies.
Stay tuned.

…
Thank's for having a look!
—mike …

This is a great showcase build Mike with some real left of field thinking and scratch building… It all looks stunning mate
Yes, this is a fun project to follow, and one of the greatest "scratch building from nothing to something", I mean, this all comes from your imagination, unbelievable…
@ John, Bert and fellow lurkers. Thank you!
Here's some Ramrod paint from yesterday's session…
POW! To left field!
…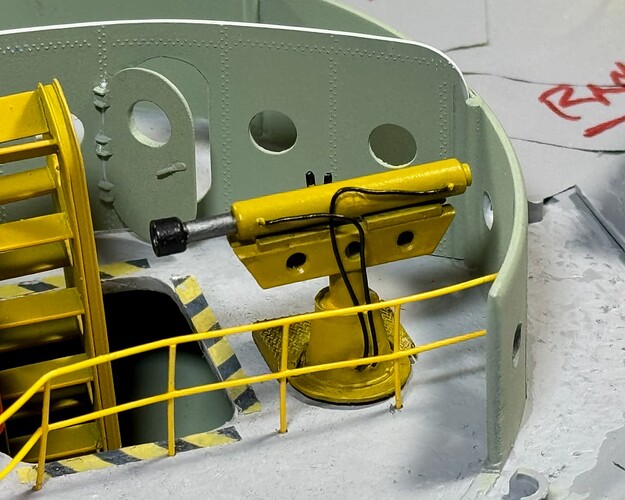 • Vallejo IJA Chrome Yellow (71.135)
• Vallejo Black (71.057)
• Vallejo European Dust Wash (76.523)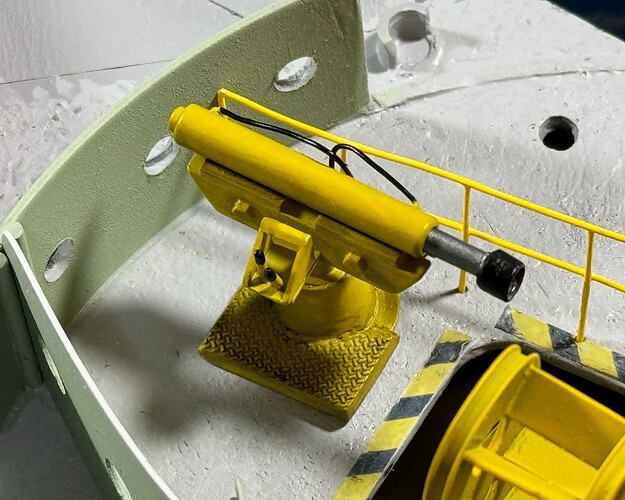 "Good thing you didn't gloo der railing down. You must tone-down der gelb a bit."


––––––––––––––––––––––––––––––––––––––––––––––––––––––––––––––––––––––––––
[EDIT] Image added.
In my best 'Monty Python' voice…
"Not quite finished yet… I'm getting emptier."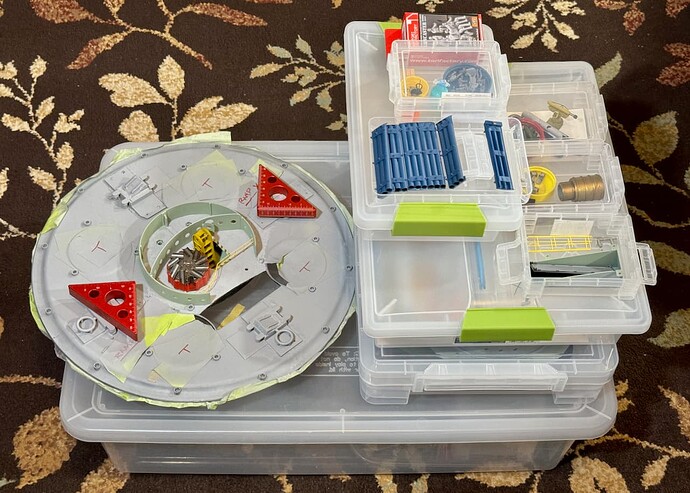 —mike …

"Tower to Clam-Shell… Tower to Clam-shell… WAVE OFF! … jettison unsightly masking material before final approach!"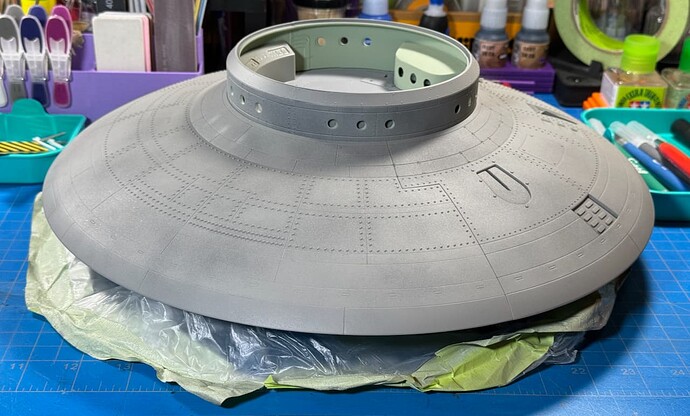 🫨🫨 🫨



"Touch-down complete."…


"Whew!"

"Cheese-Wheel Deck to Ground Crew… ship has sustained one port side bay door casualty."

Well, that was today's mostly successful top-to-bottom dry-fit session… Not going anywhere near those flimsy belly guns just yet!
—mike …