Thanks Peter
Yes, exactly. Thats the one. It has a very nice interior and the choice of either Empire or republic pilots, so Can work with either army/markings.
I do like some of those kits. Just been looking at some, but can you get the vehicles as individual kits or do they all have to be bought as part of the box sets with all the other bits to do with the gaming side of it as thats the only thing putting me off as I just wouldnt need or want the other bits ??
Yes, all vehicles are available in separate box sets. If you are planning a diorama it might be worth getting the figures as well

That's looking really good Jesper… I may look more into these or the droid tanks … They look impressive
The droid tank is super impressive - I have seen that irl as one of my friends has it.
That looks so good. Really impressed by that line of kits
Really liking this build Jesper.
Progress, not that anyone will ever see this effort once the cockpits are closed in.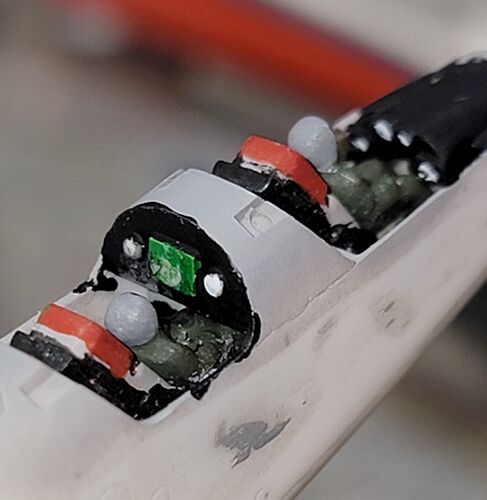 Actually one of the most detailed cockpit's I've ever seen in 1/144.
Thanks for the comments, guys. Much appreciated!
Hi all,
Long time since I've been on-site, and just saw this Campaign and thought it must be the ideal way to get back into the hobby. Having been a hard-core scratchbuilder (wheeled vehicles in 24/25th scale) and found myself getting anally retentive over the little details I hit burn-out and have been away from the bench for a number of years.
Any who, I found some cheap Maschinen Krieger kits, so intend to build more or less out of the box (aside from a few areas that scream "modify me") and for the first time in 30+ years try and concentrate on the paint job.
Will update with pic's once I've made some additional little purchases.
Best of luck with those on the build, I'm looking forward to learning more about the genre of sci-fi.
Welcome back Roger @accessdenied … look forward to seeing what you build up
Welcome onboard, Roger. Looking forward to see your build.

I have finished my imperial LAAT. A really nice model although it has a bit of a fit issue on the bottom of the hull.
It will look nice both on the gaming table and the model shelves

Thanks for looking

Very cool Jesper.
An unusual take on the usual Star Wars designs. With engines in place of the cockpit it would be a great base for designing something supposed to be a lot bigger.
Excellent Jesper. Lovely build and really good finish and weathering on it. Another unusual Star Wars platform. Nice addition tothe campaign. Looks very good on the display base
Thanks for the comments, guys. Much appreciated!